Report: Red Sox could pursue Edwin Encarnacion if luxury tax increases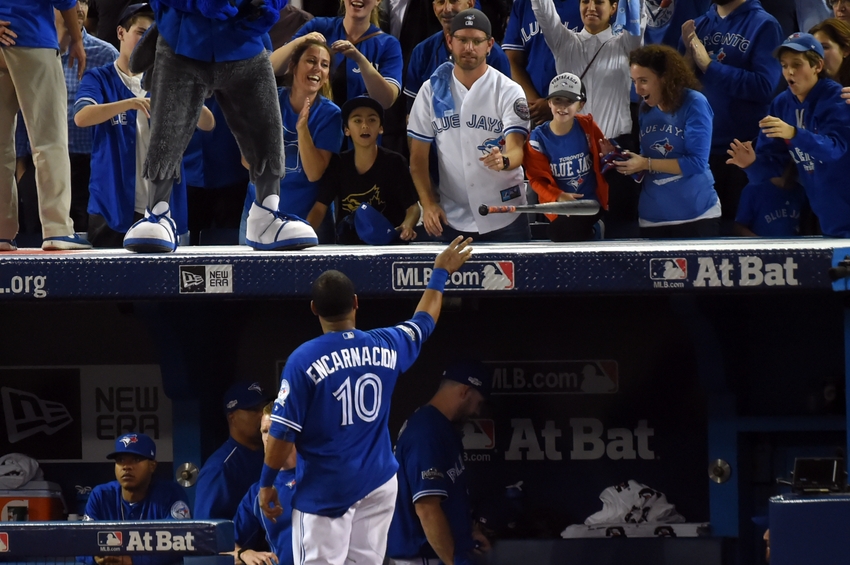 After the Boston Red Sox initially indicated they weren't serious about pursuing Edwin Encarnacion, they may still do so if the luxury tax were to increase.
Edwin Encarnacion is set to become one of the most sought-after free agents on the market. Through seven seasons with the Toronto Blue Jays, he has been a consistent power hitter, although last season was a career year for him. He was already going to make big money on the market, but after a 42 home run, 127 RBI season, he's arguably the most expensive free agent.
Many thought that the Boston Red Sox would be in play for Edwin this offseason. After all, David Ortiz had tabbed him as his potential successor back in the All-Star Game last year. Edwin has historically hit very well at Fenway Park, and succeeding Ortiz is an extremely enticing prospect.
But Dave Dombrowski said earlier that they aren't going to spend big money on a DH. That doesn't mean they aren't interested in him, just that they're not as serious as many expected them to be.
However, Ken Rosenthal has once again stoked the flames by bringing up the luxury tax. The luxury tax is essentially a tool that prevents teams with high payrolls from buying big-money free agents and destroying the competitive balance of the league. Starting in 2014, it was set at $189 million, but it could go up to $210 million. And if that's the case, the Red Sox will once again be heavy suitors for Edwin:
#RedSox have indicated they want DH on shorter term. Wondering if increase in luxury-tax threshold would change their thinking…

— Ken Rosenthal (@Ken_Rosenthal) November 11, 2016
If threshold rises from $189M to say, $210M, #RedSox could cite increased flexibility as reason to sign Encarnacion.

— Ken Rosenthal (@Ken_Rosenthal) November 11, 2016
The Blue Jays have already signed Kendrys Morales to a three-year deal, which could open the door to his exit. Encarnacion has played first base before, but according to Sportsnet's Shi Davidi, he only played that position for 75 games last year.
The Red Sox already signed David Price away from Toronto last year, but fans were deeply disappointed with how he let the team down in the postseason. Unlike Price, Edwin doesn't have a history of coming up short in the playoffs, and seeing him leave to the Red Sox would be a lot worse than seeing Price leave, considering how long he's been with the team.
The next few days should leave us with a better idea of which direction the Red Sox and Jays will go this offseason. For now, they remain the two best teams in the AL East, and the bidding war over Encarnacion will be fascinating to watch.
More from FanSided
This article originally appeared on