Red Sox: Top 5 right fielders in Boston's franchise history
Mike El-Far/FanSided via BoSox Injection

Fansided
The BoSox Injection staff ranks the top players in Boston Red Sox history at each position. We continue with right fielders.
The Boston Red Sox have some positions that could be up for battle in 2017. Right field is not one of them.
The runner up for the 2016 AL MVP Award, Mookie Betts, will look to continue his scorching hot start to his career. Last season Betts hit .318 with an .897 OPS, 31 home runs and 113 RBI. He also won a Gold Glove while producing the most defensive runs saved in baseball.
Those numbers stack up to the best season of any right fielder that has played for the Red Sox, but with only two full seasons of big league experience on his resume, the 24-year old isn't quite ready to be anointed among the best in franchise history at his position.
While Betts does not make the cut for this list, as long as his career continues on this trajectory he is a shoe-in for making the top 5.
But that is not to say that the right field position doesn't have a plethora of talent. There are some exceptional players that have come to Boston and played in right field. While none of these players have been voted into the Hall of Fame (one was added from the Veteran's Committee), all 5 of these players are well deserving to be on this list.
The list starts off with Harry Hooper. The only person on this list that is enshrined in Cooperstown, Hooper was a great player who spent 12 of his 17 professional seasons with the Red Sox.
Hooper was a part of the 1912, '15, and '16 teams that all were crowned World Series Champions. In Hooper's time in Boston, he hit .272 over 12 seasons. Also, he stole 300 bases and drove in almost 500 RBI's.
Hooper does have three World Series to his resume, but championships can be claimed by two other people on this list. His offensive achievements do not compare to the other four, and this is why he is ranked fifth.
J.D. Drew comes in next on this list. Having only spent five seasons in Boston, at the tail end of his career, ranking him as the 4th best right fielder might seem odd to some. But Drew was a phenomenal player, and was able to accomplish many things during his time in Boston.
Drew was a key part of the 2007 World Series team, and was able to be a vital part of the lineup for three years. Had it not been for his Grand Slam in the first inning of Game 6 of the 2007 ALCS, Boston might not have even made it to a Game 7, let alone the World Series.
While Drew's numbers weren't overly impressive during his time in Boston, he was a very talented player. The expectations were very high on him, and he unfortunately ran into some injury problems. Due to his contributions during the 2007 World Series run, and his great year in 2008, he comes in at fourth on this list.
We transition from a player who most fans did not like, to an absolute fan favorite. Christopher Trotman Nixon, more commonly known as Trot, is beloved by Red Sox Nation. A key part of the magical 2004 World Series team, he was known as a player who would leave it all on the field.
In the 2004 World Series, he scored the final runs of the decisive Game 4. With a 3-0 with the bases loaded, Trot swung for the fences and belted a double to bring in two.
Nixon hit .278 with 133 home runs in his 10 seasons in Boston. Also, he drove in over 500 runs and hit over .300 twice. While Nixon might not have been the most skilled player to ever play for the Red Sox, he won the fans over mainly due to his "never say die" attitude. He was a passionate, fiery player who truly made the game of baseball exciting to all kinds of fans.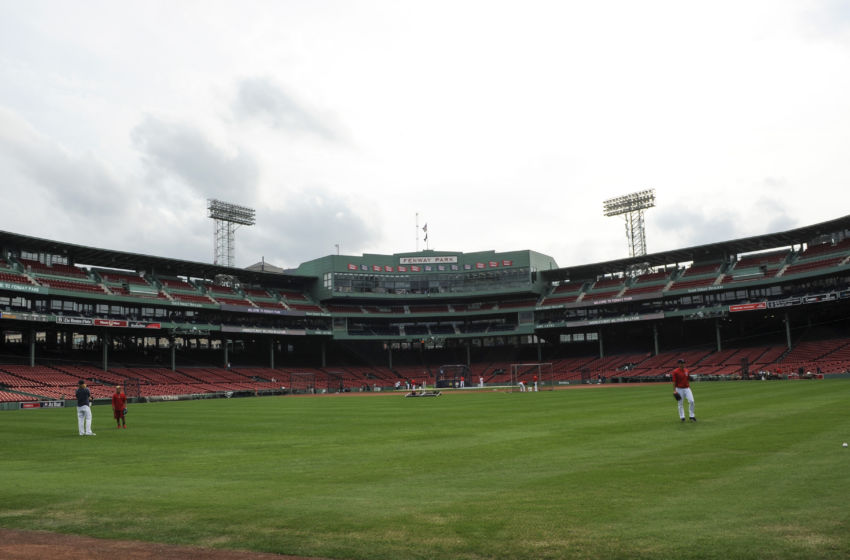 Jackie Jensen proved to be the 2nd greatest player to ever play right field for the Boston Red Sox. He spent the last seven years of his career here, and was phenomenal during his time at Fenway.
Jensen played in two of his three total All-Star games as a member of the Red Sox, including his magical 1958 season. Jensen produced a monster slash line of .286/35/122 to earn the 1958 AL MVP.
Jensen's entire time in Boston was outstanding, as he .282 with over 150 home runs. Amazingly, in only seven seasons in Boston he drove in over 700 runs. In only two of his seven seasons, Jensen did not drive in over 100 runs. Clearly Jensen was a top level player in Boston, and that is why he is ranked second.
The man who has played more games at one position than anyone else in Red Sox history, Dwight Evans, is the greatest right fielder to ever play for the Red Sox. Evans was a highly accomplished player in his 19 year career with the Sox on both sides of the ball.
Evans won eight Gold Gloves in a 10 year span, but his impact was not only defensively. He hit .272 in over 2500 games, and drove in over 1300 runs. He was instrumental in the 1975 World Series that ultimately saw Boston lose to the Cincinnati Reds.
And while Evans was part of a new, young outfield, he was overshadowed by the great performance of Jim Rice and Fred Lynn. Make no mistake, he was one of the most skilled outfielders to play in Boston, and he was the greatest right fielder.
More from BoSox Injection
This article originally appeared on