Red Sox Target: Should they go for Trevor Plouffe?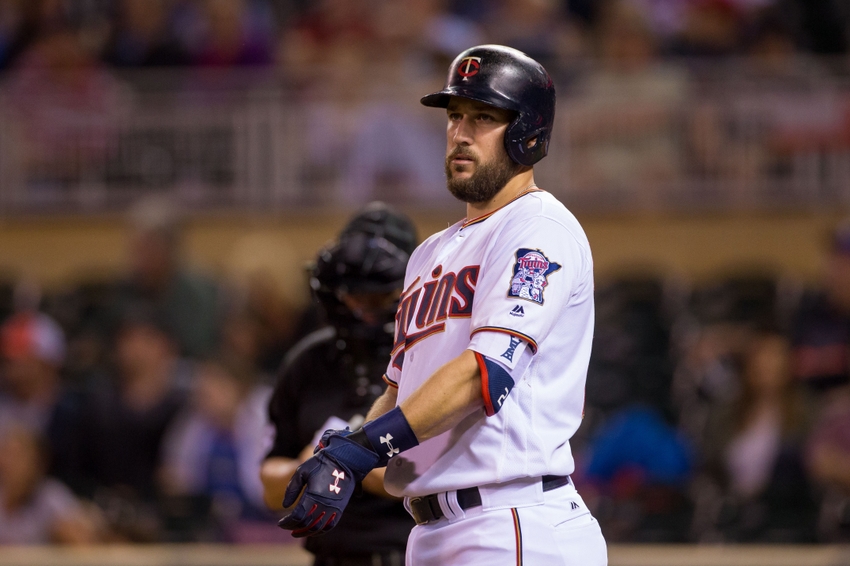 The Boston Red Sox may want to look deeper into why the Minnesota Twins cut proven veteran third baseman Trevor Plouffe, after putting him on waivers.
Since that decision, "Plouffe cleared waivers and has elected to become a free agent," according to the Associated Press. "The move appears to open a spot at third base for young slugger Miguel Sano, who bounced around between designated hitter, third base and the outfield last year. Third base has always been Sano's preferred position."
R.J. Anderson of CBSSports.com suggested that, even though Plouffe would make $10 million next year before he goes to arbitration, he "is likely to find willing employers on the free-agent market thanks to his track record — he possesses a career 99 OPS+ — and ability to stand at the hot corner."
The problem for the Red Sox being a destination is that they already put themselves in a terrible position before Plouffe became available.
Plouffe is right-handed; the Red Sox continue to have righty bats to choose from, when all they want for the offseason wish list is lefty bats. If Plouffe was a lefty bat, he'd be set for a Red Sox payday, even with previous abdominal issues. He broke a rib on his left side in early July and then strained his left oblique in September.
Even with health issues, Plouffe fought through the pain to produce 12 home runs and 47 RBIs in 84 games. His slash line of .260/.303/.420 demonstrated the ability to generate power and getting on base, without his body being in the best of conditions. Plouffe's batting average is the best that he's ever hit in the majors, even though he drove in a combined 166 RBIs in the previous two seasons.
His glove also wasn't showing effects of an injury. At least, not from a league perspective. Plouffe posted a .960 fielding percentage, just above the league average, even though his range of motion was down from the previous year.
What would Boston rather have: a 30-year-old man who is a proven defensive and offensive threat at third base, with possible lingering effects from the left side of his gut; or another 30-year-old man with guaranteed issues with his left shoulder, and whose gut is always in question since he arrived in Boston?
Although current Red Sox third baseman Pablo Sandoval was out for the 2016 season with surgery to his left shoulder, his poor play in the previous season seem to have nothing to do with that. In 126 games of a perfectly healthy 2015, Sandoval hit .245/.292/.366 with 10 home runs and 47 RBIs. That's 42 more games than Plouffe played last season; yet, it's the same production and a weaker slash line.
Sandoval also didn't have the excuse of playing on the Twins. Plouffe had to help manufacture runs, while Sandoval was on a team consistently putting runners on base and runs up on the scoreboard for the last two years.
The Kung Fu Panda known as Sandoval didn't exactly flash the glove better than Plouffe, either. Sandoval was nine points below the league's fielding percentage at third base in 2015. His range wasn't even close. Defensively, an injured Plouffe proves to still be much better than a healthy Sandoval at third base.
If the Red Sox didn't already start eating the huge contract that they signed Sandoval to in 2014, they certainly would be if they added Plouffe. Yes, the potential stability that Plouffe could finally provide for the hot corner in Fenway Park would be much greater than Sandoval's; however, Plouffe's righty bat isn't on the Red Sox shopping list. If the Red Sox were not already gagging on big money being left on the bench, Plouffe's contract may have been something that Boston would have seen as worth it. Now, it seems like the Red Sox will have more buyer's regret when they see another team pick up Plouffe's main course of his career while Boston tries to stop choking on Sandoval's career leftovers.
More from BoSox Injection
This article originally appeared on