Red Sox Rumors: Edwin Encarnacion received $80 million offer from Blue Jays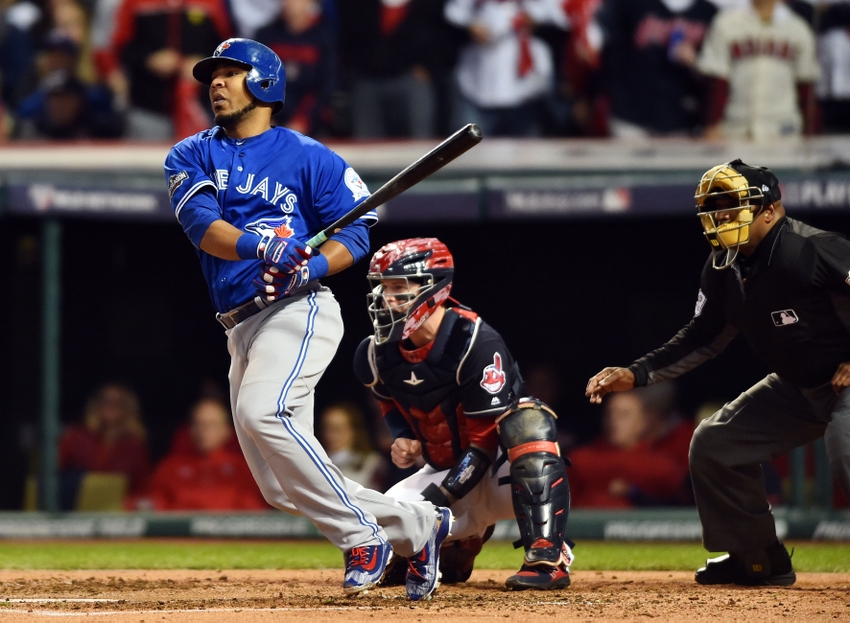 The Boston Red Sox remain interested in Edwin Encarnacion, but the market for the free agent slugger may be out of their price range.
Edwin Encarnacion may seem like the perfect fit to fill the void left by David Ortiz's retirement, but the market price for the right-handed power hitter may be drifting out of the range that the Boston Red Sox are comfortable paying.
Jon Heyman of Fanragsports.com reports that the Toronto Blue Jays offered their star free agent a deal worth about $80 million over four years. Encarnacion didn't jump at the offer, which is no surprise given that he is reportedly seeking a contract in the neighborhood of 5-years, $125 million. He may not end up getting quite that much, but Toronto's offer at least has given other interested suitors a starting point for negotiations.
The Blue Jays have since inked Kendrys Morales to a 3-year, $33 million deal, yet they insist that they remain interested in bringing back Encarnacion despite that both sluggers are best suited for DH duties. Morales may be a contingency plan in case they lose Encarnacion, but they seem to prefer having both. Toronto remaining firmly in the mix means that we can't view the Morales deal as a sign that it will be any easier for the Red Sox to land Encarnacion.
Heyman mentions the Red Sox as a team connected to Encarnacion on a list that also includes the Texas Rangers, Houston Astros and New York Yankees, in addition to the Jays.
Given that Encarnacion wasn't enticed by Toronto's offer, it's clear that the Red Sox would need to include either more years or a significantly higher average annual salary in order to sway him in their direction. Neither of those options are particularly appealing for a player that will turn 34 years old before next season.
WEEI's Rob Bradford reports that the Red Sox haven't shown significant interest in Encarnacion, preferring to find a replacement for Ortiz on a short-term deal. Carlos Beltran has been mentioned as a popular target who wouldn't require the commitment that Encarnacion will command.
The Red Sox could also look to fill the DH role internally if they feel Pablo Sandoval is capable of contributing or if they need to find a spot in the lineup for Blake Swihart. Those options may not be as exciting as the free agent choices, but it's a solution that avoids sinking more money into aging hitters, while allowing them to focus their resources on other areas of the roster.
Of course this could also change after the collective bargaining agreement expires on December 1. If a new deal includes a higher luxury tax threshold it could encourage the Red Sox to be more aggressive in free agency with more room in the budget to work with. Perhaps the lack of interest being reported is merely Dave Dombroski biding his time to see how the CBA pans out before he makes his move.
Encarnacion hit .263 with 42 home runs this year and tied Ortiz for the league-lead with 127 RBI. His age, middling average, increasing strikeout rate and below-average defense at first base are all concerns that make the Red Sox hesitant, but they could certainly use a power bat in the midle of their lineup and Encarnacion is the best available on the market.
More from BoSox Injection
This article originally appeared on