Red Sox Rumor: Jays sign Morales, so Encarnacion to Boston?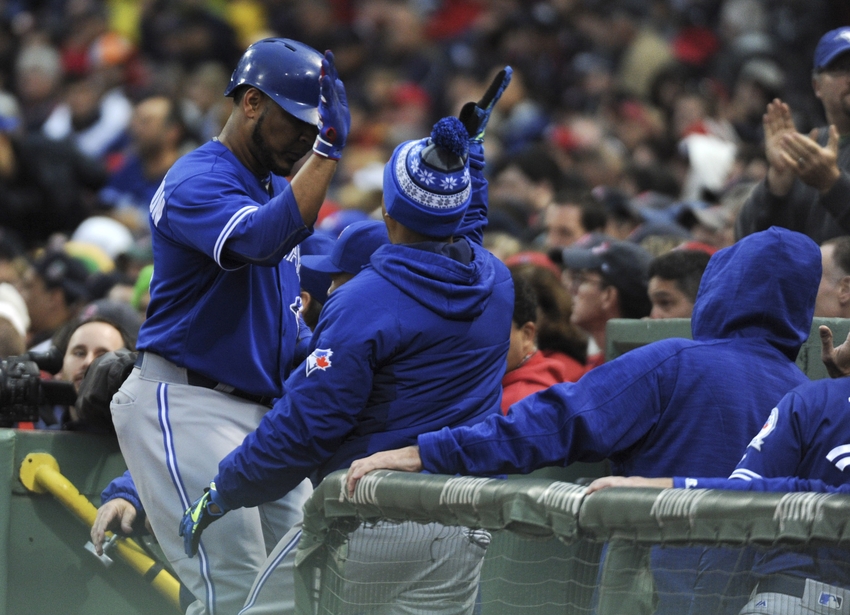 The Toronto Blue Jays just signed 1B/DH Kendrys Morales to a three-year deal. Does that mean Edwin Encarnacion is likely to sign with the Boston Red Sox?
Shi Davidi of Rogers Sportsnet in Canada believes that the deal with Morales could, at least, spell the end of Edwin's time in Toronto: "The Toronto Blue Jays began retooling their lineup by reaching agreement on a $33-million, three-year contract with Kendrys Morales pending a physical, a move that that essentially parts ways with Edwin Encarnacion and sets up Justin Smoak to see plenty of action at first base."
Davidi added that a number of sources indicated that the Morales deal was made after a big push to re-sign Encarnacion "fell short at the GM meetings in Scottsdale, [Arizona]. Multiple industry sources indicated the Blue Jays' extended an offer with a deadline to their slugger and when it was rejected, they moved on to their alternatives."
Both men are 33 years old and, while Encarnacion seems to want a long-term contract for around $125 million, Morales seems to have been the more thrift deal for the Blue Jays. Morales hit 30 home runs and 93 RBIs with an identical .263 batting average to that of Edwin. Encarnacion was in a potent lineup with the Blue Jays, which means there were more men on base for him to drive in his league-leading 127 RBIs. Toronto must feel that, given the same circumstances, Morales could do the same.
The fact is that the Blue Jays have a number of holes to plug, and the Morales deal allows the team to free up money that would have went to only one player. The Red Sox are not in the same situation: they just need another bat, an everyday third baseman, and more pitching depth.
As far as a big bat is concerned, it doesn't mean it has to be a full-time designated hitter.
According to Rob Bradford of WEEI.com, the Red Sox president of baseball operations Dave Dombrowski feels that Boston's roster doesn't need to replace legendary DH David Ortiz exactly: "We're not looking to have just a DH […] I think really in today's game the only way you really do that is to have somebody like David Ortiz and most of the time you really prefer to have some flexibility. It's not to say somebody won't settle in most of the time, but your goal is to use the flexibility of the players at this point. We'll see how that all fits in."
That strategy seems to fit Edwin's profile. Encarnacion has proven that he can be an everyday first baseman if needed, splitting his time last season as both the defensive role and the DH. His fielding percentage was .997 which was better than the .994 league average. Edwin made some highlight-reel catches and scoops at first base in key situations for the Blue Jays, making him the ideal candidate under Dombrowski's strategy.
Signing Encarnacion would free up Red Sox slugger Hanley Ramirez to take turns at the DH role in the lineup, possibly even splitting the season together and guaranteeing both men to appear daily. Both mashers would get time off from playing defense, if any bumps and bruises occur, because they would have each other to switch with to play first base.
As Edwin's most-publicized destination, other than Toronto, has been Boston, the Morales deal seems to make his arrival that much more likely. Now that the Blue Jays have someone to play both first base and be the DH, they can platoon other players like Justin Smoak to switch as first basemen and fill the void that Encarnacion would leave. The deal also possibly takes Toronto out of the Edwin sweepstakes, leaving Boston as a front runner for his services.
More from BoSox Injection
This article originally appeared on