Red Sox Free Agent Targets: What to do About the 'Pen?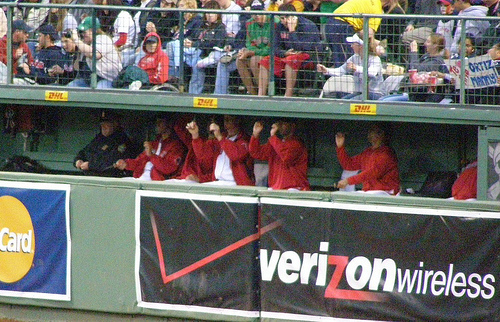 One of the biggest concerns for the Boston Red Sox for the offseason is the bullpen. As of right now, nothing has been done about this issue.
There are a lot of good relievers on the market this offseason. And, because of that, it is almost certain that Dave Dombrowski and his inner-circle are going to try and recruit one to come to Boston, so let's take a look at the options:
It has come out that the Red Sox are interested in former Royals' reliever Greg Holland. In fact, Brandon Nickel of BoSox Injection talked about this in a recent article; so, let's take a look at Holland.
The 30-year old Western Carolina graduate debuted in 2010, and has spent his entire professional career with Kansas City. This past season, Holland posted a 3-2 record in 48 appearance, along with 32 saves. Holland posted a 3.83 ERA, which was the worst since his rookie year. Holland would be an interesting add to Boston's bullpen, and now that it has come out that Dombrowski is interested in him, it could easily become a reality.
Chapman is arguably the best reliever of the free agents. Chapman is currently coming off of a World Series victory with the Chicago Cubs, and that is doing nothing but increasing his value.
This past year with both the New York Yankees and Cubs, Chapman went 4-1 with 36 saves in 59 games. Chapman also had a 1.55 ERA, which was the second best of his career. However, Chapman would likely be the most expensive out of all of the relievers being considered. This could be a major issue for the front office. I would personally love to bring Chapman to Boston; however, this is one move that I don't predict will occur. Chapman simply cost too much, and I don't think Chapman would appreciate playing the role of Craig Kimbrel's set-up man.
I know a good number of Dodgers' fans, and all of them are extremely upset that Jansen likely won't be wearing Dodger blue in 2017. In 2016, Jansen undoubtedly had the best season of his career. Jansen partook in the All-Star Game in San Diego for the first time, and took home the Trevor Hoffman Award, which goes to the league's best reliever. I personally would love to see Jansen in Boston, portraying a set-up roll. Jansen should play the role that Cleveland's Andrew Miller played during the playoffs. I would like to see Jansen pitch the seventh and eighth innings, leaving the ninth to Craig Kimbrel. Or, if Jansen is really dealing, he could possibly be left in for the ninth. Out of the four players evaluated in this article, Jansen would be the sign of my choice, and I pray that he ends up wearing "Red Sox" across his chest this coming season.
Melancon is a three-time All-Star, and, he played for the Red Sox during the 2012 season. 2015 was without a doubt Melancon's best year.
During the 2015 season, Melancon won the Hoffman Award, as well as earning the title of National League saves leader. Midway through the 2016, Melancon was traded from Pittsburgh to the Nationals. While they weren't as good as last season's, Melancon's stats were rather impressive this past season. In 2016, Melancon finished tied for second in the National League with 47 saves, only behind New York's Jeurys Familia (51). Melancon posted a 1.64 ERA in 75 appearances, in which 45 were with the Pirates, and 30 were with the Nationals. Melancon would definitely be an interesting investment, and I'm sure there are a good number of Sox fans who would love to see him back in Boston.
What to Expect
It is almost certain that something is going to be done to improve the bullpen. However, Boston needs to get moving. According to rumors, the Red Sox' front office is looking hard at Holland. Which wouldn't be a bad move, but it isn't necessarily the move of choice.
Let's say that Holland signs somewhere else. Jansen is reportedly currently Miami's number one priority. Also, Melancon is being heavily considered by San Francisco. That leaves only Chapman. Not only is Chapman already the most expensive of the four considered, he would probably raise his asking price if he were to be the last of the three. Personally, I'm on the Jansen bandwagon. But at this point, I am happy with Dombrowski's decision, as long as he addresses the 'pen. Thanks for reading! Tell us what YOU think Dave Dombrowski should do in the comments below. Go Sox!
More from BoSox Injection
This article originally appeared on