Red Sox: Former GM Ben Cherington accepts position with Toronto Blue Jays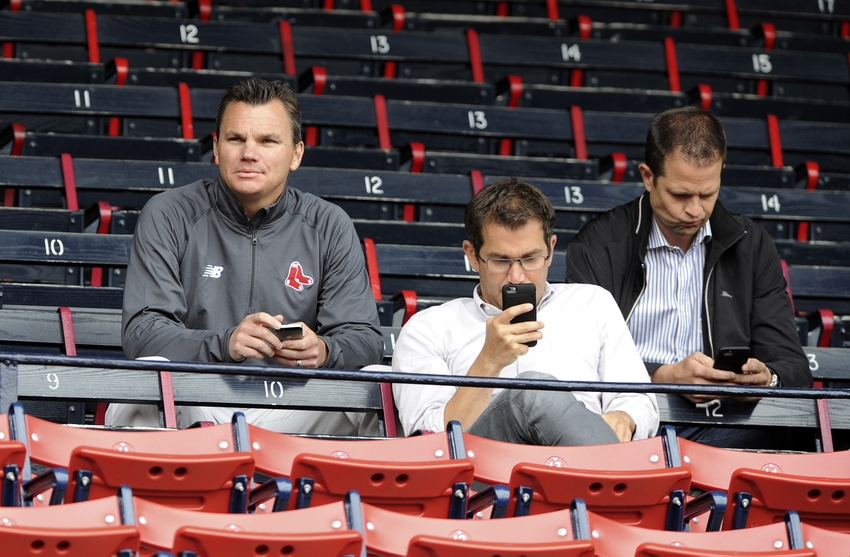 Former Red Sox GM Ben Cherington is the new VP of baseball operations for the Jays. Perhaps Toronto will give him the fair evaluation that eluded him in Boston.
Yesterday, former Red Sox General Manager Ben Cherington was hired by the Toronto Blue Jays to be their vice president of baseball operations, according to Alykhan Ravjiani of MLB.com.
A General Manager of a professional sports franchise is all-too-often evaluated solely on the trades and signings that he makes. However, what about the trades and signings that one doesn't make? While they do not receive the same media attention of action, sometimes inaction is the best route taken.
In addition, many moves made with the expressed purpose of dealing present-value for future assets cannot be fairly judged for up to a decade after consummation of the transactions. In today's win-now, multi-billion dollar sports industries, team executives simply do not have the patience to wait that long.
Lastly, some moves made may initially appear undesirable; however, upon their reevaluation just a year or two later, they may be judged completely differently. For instance, a year ago, essentially flipping Jon Lester for Rick Porcello was an atrocious maneuver. Hanley Ramirez's 4 year/$88-million contract would not have seemed much better. Today, on the Ides of September, moves deemed atrocious just one year ago, appear exemplary.
More from BoSox Injection
Ben Cherington served as the Red Sox GM from October 2011 to August 2015. During Cherington's four-year stewardship, the Sox endured three last-place finishes and a world championship in 2013.
Cherington's tenure is often viewed as a failure, although I would characterize it much differently. Cherington deserves much credit for adding crucial pieces to the last-place 2012 Red Sox that enabled them to win a world championship the following year. In addition, Cherington deserves the lion's share of the credit for assembling the current Red Sox team that is challenging for the 2016 world championship, and appears to be a force for many years to come.
Cherington's building of a championship team began on July 31, 2012, when he acquired Craig Breslow for Matt Albers and Scott Podsednik. Although Breslow was unable to get anyone out in the years following 2013, he was a vital cog in the bullpen during that championship season.
On August 25, 2012, Cherington pulled off his greatest lifetime achievement by sending Josh Beckett, Carl Crawford, Adrian Gonzalez, and Nick Punto to the Los Angeles Dodgers for primarily James Loney, Allen Webster and Rubby De La Rosa. This deal cleared nearly $300-million in salary that was used to complete the composition of the 2013 championship roster.
Through various transactions in December 2012 and January 2013, Cherington acquired OF Jonny Gomes and Shane Victorino, RP Koji Uehara, SP Ryan Dempster, SS Stephen Drew, IF Brock Holt, and 1B/C Mike Napoli. These acquisitions laid the foundation for our title run.
One can clearly see the enormous role that Cherington played in assembling the 2013 World Champion Boston Red Sox.
Cherington also is largely responsible for assembling the 2016 Red Sox that should be championship contenders for years to come.
On July 31, 2014, Cherington added yet another stud prospect to our burgeoning farm system by trading LHP Andrew Miller to the Orioles for LHP Eduardo Rodriguez.
In an article by Nick Carfado of the Boston Globe, Cherington's contributions to the assemblage of a very young and very talented 2016 Red Sox team are recognized, "It's what Cherington didn't do — deal his major prospects — that helped the Red Sox go from last place to first this season….The 2016 Red Sox have many of Cherington's acquisitions playing large roles."
Alex Speir of the Boston Globe had this to say in a May 16, 2016 article about revising the view of Cherington's work while acting as Red Sox GM.
"But the inventory that he accumulated and preserved – not just Bogaerts and Betts but also Bradley, Vazquez, Travis Shaw, and Blake Swihart, not to mention below-the-radar trade acquisitions such as Brock Holt, Steven Wright, and Eduardo Rodriguez, and coming prospects such as Andrew Benintendi (promoted to Double A Portland after Sunday's game), Yoan Moncada, Rafael Devers, and Anderson Espinoza – has the Sox positioned to flourish."
In the summer of 2015, despite being presented with multiple opportunities to do so, Cherington refused to deal away Bradley and Porcello. Refusing such deals seem to be no-brainers now; however, at the time, no one would have blamed Cherington for following through. Cherington's foresight is the only reason that both players are members, and key ones at that, of the 2016 Red Sox. I have never heard Cherington receive credit for such brilliant decision-making.
As Alex Speir writes, "Even at times when there was no demonstrated evidence of big league success, Cherington swatted away numerous proposals related to Bradley, some of the prospect-for-prospect/change-of-scenery variety, some for solid (non-closing) bullpen options. He turned away inquiries about Rick Porcello last summer (typically of the underperformer-for-underperformer variety), believing that there would be payoff for patience."
In an article on ESPN.com, John Farrell, a man whom Cherington pried away from the Blue Jays in exchange for Mike Aviles, noted Cherington's undeniable contributions to the 2016 Red Sox, "His legacy is left here. His imprint is all over this team and the people he brought in."
In addition to maintaining and developing an elite crop of minor-league players that are now contributing at the Major League Level, many of Cherington's moves via free agency are proving fruitful.
Rusney Castillo was a poor signing, and Pablo Sandoval will likely prove to be similarly classified. Other than those two mishaps, is there another move for which Cherington can be criticized?
Cherington's biggest criticism was allowing Jon Lester to leave via free agency. Right now, is anyone unhappy in the series of moves that ultimately resulted in replacing Jon Lester with Rick Porcello?
Hanley Ramirez was also a big criticism of the Cherington regime. That signing continues to look better every day.
In a June 3, 2015 article by Chad Finn on Boston.com, he states, "Cherington has hardly been perfect, but he's had more hits than misses while developing a farm system to envy, remodeling the roster a couple of times, and dealing with a year of Bobby V."
Cherington's tenure cannot be viewed as anything short of a great success. He has made major contributions to one championship already, and has played a large part in assembling the championship-hopeful 2016 Boston Red Sox, who are set up to be perennial contenders.
This article originally appeared on