Red Sox Eduardo Rodriguez is a great reason against the WBC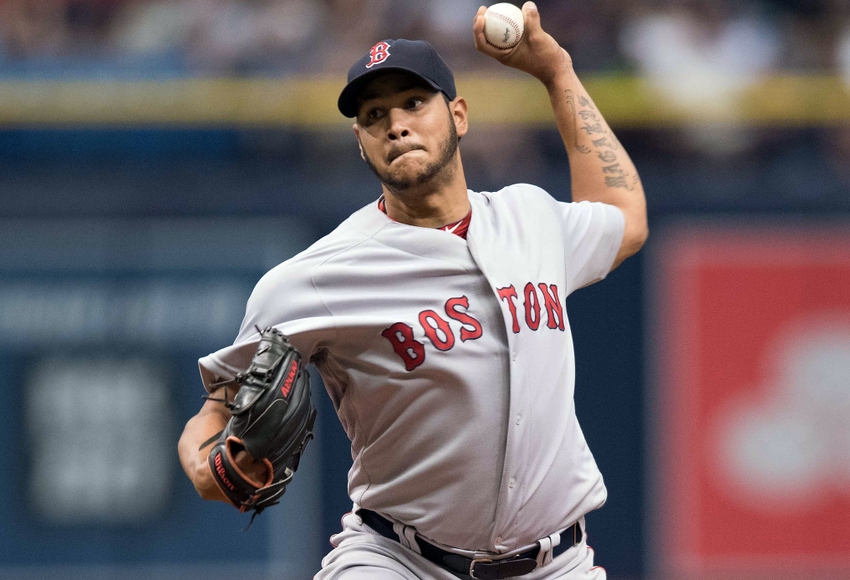 Ah, the ever-present conflict of club & country. This time, the battlefield is the World Baseball Classic, where the Boston Red Sox may hope Eduardo Rodriguez stays away.
John Tomase of WEEI.com says as much in a recent article, regarding Rodriguez's love for his native country of Venezuela and his club career in Boston. After a 10-6 record with a 3.85 ERA in 21 starts in 2015, Rodriguez had the sophomore struggles in 2016, posting a 3-7 record and a ballooning 4.71 ERA in 20 starts.
He almost didn't even have the chance to stumble, as Rodriguez's knee gave out to start the season and could not find the form that impressed so many of Red Sox Nation the season before. With that issue in mind, Tomase believes that it "should mean a winter of workouts with one goal in mind – returning Rodriguez to the form that basically made him untouchable last winter."
Instead, Rodriguez has expressed interest in playing for his homeland in the WBC before spring training in 2017. According to Tomase, "Allowing Rodriguez to throw high-intensity innings in March hardly sounds like a good idea, […] while [Rodriguez works] his way back from a patellar tendon subluxation that seriously messed with his mechanics."
Rodriguez played 14 less innings last season than he did the season before, and the solution is to work even more innings with less rest?
Tomase also added that "there are enough examples to make you question why anyone would partake, let alone someone who missed as much time as Rodriguez did in 2016."
From a Red Sox perspective, Tomase could not be more correct on the matter. Fellow Boston starter Rick Porcello realized that his body needed the rest and proper timing of prep work for the 2017 season, so he publicly stated that he wanted no part in playing for Team USA in the WBC. Porcello felt that he needed to take the proper precautions and preparations to recover from a very poor display of mechanics in 2015, and his calculated rest figured into a 2016 American League Cy Young Award for being the best pitcher.
Talk about a comeback, Rodriguez has had Porcello provide a blueprint for his teammate to follow to rediscover his own game.
Every athlete's body is different and requires different methods to heal and prepare for another campaign; however, Rodriguez is only 23 years old, and he has not been around long enough to know what his body needs to make it through a gruelling MLB season for multiple years of success. Porcello's got eight years of veteran experience to Rodriguez's two years of self-discovery. Many people, including Red Sox fans, may feel that Rodriguez could learn a great deal from Porcello's choice not to play in the WBC tournament, based on Porcello's 2016 season alone.
According to FanGraphs.com, Rodriguez hasn't lost anything off of his fastball, ranging just above 93 mph. That fact would imply that it isn't necessarily that Rodriguez has lost strength in his velocity as much as it is his mechanics that lose sight of the strike zone and tip off hitters as to what he's trying to do to them. The batters were swinging at more of his pitches, whether in or outside the strike zone, as there was less movement on his pitches. Especially when Rodriguez would miss his spots, leaving pitches fat for sluggers to hit more home runs in less at-bats than the season before.
Let's not forget, though, that love for playing in the WBC. That love that stretches back all the way to 2006. It's been only 10 years in existence.
Nobody is disputing the fact that the players love the chance at playing for their home countries. Their national pride is not in question. What is very much at the heart of this issue is the risks versus the rewards of such a tournament.
Soccer, known as football to almost everyone not living in the United States, has had a well-documented history on this issue, with the World Cup and other popular international tournaments risking the professional careers of thousands of club players all over the planet. Yet, while these tournaments have brought in amazing profits and memorable moments that have spanned decades since 1930, the WBC comes off as a mere cash-grab by tournament organizers.
Fans discuss who has the best soccer nation in the world on a constant basis, while many baseball fans don't even remember that there is such a thing as an international baseball tournament.
Why should Rodriguez risk his future with his club team for a chance to win a tournament that his country may or may not care that much for in the first place? If Venezuela were to win the tournament, it could be all for some praise and no pay for Rodriguez, who could re-injure himself and never recover.
Even the slightest funk in his mechanics could spell disaster for Rodriguez, who would not be financially compensated by his country to play for the national team or for the Red Sox. Rodriguez may not ever pitch in the majors again if he cannot prove to the Red Sox that he can handle the workload. Even with all of those risks, Rodriguez should be expected to play in the WBC?
More from BoSox Injection
This article originally appeared on