Red Sox Arizona Fall League Preview Part 1: The Pitchers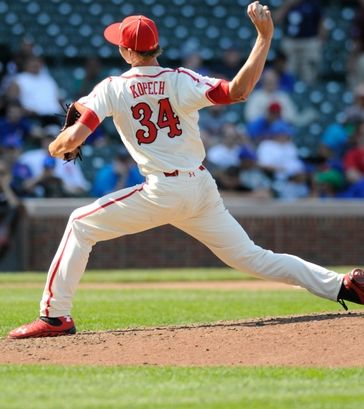 Each October with the playoffs in full swing, the top prospects in Major League Baseball gather in the Arizona Fall League for six weeks for game experience and to showcase their talents.  Since 1992, the AFL has served as a tool for gaining more reps to improve a player's development, informing decisions on player retention, and as a  venue for displaying potential trade chips for offseason deals.  Each team sends a handful of players (seven in the Red Sox case) to one of the six league teams.  This year the Red Sox are playing for the Surprise Saguaros as they did last season.
Since there are seven players going to the AFL this season, splitting them into hitters and pitchers seems wise to present an article that doesn't have so many slides you are not going to take the time to go through it.  For today's article, we are going to focus on the pitchers for this year's AFL contingent;   Trey Ball, Jalen Beeks, Jamie Callahan and Michael Kopech.  You will get a rundown of the scouting (based on soxprospects.com reports) on each player as well as where he came from and where he might be going.
It might not be too long before these guys are household names in the baseball world.  Former AFL MVPs Nolan Arenado (2011) and Kris Bryant (2013) are among the favorites for this season's National League MVP.  Closer to home, late season Red Sox lefty specialist Robby Scott was an AFL Fall Star last season.
Let's get started
Trey Ball
Acquired: 2013 first round choice (seventh overall) out of high school in Indiana
DOB:  6-27-94
Ht: 6-6  Wt. 185  Throws:  Left
Scouting report:  Fastball sits at 90-92, topping out at 95.  In four professional seasons, fastball has increased movement leading to command issues.  Has two speeds for his curveball, 70-72 and 76 mph.  Slider sits around 84, just started throwing it mid-2015
Outlook:  High school top picks can be risky propositions and Ball's numbers reflect that.  In his first full season of 2014, struggled to a 4.68 ERA as a 19 year old but was still promoted to High A Salem where he has pitched for the last two seasons.  In 2016, he missed time with a knee injury which limited him to 117 innings after 129 innings in 2015.  Walks are a definite issue, rising from 3.5 per nine innings  in 2014 to 4.2 in 2015 to 5.2 in 2016.
AFL Goals:  Increase innings load.  As a pitcher who has only started in the minors, he is being developed to do that in the majors.  He needs to improve his command going forward as the team is likely to try to push him forward to AA next season.  At 22, he is still developing physically so the team is giving him all the reps it can to keep moving him in a positive direction.
Jalen Beeks
Acquired:  2014 12th round draft choice from the University of Arkansas
DOB:  7-10-93
Ht. 5-11 Wt 195 Throws Left
Scouting Report:  Something of a Robbie Ross-type build, undersized but stocky.  His fastball sits at 91-93, able to dial it up to 95 at times, much like Ross.  He has a two seam fastball that sits in the high 80s which can be effective against lefties.  Slider is thrown in the mid 80s.  Changeup and curve in his mix of pitches as well.  Watching video, his arm motion reminds me of Ubaldo Jimenez, the ball held behind is torso until coming around toward the plate.  Beeks has a twist in his motion which also can create deception.
Outlook:  An elbow injury in his junior year caused him to fall to the 12th round.  This teammate of Andrew Benintendi at Arkansas started the season at High A Salem where he posted a 3.07 ERA in 13 starts, before his promotion to AA Portland.  At Portland, he logged 13 starts, posting a 4.68 ERA.  He had a six start run of 10 earned runs over 33 innings spanning late June to early August.  He may have run out of gas at the end of the year, allowing 13 runs in his last 19 innings (6.13 ERA).
AFL Goals  Beeks is the oldest of the Red Sox prospects going to the AFL in 2016. According to soxprospects.com, Beeks is going to be used as a reliever in Arizona to gauge his value in that role.  52 of his 54 professional appearances have come out of the bullpen.  The Red Sox might be looking at Beeks as a weapon like Ross (3.25 ERA in 2016) who can throw hard despite his short stature.  Beeks' unusual twisting motion might play well out of the pen and could increase his velocity if he is used only in short bursts.
Jamie Callahan
Acquired:  2012 second round draft choice out of high school in South Carolina
DOB:  8-24-94
Ht. 6-2  Wt. 230  Throws Right
Scouting Report:  Athletic projectable frame who may fill out more in the upper body.  Over the top motion with smooth delivery that speeds up toward the end.  Fastball in the low 90s, can touch 96.  Was a South Carolina University commit before signing with Red Sox.  Throws a 12 to 6 curveball that may be his best pitch.
Outlook:  After a disastrous 2014 which saw him post a 6.96 ERA in 25 starts, he improved to a 4.53 ERA at Low A Greenville after making only six starts out of 31 appearances.  The bullpen seems the place for him as he posted a 3.29 ERA this season exclusively out of the 'pen in 2016.  Over 65.2 innings, he struck out 63 batters but also walked 38, allowing just 53 hits and a .218 batting average against.
AFL Goals:   The AFL might be an audition for him and a showcase for other teams because Callahan would be eligible for the Rule Five draft if not added to the 40 man roster by November 20. Callahan has been slow developing which can be the case with high school draftees.  If he can continue his 2016 improvement this year, perhaps he might be considered for a spot in 2017 or 2018 at the latest.  Since he doesn't have eye-popping stats or off the charts physical tools, he isn't likely to be chosen in the Rule 5 draft anyway,  but perhaps another team might think differently when they see him in Arizona.
Michael Kopech
Acquired:  2014 first round pick (33rd overall) out of high school in Texas
DOB 4-30-96
Ht. 6-3  Wt. 205 Throws Right
Scouting Report: Positively explosive fastball, that was already thought to touch 100 mph at times, was clocked at 105 in a July 2016 start in Salem, North Carolina, setting the baseball world abuzz. Still struggles with command at times. Three-quarters arm slot with a high leg kick. Late life of pitch projects to at least middle of the rotation starter. Slider also a plus pitch which can be a wipeout pitch to righties. Kopech throws his changeup in the high 80s and it is clearly the worst of his three current pitches.
Outlook The 20 year old has had some bumps in the road since the middle of last year. In July 2015, he was suspended 50 games for taking a PED which he denied but served his suspension. In March of 2016, he fractured a bone in his pitching hand in an altercation with a roommate further hindering his development. His first start came on June 17 and he was having a spectacular season until his last start of the year on August 31 in which his control deserted him and he walked five, giving up six earned runs in just two-thirds of an inning causing his season ERA to rise from 1.23 to 2.25. In 135 career professional innings, he has struck out 172 while allowing just 93 hits, good for a .198 batting average against.
AFL Goals Build up arm strength through pitching innings. Pitching only 135 innings over two seasons, if he wants to be a major league starter, he will have to build up arm strength to handle a full season of up to 200 innings so he is two or three years away from the majors at least. If they want to use him in the bullpen to harness that electric fastball, he could reach the bigs sooner.
Stay tuned to BoSoxInjection.com for all Red Sox news and analysis and Part Two of the Arizona Fall League Preview looking at the hitters who will be there this season.
This article originally appeared on