Reaction: Nationals Take Costly Win Against Atlanta In 11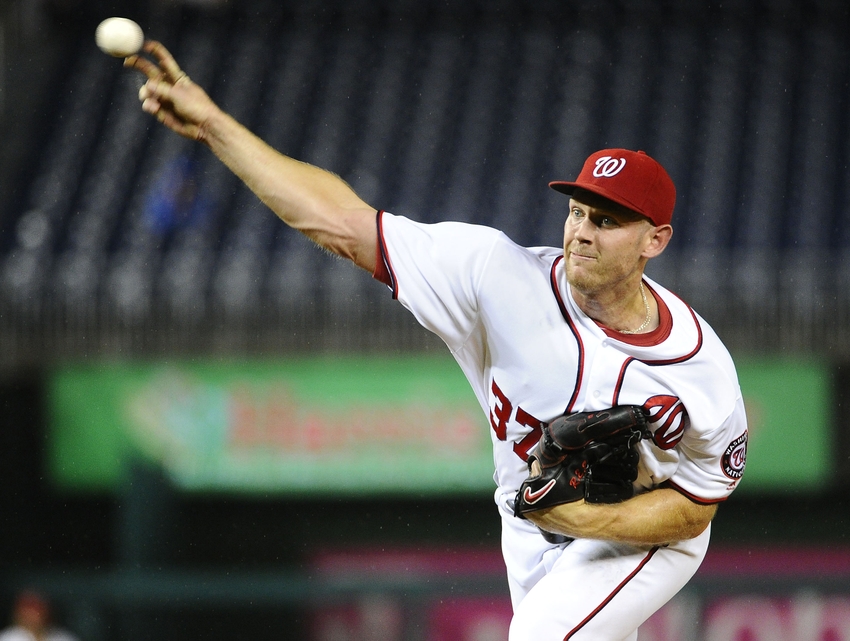 Potentially a costly win for the Washington Nationals. They beat the Atlanta Braves in 11 innings but lose Stephen Strasburg in the third with an arm injury.
In a game played with the intensity of an April weeknight, Wilson Ramos's walk-off single in the 11th inning hands the Washington Nationals a 5-4 win over the Atlanta Braves Wednesday night.
The big story is not the loss, but the injury to Nats starter Stephen Strasburg. In the third inning, after a double to Dansby Swanson, Strasburg started making a fist with his pitching hand. After a changeup slipped out of his hand and nearly missed Wilson Ramos' glove high, he tossed one more pitch to Braves starter Mike Foltynewicz before the trainers were called out.
The extent of the injury to Strasburg is unclear. Immediately, he knew it was trouble. He grimaced and continued to ball his fist. Already a recipient of one Tommy John surgery, the expression on Strasburg's face told a tale no one wanted to hear.
More from District on Deck
Because the Nationals do not release medical information during the game, there is no word as we pass midnight on how serious this new injury is. The fans, already in short supply due to a 65-minute rainless delay before the game, lost all their energy. What should have been a fun night turned into a funeral march.
There were a couple positive moments for Washington. Daniel Murphy's two-run single in the seventh tied the game at three. With those RBI's, Murphy has now driven in 100 runs on the year. With a double in the 11th, his 39th of the year, he moved Jayson Werth over to third, setting up the game winning hit.
Mat Latos picks up the win to go 7-2 overall. Atlanta, who has now lost 23 of their last 25 at Nationals Park, hands the loss to Brandon Cunniff.
The win puts the Nats at 82-57, still 8.5 games in front of the surging New York Mets, who beat the Cincinnati Reds earlier in the afternoon.
All eyes will now focus and Strasburg and his immediate future, as his will impact the Nats well into October.
This article originally appeared on