Rays Kevin Kiermaier Heating Up at the Plate: Waiver Add Worthy?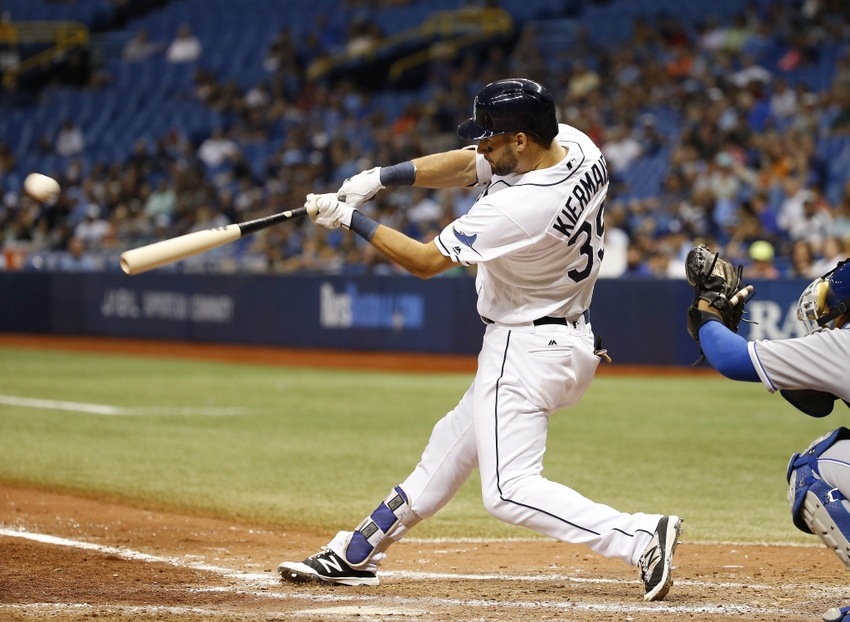 Kevin Kiermaier is currently on fire at the plate for the Rays. Should fantasy owners now look to him as a must add off the waiver wire?
Kevin Kiermaier has made his fair share of highlight reels over the last few seasons due to his unbelievable defense for the Rays. He is no slouch at the plate either though, and is currently swinging it the best he has all season. However, can fantasy overlook his rough start, and make him a must add off the waiver wire?
Kiermaier's defensive prowess is well documented, and the 31st round pick, has certainly made a name for himself in the league. He is a career .277 hitter in the minors, but the Rays knew that whatever offensive production they could get out of him, came as a bonus.
After becoming a full-time starter in center for the Rays in last season, Kiermaier has posted solid, albeit unspectacular, numbers. Fantasy owners were willing to make him a late round pick this season, as he looked like a possible 15 HR/20 SB threat. Unfortunately, after his breakout season in 2015, Keirmaier's slow start this season erased owners optimism.
While he did steal at least three bags in each of the first three months, he did not bat higher than .250 in any month over that stretch, and could only post five homers over that span. Kiermaier would then have his season derailed further, by an unfortunate injury, in which he broke multiple bones in his hand while diving for a ball in May.
That injury would cost him all of June, and he would ultimately wind up missing nearly six weeks of action. Kiermaier would go on to have a quiet July, as he was trying to get back into the flow of things, but his turnaround did begin in August. He posted a, .252/2 HR/8 RBI/4 SB line in Aug., and  simply began to look more like the player that we saw in 2015.
Once the calendar welcomed in September, Kiermaier parlayed his success into a current 10 game hitting streak, highlighted by moonshot today that hit the scoreboard in right field at the Trop. Over the last 15 games, he has now posted a, .288/2 HR/4 SB/.774 line, and it now looks as though he will bypass his career highs of 10 HR and 16 SB this season.
The Rays will more than likely keep slotting Kiermaier at the top of the lineup, surrounding him with the likes of Evan Longoria and Logan Forsythe, further helping his counting stats. While owners will take the handful of HR that Kiermaier will offer down the stretch, his real value comes in the SB department. After getting caught stealing twice in April, he has not be caught over his last 13 SB attempts, and has already attempted three SB this month.
Kevin Kiermaier's season line certainly looks ugly, but fantasy owners need to look past that, and appreciate his current hot streak. Owners are hard pressed to find SB off the waiver wire this season, but Kiermaier can be an answer. Make the move and ride him into the beginning of the fantasy playoffs.
More from Fantasy Baseball Crackerjacks
This article originally appeared on