Quotes and Reactions from the Yankees Town Hall Meeting
On Tuesday night, the Yankees held a town hall meeting where fans were formally introduced to the next crop of potentially great players.
The Baby Bombers have arrived. Well, some of them. And by arrived I mean they were in Manhattan alongside Yankees GM Brian Cashman to answer questions from some of the several hundred fans in attendance.
As part of the clubs 'Winter-Warmup 2017' at the Hard Rock Cafe in midtown, highly touted prospects James Kaprielian, Clint Frazier, Gleyber Torres, and Chance Adams sat alongside current Yankees second baseman Starlin Castro, unfazed by the increasingly bright media spotlight. It's interesting that Castro was part of the featured delegation — perhaps this speaks to the organization's future plans for the 26-year-old infielder (more on that later).
It's interesting that Castro was part of the featured delegation — perhaps this speaks to the organization's future plans for the 26-year-old infielder (more on that later).
With home attendance averaging 37,820 in 2016 — falling some 1,610 patrons per game from the previous season, not to mention the YES Network dropping from 259,000 average viewers per game in 2015 to 218,000 last year, the Yankees put their players on parade this week — first visiting a senior citizens' center, an elementary school, and a deli.
The inquisition… I mean series of questions, began by those in attendance taking aim at general manager Brian Cashman and what's to come in the years following 2017.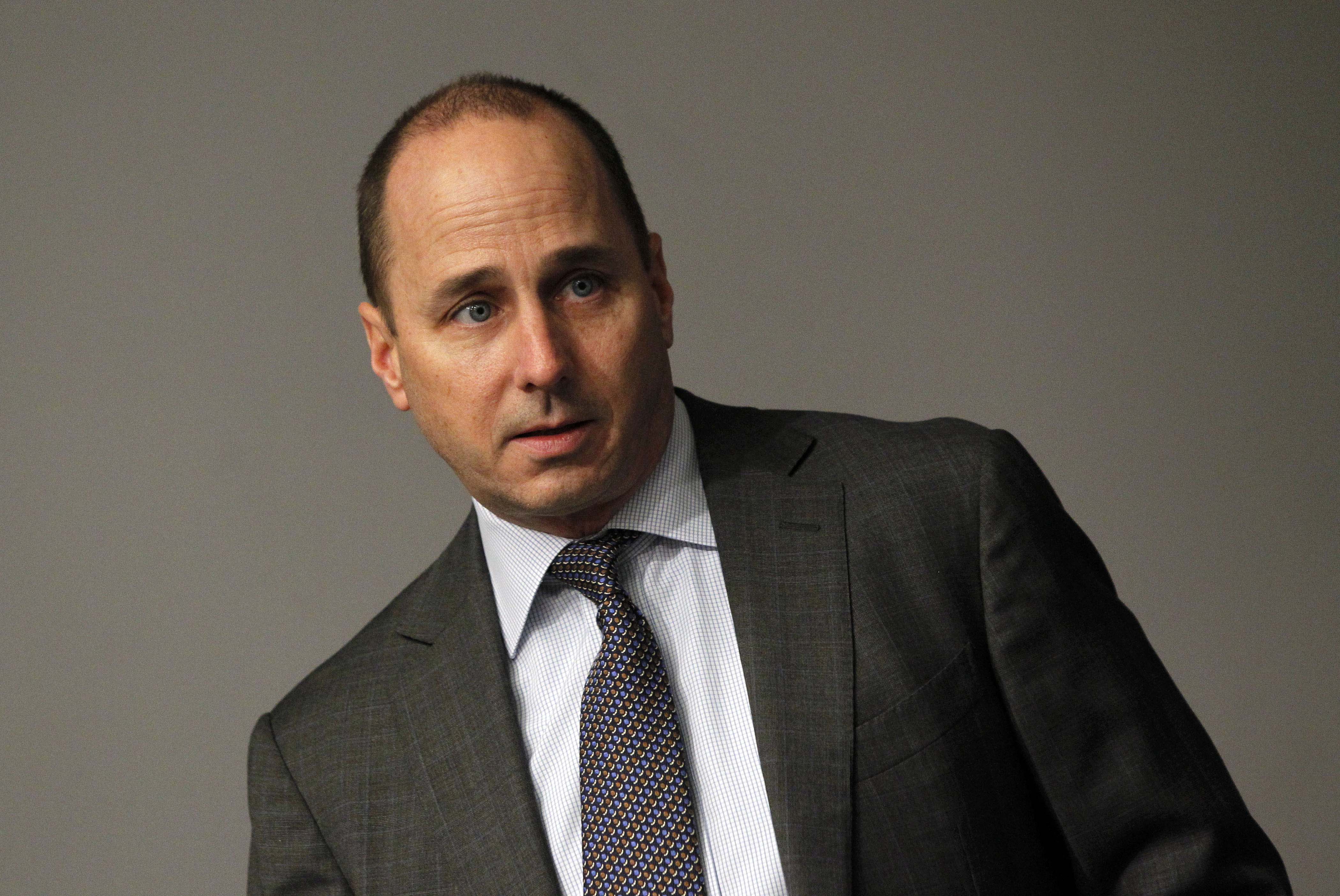 Brian Cashman
An exuberant young fan quickly put the Yankees general manager on the spot, asking how the organization would approach the big free agent class of 2018 — naming Manny Machado, Bryce Harper, and Matt Harvey individually. The fan also told Cashman if Aaron Judge didn't pan out, then "we" need to do something.
Cashman responded by reminding all those in attendance about the way the new collective bargaining agreement works and the escalating penalties for exceeding the luxury tax threshold. He then spoke about how it is his intention to fill the Major League roster with as many current Minor League prospects as he can because it will open the door to lots of possibilities.
"I know the talk of the big free agent class of 2018 already had been discussed before the 2016 season started like, 'Ah, the Yankees are going to wait and reset the clock and go after these guys.' And since this time, you saw one of our golden nuggets pop out of our system (when Gary Sanchez) established himself as potentially one of the high-end young players in the game. We could have a few more of those, and it'll allow us to have a lot of different choices to see what's on the open market at the time.

"So who's to say the rumors out there (regarding the 2018 free agent class) are the necessary ones? … We want our guys to be looked like that six years from now, and hopefully, some of these guys become those guys. Therefore, you're not having to rely on going to the marketplace and pay a steep price regardless of what they're talent level is."

Clint Frazier
If you follow Frazier on social media, (and why wouldn't you?), then you already know this guy isn't afraid to let it all hang out. So when the former Cleveland Indians farmhand got his turn on the mic, he didn't disappoint.
Frazier said the reason he struggled so mightily at Triple-A Scranton (.228/.278/.396 in 25 games while striking out 30 times and hitting just three home runs in 101 at-bats) after being acquired by the Yankees was because he put an immense amount of pressure on himself.
"I got a lot of attention with Cleveland, but that ultimately just grew times 10 I felt when I came over here. I went from trying to fill Clint Frazier's shoes to trying to fill Andrew Miller's shoes. … The guy (Miller) did what he did because he's one of the best pitchers in the game. To try to live up to the hype that he had because I was traded for him was hard. He went out there and did what he did and I struggled, and I think for the first time in my life I was humbled to a maximum tee. I needed that. I needed to get off cloud nine and realize that there are things I need to work on. I'm glad that a guy like Andrew is who I got traded for, so I need to continue to work everyday."
In regards to when he thinks he should get a big league call-up, Frazier responded:
"I think if I perform, I'll be in the right spot. I'm not the general manager. I can't call myself up. But I think everything is going to fall into place the way it should be."
Frazier also made light of the fact that he'll soon have to trim his flowing red locks to adhere to club policy.
"We'll see how long I can get it before I have to do it again."
When asked about the type of reception he and his young teammates should expect once they've all burst onto the scene:
"It's going to be common for people to not like us."

James Kaprielian and Chance Adams
The two right-handed starters, each selected in the 2015 draft, (Kaprielian with the 15th pick in the 1st round — Adams in the 5th round) seem to be on a collision course to both arrive in the Majors at some point in 2017.
Though Kaprielian missed most of last season due to a strained flexor tendon strain, the former UCLA product proved during his brief stint in the Arizona Fall League that he is back on track, regularly reaching 97 mph on the radar gun.
"I am 100 percent. I am feeling good. I'm feeling strong and ready to go into the season — without limitations. Ready to go. … I want to be the guy. I want to be the ace. There's a lot of guys in our organization who are like that and I think it's going to better us. … If we get enough of us pushing each other to be that guy, we're going to be pretty good."
Since the 22-year-old Kaprielian only made three full starts in 2016 for High-A Tampa, it's likely he'll begin the new season at Double-A Trenton before moving up the ladder.
As for Adams, his combined 13-1 record with a 2.33 ERA, 0.903 WHIP, and 144 strikeouts in 127.1 innings pitched at two different levels of the minors had him in the conversation of being called up last season. Alas, it never happened, but it does appear the Yankees will give him a legit shot of winning the final big league rotation spot this spring.
Through two full seasons of Minor League ball, the former reliever turned starter has proven to have the arsenal of pitches and competitive makeup to potentially succeed in a big way on the big stage.
"I learned how to pitch, which is better than just going out there and throwing. I kind of learned how to pitch and did my research on hitters. … I worked on a changeup a lot last year. I had one, but I worked to improve it, so that was probably the most improved pitch."

Gleyber Torres and Starlin Castro
Immediately after learning that Castro was involved in this prospect lollapalooza, I wondered aloud why he was included. Not because I don't find him worthy — quite the contrary, I feel Castro's ability to play multiple infield positions will greatly help the Yankees eventually decide which players are dealt, and which ones make up future iterations of the team (Didi Gregorius, Jorge Mateo, Miguel Andujar, etc.).
At times, though, Castro gets overlooked because he is a streaky hitter who can fall prey to lackadaisical play in the infield. Perhaps Torres' presence will motivate him towards a change in philosophy.
Come to find out that the Yankees newly minted gem of a shortstop, Torres, has a relationship with Castro — albeit a short one, from their days together in the Cubs organization.
Following a workout together in the Bronx on Tuesday, Castro had this to say about Baseball America's top Yankees prospect:
"He listens. I see him hitting and he has a really good swing."
Through a translator, Torres said, "It was exciting to get to see Yankee Stadium in real life." Though many within baseball circles expect the 20-year-old Arizona Fall league MVP to propel his way through the Minor League system rather quickly, much the way Carlos Correa and Corey Seager did for this respective clubs, Torres is solely focused on taking one day at a time — which will likely begin this season at Double-A Trenton.
"There's no pressure at all. There's a lot of good rumors out there, but the focus is on keep working hard and the future."
Torres reiterated that he's excited to once again work with special instructor Alex Rodriguez, calling him a "great guy."
As for Castro, who seemed much more comfortable at the plate without the weight of being the captain of an infield (shortstop is traditionally thought of as so) — he seems to have no qualms about possibly shifting his position again if it is in the best interests of the Yankees.
"They haven't talked to me about that yet. I'll do whatever they want me to do. I just want to help the team win. Whatever I can do to help, I'm in."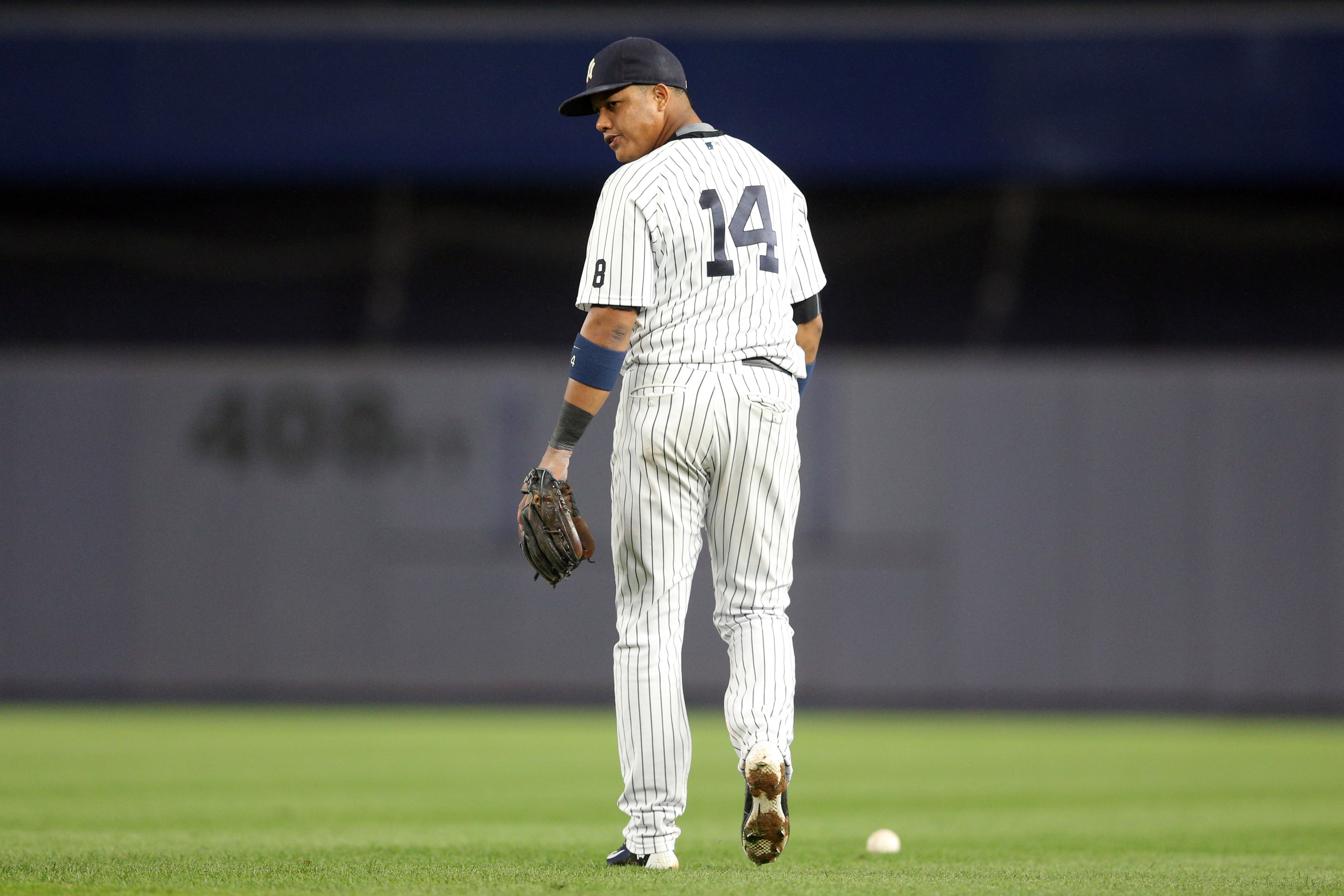 The Future Is Near
The Yankees organization chose Castro, Torres, Frazier, Kaprielian, and Adams to be the focus of this town hall meeting because the way these five players produce on the field from here on out means an awful lot to the level of success the Yankees achieve moving forward.
I applaud the Yankees for getting behind their young prospects, putting a face and some much-needed personality to the names many of us have written and spoke so highly about since 2015.
In the age of social media, people crave instant access to just about everything — especially when it comes to better knowing their favorite players. And for all the previous success' of the New York Yankees, they are in no way immune to that.
I look forward to watching each of these guys attain great success at the Major League level and engrain themselves in the winning culture of the Yankees alongside other young stars like Gary Sanchez, Greg Bird, Didi Gregorius, Dellin Betances and others.
We have entered a new era of baseball, my friends — ushered in by the likes of the Cubs, the Mets pitching staff, and the Indians to some extent. The Yankees simply need to put their own twist on it and reap the rewards of their patient approach.
Much like Brian Cashman said:
"At the end of the day, we're going to be in a position to do a number of things and maybe turn the clock back and be big-game hunters that we, and you, are accustomed to being. … We didn't know the powder keg we were sitting on."
Want your voice heard? Join the Yanks Go Yard team!
Should Kaprelian's words ring true, "we" the fans are in for a long run unabashed bragging.
"There's something to be said about this group, not only the ones that are here, but the ones that aren't here."
This article originally appeared on