Prospects the Yankees Can Afford to Part With This Offseason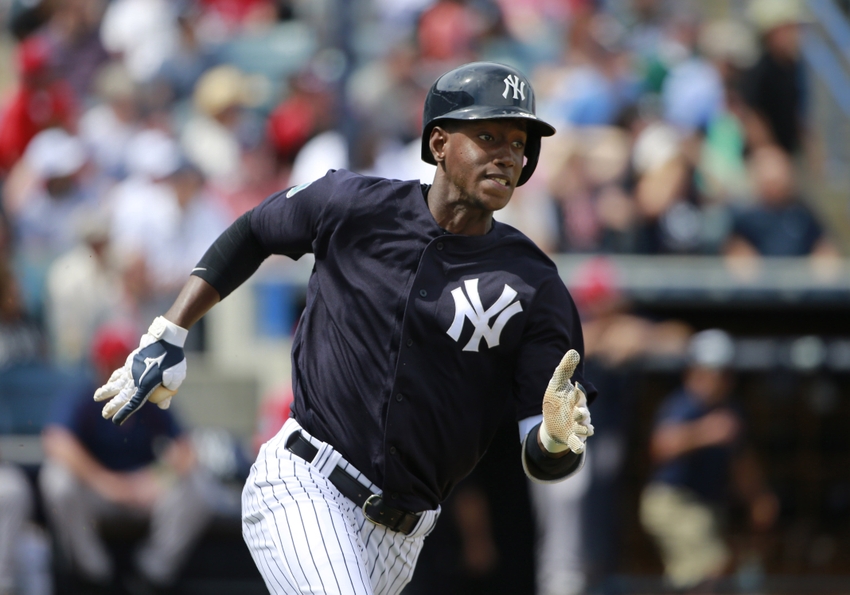 The New York Yankees have one of the top farm systems in the game. They are armed with a number of elite prospects. Some of them will bloom into stars, while others can be used to fetch a bonafide star.
Clint Frazier, Gleyber Torres, Gary Sanchez. These are all guys that you probably won't see traded anytime soon. Frazier is currently the Yankees top prospect and could find his way to the Bronx sometime next season. Torres absolutely tore up the Arizona Fall League, winning the league's MVP award at just 19 years old. As for Sanchez, we all know what he did in his short time in the Bronx last season.
But, beyond these elite names, an incredible wealth of talented youngsters exists within New York's farm that are either blocked long-term or potentially redundant. You could argue that the system is essentially at its peak in terms of talent, so it wouldn't be surprising to see general manager Brian Cashman try and flip a few of them for established names in the next month or two.
A trade for a controllable starting pitcher especially feels inevitable given the number of starters set to depart New York after next season. As fun as it is having such a great stable of prospects, we know they are not all going to work out, so the Yankees need to identify which are the real keepers and which are playing above their heads at the moment.
Here are a few that Cashman could deal away without having to feel much regret.
Dillon Tate
This 22-year-old right-hander was acquired as the centerpiece of a three-pitcher package in exchange for Carlos Beltran at the 2016 trade deadline. As recently as 2015, he was regarded as a potential number one overall pick in the June amateur draft, but he has yet to find consistent success in the minors.
Before he was acquired from the Rangers, Tate had seen a significant dip in his velocity when he was working primarily a starter, from the upper 90's as a college arm to the high-80's/low-90's in Low-A ball in 2016. After coming to New York, he was moved to the bullpen so he could work on straightening out some mechanical issues.
In many other farm systems, Tate would almost definitely be a top-10 or top-5 prospect. According to MLB.com, he is #11 in the Yankees rankings.
Want your voice heard? Join the Yanks Go Yard team!
While he certainly could develop into a top-tier starter or reliever, it wouldn't hurt the Yankees if he were dealt. As it stands right now, Tate is simply a luxury in the system. He's more of a project than someone they are counting on to be a building block long-term.
There's no harm in trying to develop him, but it would be worth seeing what he could fetch in return now that he's shown increased velocity during a successful stint in the Arizona Fall League.
Miguel Andujar
Many fans and analysts think Andujar can be the eventual replacement for Chase Headley at third base, myself included. As NJ.com reported, the Yankees are at least willing to listen on Headley in trade talks this winter, so one would assume Andujar would be the next to step in line, right?
Well, yes he could be. But, by 2018, Mike Moustakas, Aldemys Diaz, Todd Frazier, and Jung-Ho Kang will all be available via free agency, barring extensions.
If the Yankees decide to go the route of free agency in order to fill the third base spot, there are plenty of options.
While he hit for a .266 average in Double-A Trenton, Andujar offers little to no power, as he connected for just two homers through 72 games. On the other hand, Fraizer, Moustakas, and Kang all offer impressive power.
Any team that needs a third baseman who can hit for average and play solid defense could look to trade for Andujar. He reportedly generated considerable interest from rival executives with his strong performance in the Arizona Fall League, so it's possible the Yankees could sell high on him this winter if they don't believe his 2016 breakout was sustainable.
Luis Torrens
As we all know, the Yankees have a knack for developing solid catching prospects. We've seen Francisco Cervelli, Austin Romine, John Ryan Murphy, and of course, Gary Sanchez come up through the system in recent years.
Torrens was a fast-rising name and a generally-accepted top 10 prospect in the Yankees system before he tore his labrum in 2015 and missed an entire season of development.
He's capable of being a .250-.260 hitter, but his power hasn't been there, with just 11 home runs in six seasons. He's got a very strong arm, but a relatively small frame at 6′ 0″. He makes up for it with his fantastic defensive abilities but does have a problem with passed balls.
The Yankees current catching depth goes Gary Sanchez, Austin Romine, and Kyle Higashioka. They are fairly set at the position for the long-term, so it might be worth parting with Torrens as part of a package to bring back an arm this winter.
Jorge Mateo
Before the 2016 trade deadline, the thought of trading Mateo would have seemed ludicrous. He is considered the fastest player in the minor leagues and his bat has improved as he's grown through the minor leagues.
But now, the Yankees have Didi Gregorius entrenched at the position after his breakout 2016 campaign and with three years of team control remaining. Behind him, super prospect Gleyber Torres is waiting in the wings to take over. Torres will be there sooner or later, as he is just 19 years old and already looking to start 2017 in Double-A Trenton.
Behind him, super prospect Gleyber Torres is waiting in the wings to take over. Torres will be there sooner rather later, as he is just 19 years old and already looking to start 2017 at Double-A Trenton after hitting .270/.354/.421 with 11 home runs and 21 steals in 547 plate appearances in High-A last year. He looks set to grab a big league job as early as 2018.
So where does this leave Mateo? Well, he may be the odd man out. Sure, he could transfer over to second base, or even center field. Does that mean Gregorius is traded? It'd be difficult to trade an established player such as Gregorius to make room for the unproven prospect.
Besides Gregorius and Torres, the Yankees have Kyle Holder, Tyler Wade, Wilkerman Garcia, Hoy Jun Park, and a ton of other high-upside youngsters who play short.
There are whispers around the organization that Mateo earned his ticket out of town this winter with the murky incident that earned him a two-week suspension in 2016, possibly because he complained about not being promoted to Double-A at midseason.
This article originally appeared on