Projecting Brendan McCurry, the return for Jed Lowrie
By Chris Mitchell
On Thanksgiving Eve, the Athletics acquired infielder Jed Lowrie from the Astros in exchange for minor league reliever Brendan McCurry. If you haven't already, you should check out Jeff Sullivan's piece on Lowrie. This abbreviated missive focuses not on Lowrie, but on the minor league reliever who's headed to Houston.
An undersized reliever, McCurry fell all the way to the 22nd round in 2014's amateur draft, but his minor league performance has since lifted him to fringe prospect status. McCurry worked in relief at High-A and Double-A last season, where he pitched exceptionally well. He struck out 32 percent of his batters faced last season, and finished up with a 2.44 ERA.
McCurry's numbers are excellent, but plenty of minor league relievers put up excellent numbers, especially in the lower levels. Throw in that he's nearly 24, and he's about as fringy as they come. KATOH forecasts McCurry for a mere 0.7 WAR through his age-28 season, making him the 771st highest-ranked prospect. Going by the stats, at least, most organizations have multiple relief prospects just as interesting as McCurry, if not more interesting. His Mahalanobis distance comps help illustrate how rarely guys like this become anything more than Triple-A depth.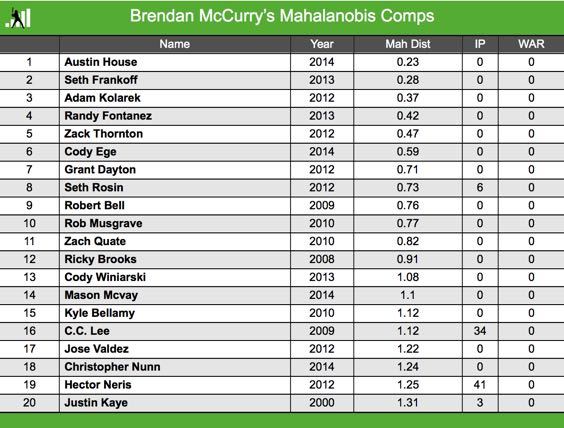 More from Fangraphs: