Profiling the 2017 Yankees: Will They Sign a Closer?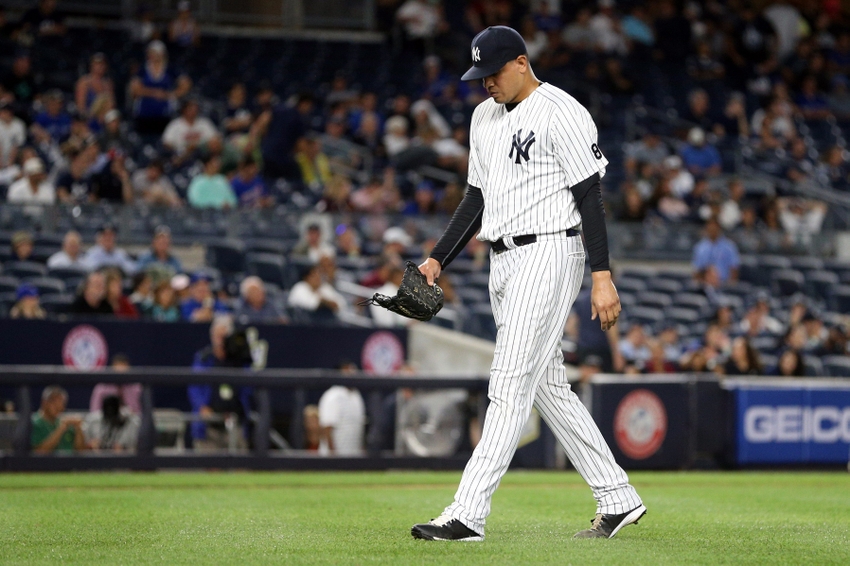 Yanks Go Yard begins its new series — Profiling the 2017 Yankees — that will examine areas of interest on the Yankees roster, and which directions the organization may take. First up, a look at how the bullpen's end-game could be handled this winter:
Judging by general manger Brian Cashman's "State of the Yankees" comments, Yankees execs aren't 100% confident that they're positioned to contend next season. The club overachieved their way into the Wild Card race down the stretch, but a lot needed to break right for them to squeak into the postseason.
As you many know, a lot didn't.
You get the sense that the Yankees are a couple quality starters, handful of reliable relievers, and a fully-developed Greg Bird and Aaron Judge shy of being October threats.
Don't let Yankees owner Hal Steinbrenner completely fool you with his getting-cheaper-at-all-costs talk. No doubt, the Yankees are adamant about getting under the luxury tax threshold for future expenditures. However, Hal has splurged on big names that put fans in seats and glue eyes to broadcasts.
If there is a splurge this winter, it needs to be Aroldis Chapman.  The electric lefty posted a 2.01 ERA with the Yankees before being sold to the Cubs for a prospect bounty headlined by Gleyber Torres.
Oh, if you thought Chapman's New York numbers were good, he improved in nearly every stat line after being traded and threw up a goose egg in his homers-allowed column. He only gave up two (!) in 58 total innings of work.
Here's a little reminder of Chapman's explosiveness that energized the Bronx:
Supposedly, team president Randy Levine was the metaphorical devil on Hal's shoulder, whispering in his ear to retain Chapman at the trade deadline. Levine astutely noticed how Chapman's inferno fastball had captivated Yankees viewers. Ultimately it was Cashman, the angel on Hal's other shoulder, that prevailed and ignited 2016's desperately-needed rebuild.
Chapman is still pursuing a World Series ring with the Cubs, but he previously hinted at his desire to return to New York:
"Oh, yeah. If there's that willingness and that possibility," Chapman told Jack Curry when asked about the chances of returning as a free agent.
After being traded, the "Cuban Missile" also closed his thank you post on Instagram with an exhilarating sentence: "#newyorkyankees bye for now."
Want your voice heard? Join the Yanks Go Yard team!
Chapman had fond times as a Yankee, but money talks. The southpaw will be the most coveted fireballer on the free-agent market, so he isn't going to come cheap. If the bidding for Chapman skyrockets, Kenley Jansen and ex-Yankee Mark Melancon are worthy alternatives.
Jansen has never had an ERA above 2.85 nor a K/9 below 13.0 in his seven-year career. He will come with a compensatory draft pick attached, though. Sacrificing a pick for a luxury doesn't fit the Yanks' current agenda.
Bet on Jansen cashing in a larger paycheck than Melancon, too. Jansen is younger than Melancon (29, 31) and has amassed more saves (189, 169). Melancon, a three-time All-Star, is by no means a pushover. He doesn't whiff as many batters as Chapman or Jansen, but he has fantastically maintained a sub-1.00 WHIP in each of his last four seasons.
For the Yankees to fortify their bullpen quickly — should they take that route — they'll need an impact closer to pair with Dellin Betances. The goliath Betances would then return to a set-up role and offer manager Joe Girardi flexibility late in games.
Betances is a lights-out reliever, but has become notorious for burning out late in the season. In the months of September and October, he has a 3.98 ERA (his worst of any month), 1.54 WHIP (worst), 30 free passes (worst), and a 13.8 K/9 (tied for second-worst).
That's bad for a playoff stretch. That's a killer in the postseason, especially from your closer.
But if the Yankees think of themselves as pretenders for a couple more years while their prospects mature, then signing a closer this winter is far from a certainty. Maybe they'll take their chances with the farm system. They do have high-upside relievers Ben Heller and Jonathan Holder, both of whom were strikeout machines in the minors but unremarkable in their major-league debuts.
Would it be in the Yankees' best interest to sign a closer? Yes, hands down.
My gut says they will — take that for what it's worth — but the market may take them into uncomfortable territory. These aren't your father's Yankees. Clubs typically don't go all-in for closers during a rebuild, even if it's an on-the-fly transition. I expect Cashman to explore all avenues, but won't sleep easy until news breaks that the Yankees officially signed one of the free-agent studs into their shallow bullpen.
This article originally appeared on