Predicting the New York Yankees' Next "Core Four"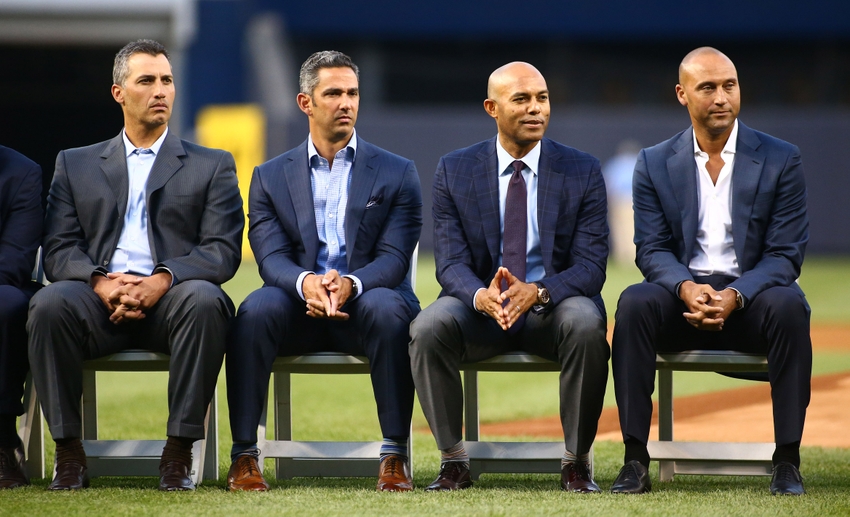 Four Baby Bombers in this next wave of New York Yankees prospects will inevitably be dubbed the new Core Four. Who from the stacked farm system will earn the moniker?
In a recent episode of the Baseball America podcast, Josh Norris, who recently compiled BA's 2017 New York Yankees Top Ten Prospects (subscription required), suggested that all 10 Baby Bombers on the list have a case to be in the site's annual Top 100 rankings next spring.
While that is unlikely to happen, the fact that all 10 names are at least worthy of consideration reveals just how stacked the organization is with legitimate blue-chip talents at the moment. This upcoming wave of prospects has a strong case for being the best in Yankees history.
The gold standard of New York prospect classes in the modern era is the 1995 group that served as the foundation of the late 1990's dynasty that won four championships in five years and also was integral to the 2009 championship nearly a decade after that.
In 1995, the Yankees had five prospects named in Baseball America's Top 100 list plus several more big names who just missed out. Ruben Rivera and Derek Jeter were both among the top five prospects in all of baseball, while Andy Pettitte, Russ Davis, and Matt Drews also made the Top 100 that year.
Other notable guys on New York's top 10 prospect list include the other two members of the Core Four, Jorge Posada and Mariano Rivera, who were seventh and ninth respectively. Brien Taylor, who had one of the more tragic Yankees careers in recent memory, also made the list.
It is an inescapable fact that whichever four players from this new class of Baby Bombers establish themselves as key contributors to the club first will be known as the next "Core Four." Let's try and get out ahead of it and predict which four Yankees youngsters will be a member of the new "Core Four" over the next decade.
(Spoiler alert: Clint Frazier is Bernie and gets ignored despite being one of the most talented guys in the system.)
Any young shortstop who dons the pinstripes over the next few decades is going to be compared to the legendary Captain. Didi Gregorius got the worst of it when he took over following Jeter's retirement, but when the next wave of young shortstops make it to the show, that is the unfair standard they will be measured against.
If any of this next generation has the ability to fill Jeter's big shoes, it is Gleyber Torres, the 19-year-old sensation who just won the 2016 Arizona Fall League MVP award despite being the second-youngest player participating.
Torres recently earned his first of many Jeter comparisons from a National League executive who told Nick Cafardo of the Boston Globe:
He's got that aura about him. That big league aura. It's like a confidence you see in very talented players and he's got it. You never want to compare a shortstop in the Yankees organization to Derek Jeter, but Jeter had that 'it' about him at a young age as well.
As crazy as it sounds to compare a teenager to a sure-fire first-ballot Hall of Famer, there are plenty of similarities between Torres and Jeter. Like Jeter, Torres is an offense-first shortstop with who hits the ball to all fields, has a little pop, a little speed, and a polished approach at the plate. He's not going to win any Gold Gloves, but is athletic enough to remain at the position long-term.
As a 19-year-old in High-A , Torres put up a .270/.354/.421 slash line with 11 home runs and 21 stolen bases, numbers that would be right at home on Jeter's Baseball-Reference page. Derek made his big league debut at age 21, which sounds about right for Torres as well with him beginning his age 20 season with Double-A Trenton.
Another obvious fit is the Yankees new starting catcher in the role of longtime Bombers backstop Jorge Posada. Over his 17 seasons in the big leagues, Posada was often the American League's premier offensive catcher, earning five Silver Slugger awards during his peak, and Sanchez looks ready to earn that distinction as soon as 2017.
Sanchez established himself as the face of the team's youth movement by socking 20 home runs in 53 games in the last two months of 2016, coming very close to stealing AL Rookie of the Year honors from Tigers starting pitcher Michael Fulmer, despite his putting up excellent numbers over a full season in Detroit's rotation.
The 24-year-old has already staked his claim on the third spot in the lineup and pushed aside Brian McCann as the team's primary backstop. If there is any player who is certain to be a part of the group of youngsters to earn the "Core Four" name, it's Sanchez.
Will there be a backlash when he doesn't continue to hit like Babe Ruth in 2017? Almost certainly. Fans definitely need to adjust their expectations down from 50 home runs to 25 or so next year. Steamer projects him as New York's best position player at 3.6 WAR, but expects a very mortal .268/.329/.491 (118 wRC+) with 24 home runs and 62 RBI in 481 plate appearances.
It's important to remember just how good that is. Even if Sanchez doesn't continue to break records with every swing, he should be an integral part of the Yankees next championship contender.
While he missed the majority of the 2016 regular season with an elbow injury, James Kaprielian remains the team's best pitching prospect and a good bet to be at the front of the Yankees rotation as soon as the 2018 campaign.
The 22-year-old looked completely dominant in his first three starts with High-A Tampa this year, striking out 22 and walking just three in 18 innings of work before hitting the disabled list. When he returned in the Arizona Fall League, Kap showed occasional rust, but his stuff was undiminished from earlier in the season, and he put up 26 Ks with eight free passes in his 27 frames.
New York is certain to take it slow with Kaprielian next year after such a long layoff. He'll likely only throw 100-120 IP, beginning the year back in High-A, but perhaps making it all the International League if all goes according to plan.
Like Andy Pettitte, many scouts don't see Kaprielian as a true ace, but more of a solid number two. On the other hand, if the recent velocity jump into the upper-90's is for real, I think the young starter could surprise a lot of people.
Health is the obvious concern going forward after such a serious arm injury. Kaprielian never underwent surgery to address the issue, so you have to imagine he's at increased risk of TJ at some point. Still, I'm a huge believer in his talent and see him as the minor league starter with the best shot of being one of the next "Core Four."
Dellin Betances seems like the easy answer as to which Yankees reliever will inherit the mantle of "next Mariano Rivera" after being one of the best relievers on the planet over the last three years, but I'm going to think outside the box here and suggest that Severino, not Betances could be the reliever in New York's next "Core Four."
Betances has always had control issues, and they seem to be flaring up more frequently after shouldering the heaviest workload of any reliever in baseball over the last three seasons. He'll be turning 29 before next Opening Day, and I'm just not all that confident about what he'll be by the time the Yankees are a legitimate contender again.
Sevvy, on the other hand, is still just 22 years old, and even though the team insists he will be a full-time starter in 2017, the odds seem pretty good that he eventually ends up in the bullpen from what we saw last year.
The young righty looked phenomenal out of the pen in 2016, putting up a 0.39 ERA in 23.1 IP and holding opposing batters to a .105/.209/.158 slash line as a reliever. His upper-90's heater and wipeout slider can be fully unleashed in short stints, making his lack of a quality third pitch a non-issue.
If and when the team does decide to move Severino to the pen, he would immediately become one of the game's best late inning weapons.
This article originally appeared on