Potential Bargains for the Yankees on the Upcoming Free Agent Market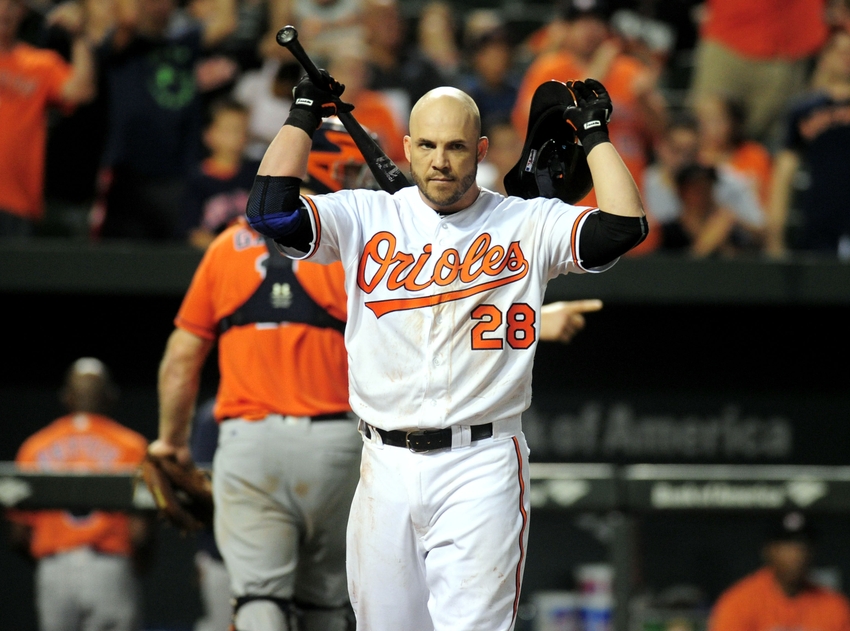 While the New York Yankees are unlikely to spend big in free agency this winter, there are a few potential fixer-uppers available that could entice them.
Admittedly, this post may be a huge waste of time (even more so than normal). The New York Yankees completely abstained from signing free agents last winter, and there is no real reason to think they won't do the same again. Principal owner Hal Steinbrenner has not been shy in discussing his plan to get the team under the luxury tax as soon as possible.
The team shed three big contracts at the trade deadline, and have been rumored to still be shopping Brett Gardner and Brian McCann as well. Mark Teixeira's huge deal is coming off the books after the season, but don't expect that money to automatically get reinvested in the team.
Yes, the youth movement is about laying a long-term foundation for the team. However, make no mistake, it's also about cutting costs for ownership.
So, in short, don't expect the Yankees to be going after any of the big names on the market this winter (not that there are a ton). A big bat like Yoenis Cespedes, Edwin Encarnacion, or Jose Bautista to slot right into the middle of the 2017 lineup would go a long way towards making New York serious contenders, but there is a near-zero chance that any of those guys ends up in pinstripes barring a serious about-face from Steinbrenner.
That leaves general manager Brian Cashman once again sorting through the scrap heap. Guys who were injured or had disappointing seasons. Anyone who will take a one year contract, or, better yet, a minor league deal. Here's a few players the Yankees might find appealing following the season despite their warts:
After three straight seasons as a solid mid-rotation option, Cashner completely feel apart at the worst possible time for his earning power. He's pitched to a 5.00 ERA and 4.76 FIP in 111.2 IP thus far. I'd say he needs a change of scenery, but the move from San Diego to Miami at the trade deadline hasn't helped matters.
Still, at 29 and not far removed from consistent two-WAR seasons, he's worth a flier on a one year deal. Of course, few pitchers would choose to rebuild value in Yankee Stadium and the AL East if they can help it, so New York might have to be aggressive if they see something they can fix in Cashner.
If Cashner isn't looking for a pillow contract and wants to maximize his earnings this offseason, it's really tough to say what kind of deal he could land. Remember that Ian Kennedy and Jeff Samardjzija were both coming off of terrible seasons and they landed five guaranteed years and $70-90 million. If the bidding reaches those heights there is no way the Yankees get involved, and rightly so.
However, if teams are scared off by his ugly numbers this year, New York might be able to swoop in and grab him cheaply. Maybe two years and $30 million gets it done?
The 28-year-old lefty is the classic good-when-hurt pitcher. Anderson shocked all of baseball with a career high 180.1 innings in 2015, after four straight seasons with only double-digit innings totals. Of course, after accepting the Dodgers $15.8 million qualifying offer last offseason, he has only managed a grand total of four innings because of back surgery.
When healthy, Anderson is one of the best groundball pitchers in the business, generating a 66.3% GB rate over a full season in 2015. That seems like a particularly useful skill in home run friendly Yankee Stadium. He's usually pretty good about keeping the ball in the yard and limits walks, although he doesn't really strike anyone out.
At the very least the Yankees should leaf through his medicals and assess the risk. There aren't many frontline-starter talents you can sign on a one year contract. It could be prudent for New York to use their financial might to offer him $10-12 million or so and cross their fingers. That's the kind of money they can absorb pretty easily.
Even 120 innings of a 3.50 ERA would be a huge help to next year's rotation and could be enough to put them over the top in the AL East.
Another injury prone Dodgers lefty. I must have a type. Kazmir has definitely had a down season in 2016, pitching to a 4.59 ERA and 4.49 FIP in 135.1 IP, but has been remarkably consistent the previous three seasons, compiling a 3.54 ERA and 3.61 FIP in that time while racking up 8.1 fWAR.
Despite his frail reputation, Kazmir has managed at least 25 starts and 130 innings each of the last four years. At his best, he's a solid number three that you can count on to take the ball every fifth day. The question is whether father time is starting to catch up with him.
His stuff looks undiminished and he's still just 32, so he probably has a few good years left. He's dealt with nagging injuries, including a neck issue that necessitated a DL stint. There's a good chance the control issues that have plagued him are a result of that.
Of course, Kazmir will only become a free agent if he opts out of the two years $32 remaining on his current deal with Los Angeles. That doesn't seem as certain as it did when he signed it. Would the Yankees be willing to top that figure? Very doubtful. So he might end up being too pricey for New York.
On the other hand, given their thin rotation, handing out another three year $48 million deal (maybe with the same opt-out?) could make sense, although it's undeniably risky.
If the Yankees end up dealing McCann this winter, they could look for a stop-gap DH to replace him. It's tough to imagine Carlos Beltran landing a multi-year commitment at age 40 even after an excellent season. It's hard to say whether he'd be open to a reunion after being dealt away, but Beltran seemed to enjoy his time in the Bronx and was a valuable mentor to the team's younger players.
One thing that worries me is that Beltran has slowed down significantly since the trade to Texas, hitting .252/.294/.417 with four home runs in 109 plate appearances for the Rangers. With New York, Beltran seemed to thrive at the plate when he didn't have to play the field, but so far that hasn't been the case in Arlington.
It's definitely a risk to invest $15 million or so in a 40-year-old slugger, but Beltran could provide similar production to a big-ticket bat like Encarnacion or Bautista in 2017, without having another three or four decline years tacked on.
No one wants another Alex Rodriguez situation with a DH who can't hit, run, or play the field. The Yankees have so many outfielders in-house it might make sense just to use that spot to rotate guys through. If they want a discounted proven run producer however, they could do worse than Beltran.
Without the stress of having to player a terrible infield corner for the first time in his career, the former number two overall selection in the 2008 draft has re-emerged as an offensive force as a platoon-DH for the Baltimore Orioles this year.
The one-time Pittsburgh Pirates phenom who peaked at number eight on Baseball America's Top 100 in 2010 has hit .257/.318/.517 with 20 home runs in 321 plate appearances. He's been overshadowed by guys like Manny Machado and Mark Trumbo in the Orioles' musclebound lineup, but Alvarez has been flat-out raking. 
Want your voice heard? Join the Yanks Go Yard team!
As with Beltran, this only makes sense if the Yankees are planning on trading Brian McCann this winter. Alvarez can probably match McCann's value with the bat at this point as crazy as that sounds, although having Mac as a backup starting catcher is obviously immensely valuable.
Because Alvarez is basically unplayable in the field, his market is limited to American League clubs with openings at DH next season. Those jobs can be tough to get, which will keep Alvarez from getting anything more than a modest one year deal again. He signed for just $5.75 million last winter.
As a bonus, Alvarez grew up a New Yorker, and would reportedly love to play for his hometown team.
Finally, a guy who always seems to be on lists of bargain free agents. You'd think teams would catch on to the fact that Steve Pearce is extremely valuable, but it hasn't happened yet, and there are reasons to think he won't cost a ton to bring in next winter either.
Like Alvarez, Pearce only required a modest one year commitment last offseason. He signed with the Tampa Bay Rays for a measly $4 million. They were rewarded with a .309/.388/.519 batting line with 13 home runs in 275 plate appearances before flipping him to Baltimore at the trade deadline. 
His production was no fluke. Pearce's hot hitting has continued with the Orioles, and he has quietly been one of the game's best part-time sluggers the past three years. While Pearce crushes lefties (192 wRC+ against LHP), he's actually gotten miscast as a platoon guy in his career. He's got a still-excellent 123 wRC+ in 191 PAs against right-handers in 2016.
In addition, Pearce has the ability to play all over the field. He's seen time at first, second, third, and both outfield corners in 2016.
Still, at 33 with a reputation as a bench player, Pearce is very likely to come cheaply once again for whatever team is the highest bidder. Hopefully, that team is the Yankees this winter. Frustratingly, he actually did wear the pinstripes briefly in 2012, one of three MLB clubs he played for that year.
This article originally appeared on