Playoffs of Not, 2016 Was a Success for the Yankees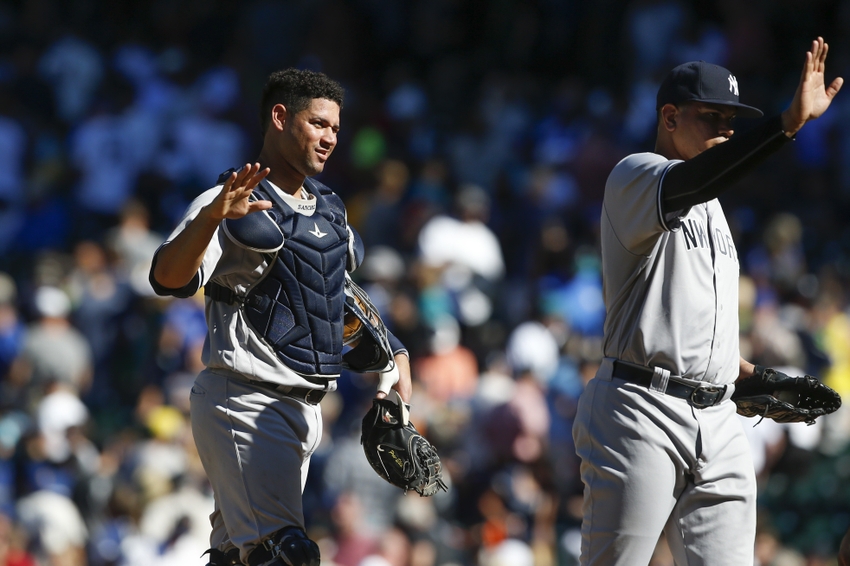 After a rare fire sale at this year's trade deadline, the New York Yankees have exceeded expectations in the second half. Whether or not they make the playoffs is irrelevant, because in many aspects, 2016 has been a huge success.
The general consensus is that when teams sell off their best players, they are building for the future. Instead of preparing for a playoff push, these teams prepare for their future, acquiring young talent. They recognize that their best years are still far away, and grooming prospects becomes their number one priority.
We all know what the New York Yankees did at this year's trade deadline. They did the unthinkable, trading off their best players while building the best farm system in baseball. They acquired the likes of super prospects, like outfielder Clint Frazier, infielder Gleyber Torres, and pitcher Justus Sheffield. For most teams, this would have been all they needed to consider their season a success.
For the Yankees, however, the fun was just getting started.
The team sat at 53-52 record the day of the trade deadline. It was almost a .500 record, something that they had floated around all season. But then something great happened. Yes, the farm system had been restocked, but with the departure of veterans brought on a new crop of young players.
Utility-man Tyler Austin and the highly touted outfielder Aaron Judge were brought up together, and promptly smashed back-to-back homers in their MLB debut's. It was this event that truly sparked what would go on to become the rise of the "Baby Bombers".
Gary Sanchez, as we all know, went on to electrify New York and all of MLB with one of the greatest starts to a career the sport has ever seen. Everyone knows about his tape measure homers, and his calm demeanor behind the plate, but he's truly demonstrated as to why he is the future of New York.
He single-handedly took over the starting job behind the dish, and pushed Brian McCann to the bench. With 19 home runs in 46 games, he is the fastest to ever do so in all of MLB history. What he's doing is nothing short of incredible.
Besides the youth movement and the promise it brings, there have been a few incumbents who have excelled. Shortstop Didi Gregorius truly has had a breakout season. As of this writing, Gregorius is hitting at a line of .278/.306/.449 with a career high 18 home runs and 67 RBI's. Sure, super-prospects Jorge Mateo and Gleyber Torres are being groomed in the minors, but it's nice to know that the Yankees have a near All-Star caliber starter in the present.
Want your voice heard? Join the Yanks Go Yard team!
Starter Masahiro Tanaka has had a spectacular season, as he is the leader in multiple important pitching statistics. Believe it or not, he is a fringe AL Cy Young Award candidate. Read this piece to get a closer look at Tanaka's dominance.
While the Yankees may not make the playoffs. It's truly incredible to think that they are even in the discussion. Rarely, if ever, do teams get better when they sell their best players and rely on young guys. But that's whats so special about this team. It is fueled by young players who were used to winning in the minors. And so far, the jump to the big leagues hasn't fazed them in the slightest.
Money is coming off the books which opens up the path to prized free agents, and an exciting, young farm system is on the rise. Put those two together and you can usually expect one thing, something that the Yankees haven't had since the 1990's.
A dynasty.
This article originally appeared on