Two months after horrific beaning, Ryan Vogelsong eyes a new start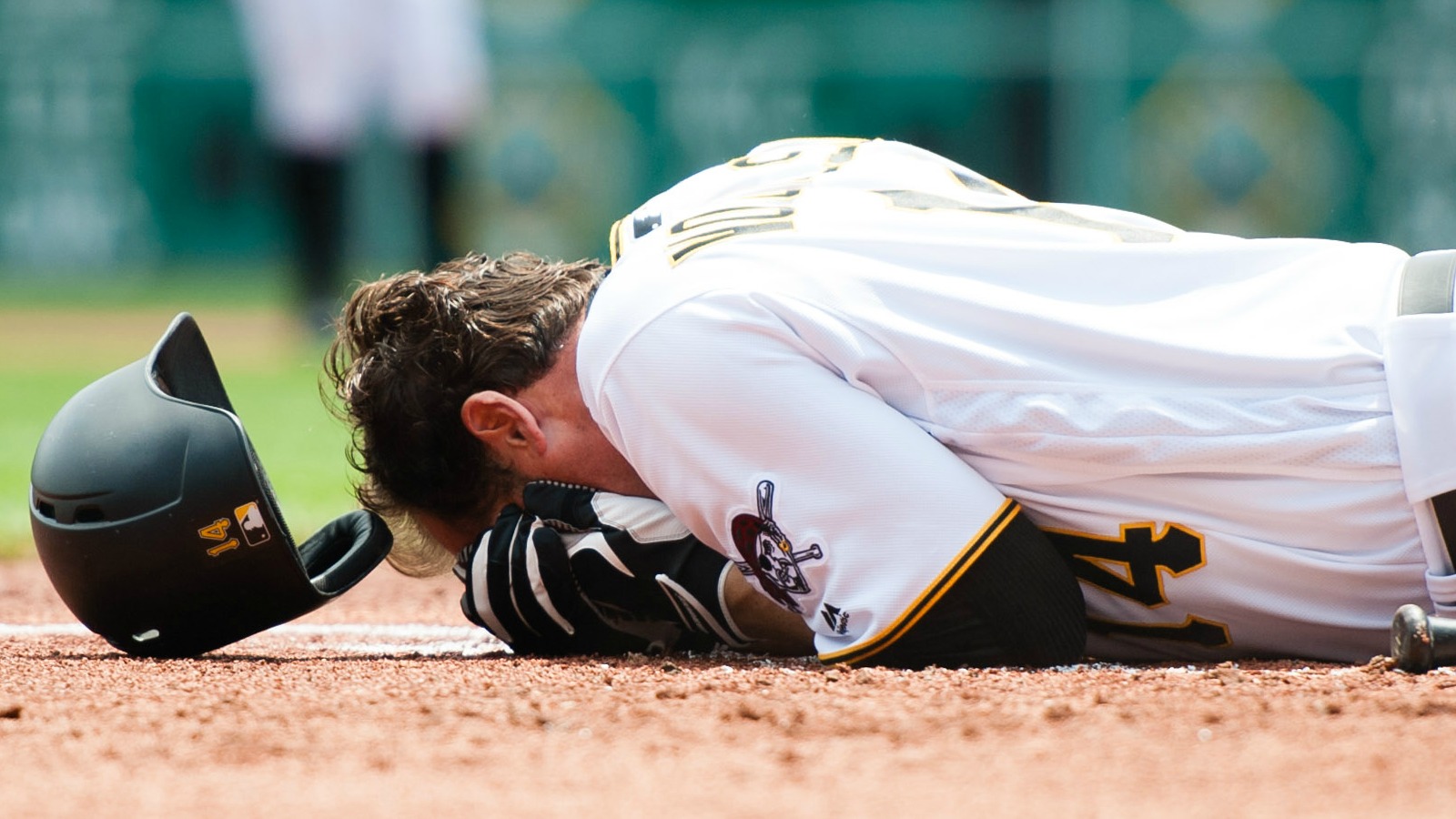 At first, Ryan Vogelsong thought he would never pitch again.
"I couldn't see at all," Vogelsong said. "I didn't know if my eye was gone."
Vogelsong, after getting hit in the face by a 92-mph fastball from Rockies right-hander Jordan Lyles on May 23, actually told Pirates head athletic trainer Todd Tomczyk, "My career's over. I lost my eye."
Believe it or not, his clarity in that moment was a good sign.
"When I attended to him in the batter's box, he was alert, he was oriented. I knew he had higher brain cognition," Tomczyk said. "Someone that lost consciousness, someone that wasn't alert, wouldn't be able to function and create those thoughts."
Vogelsong's life was not in danger. He had not suffered brain damage. But in those first frightful moments he had no idea whether the vision in his left eye would return.
Sitting in an ambulance on his way to Pittsburgh's Allegheny General Hospital, he told his wife, Nicole, "After everything I've been through, I can't believe this is how it's going to end, with me getting hit in the face by a pitch."
But his career — spanning 19 professional seasons, 15 teams and three continents — did not end.
Vogelsong, who turned 39 on Friday, already has pitched three times on a minor-league rehabilitation assignment that will expire on Aug. 8. His return to the majors, if it happens in the next eight days, will come less than two months after he underwent surgery to repair multiple facial fractures.
His surgery did not take place immediately — Vogelsong said that he had to wait 10 days for the swelling to subside, and for the trauma to ease in the muscle and nerves behind his eye. But his recovery began from almost the moment he arrived at Allegheny General.
Vogelsong said that doctors, after initial tests, told him that his eye was intact. The doctors next pried the eye open and shined a light into it. Vogelsong could see the light, and silhouettes of people in the room.
He knew he had some vision. But the doctors told him that they did not yet know what kind of vision that would be.
Tomczyk, listening to the doctors, said he initially thought that the possibility of Vogelsong returning to baseball was "very low."
But the next day, Vogelsong's vision was 20-80. After a few days, he said, it improved to 20-40 and then almost 20-20.
"I was very lucky, fortunate and blessed to be able to see at all," Vogelsong said.
Which isn't to say he was at peace.
Lyles finally reached out to Vogelsong on Saturday, leaving him a voicemail nearly three months after their fateful confrontation at Pittsburgh's PNC Park.
"The fact that he's calling me now means zero to me," Vogelsong said.
Lyles contacted Vogelsong only after FOX Sports, through a Rockies media-relations representative, relayed a series of comments by Vogelsong that were sharply critical of the Rockies pitcher.
Vogelsong remains upset that he never heard from Lyles. And he remains upset that Lyles hit him on an 0-2 count with the bases loaded and one out in the second inning of a game that the Pirates led, 1-0.
"I know when I was coming up, you never threw up-and-in on the opposing pitcher," Vogelsong said.
"There's a time and a place for that. Obviously when the pitcher is hitting, if it's late in the game and he's trying to get a bunt down to move a runner into scoring position, it's time to do some work up-and-in to keep the bunt from getting down. But I was always taught that going up-and-in on the opposing pitcher is a no-no."
Vogelsong said his irritation only grew when he later read Lyles' postgame comments in the Denver Post. Lyles said he was "just trying to climb the ladder" to get his fellow pitcher out.
"First of all, that's tough, getting hit up there," Lyles said then. "Hopefully he's good to go, and I hope he comes out of it OK and is able to get back to his teammates shortly … the pitch just ran in too much, too high."
Said Vogelsong: "I had one at-bat on the season. I'm a pretty easy out at this point in time. The guy is throwing 95-mph sinkers. I could think of about three or four different places he could have gone to strike me out or get me out without throwing me up and in."
The most troubling thing, Vogelsong said, is that he already was in the latter stages of his career. Here he was, trying to savor his remaining time, and it all almost ended because of a pitch that he believed Lyles threw irresponsibly.
"Obviously, you never want to get drilled in the face. But I know how short my time is left in this game because of my age," Vogelsong said. "When you're 38 (now 39), you're trying to get as much time in as you can before it's all over and you never get to play again."
Lyles, 25, was making his 109th major-league appearance on the day he hit Vogelsong. He was surprised, upon learning of Vogelsong's comments, that the veteran questioned his intentions.
"I had bases loaded, (one) out," Lyles said in an interview Sunday. "Obviously, I would never try to (throw) intentionally at someone's head or close to that region, especially another pitcher, especially a veteran like him. It just got away."
But Vogelsong's issues with Lyles do not end there.
"He didn't reach out to me," Vogelsong said. "I understand when we're on the field, it's you vs. me, you do what you have to do to win a ballgame. But when it's over with, at the end of the day I feel like as a major-league baseball player, we are all a big fraternity, part of this big family. There are only so many guys in the world who get to do what we do.
Vogelsong said that three other members of the Rockies sent him texts after the game and that two of the three did not previously have his number. He said that Lyles could have made the same effort, and that a phone call was not necessary. A simple text would have sufficed.
I wasn't looking for an apology. Just, 'Hey man, are you all right?' Something simple. And he never did it.
Ryan Vogelsong
"I know if I was the guy pitching on the mound and drilled someone in the face … it could have ended my career. It could have blinded me. I could have never been able to be see out of my left eye again," Vogelsong said. "Even worse, it actually could have killed me, if it would have hit me in a little different spot. I think that deserves a text message, or a phone call, or something."
Lyles, after reading Vogelsong's sentiments, sounded genuinely contrite, explaining that he did not know exactly what to do.
In May 2015, a comebacker by the Angels' Albert Pujols struck Lyles on the back of his pitching hand, forcing him to leave the game in the first inning.
Lyles, recalling that Pujols instructed the Angels' athletic trainers to convey his concern to their Rockies' counterparts, said that he tried to contact Vogelsong in similar fashion.
"I just went that route," Lyles said. "I didn't know exactly what the protocol was. To be honest, I didn't want to try to contact him and have him tell me to get lost."
Lyles's demotion to Triple A the next day only complicated matters. He said he called the Rockies' trainers again from the airport to ask about Vogelsong, but his fellow pitcher never got the message.
"Obviously, I hope there is no next time," Lyles said. "But after reading his comments, I would do things differently. I just didn't know how to go about it."
Vogelsong said that he is still trying to understand the reasoning behind Lyles' pitch, the purpose for it, "all of those things."
But he has overcome adversity so often during his 19-year pitching odyssey that he viewed his near-loss of an eye as "just another stone in the way."
Vogelsong was a walk-on at Division II Kutztown (Pa.) University. He underwent Tommy John surgery after his second major-league start. He went almost five years between major-league appearances, spending three seasons in Japan.
"He's been through some battles," said Tomczyk, the Pirates' athletic trainer. "That's driven him a little bit, that edge. (People say) 'hey, you can't do this.' And he says, 'Well, ho-hum, this is another thing. I'll beat this. I'll prove everyone else wrong.'"
Vogelsong returned from baseball obscurity to become a significant contributor on two World Series championship clubs with the Giants. He is working so hard on his comeback, "he's pushing our medical staff and myself to the limits," Tomczyk said.
The one advantage Vogelsong had is that he could still throw. The Pirates did not allow him to catch return tosses until he was one month out of surgery, but he was able to keep his arm in throwing shape, Tomczyk said.
Earlier this season, Pirates infielder Jung Ho Kang surprised Tomczyk by returning from a devastating leg injury in 7½ months.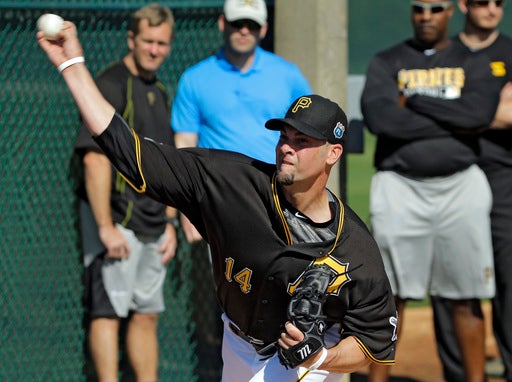 Vogelsong's recovery, Tomczyk said, is even more impressive.
"This one-ups my whole experience with Jung Ho Kang," Tomczyk said. "I thought there was a very low probability of (Kang) returning to major-league competition in the time frame that he did. This is a step up above that.
"The shape he was in before the injury helped him. His mental grit definitely helped him. He's just a strong, strong individual.
"Most professional athletes would have said, 'I'm good. I want to take my time and get this 1,000 percent.' By pushing it, he put himself at a little bit of a risk for a setback. But he didn't have one with regards to the eye at all."
His return did not seem possible when he dropped to the ground in the batter's box, or when he was sitting in the ambulance with his wife, fearing the end.
But a little more than two months later, Vogelsong is about to toss another stone out of the way.
Any day now, he will return to the mound in a Pirates uniform, ready to begin the first day of the rest of his major-league career.