Pittsburgh Pirates Have Talked Extension with Ivan Nova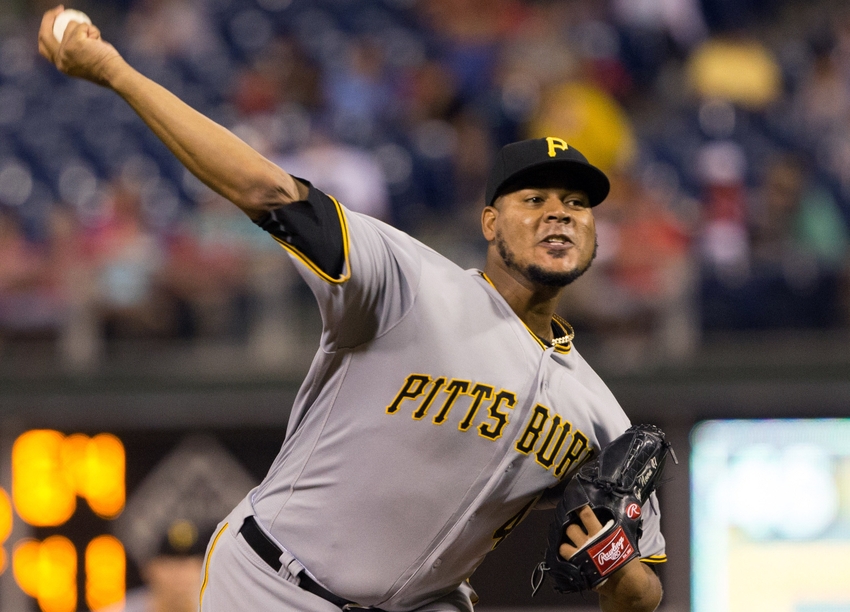 The Pittsburgh Pirates have moved quickly in their attempt to extend Ivan Nova, reportedly making two contract offers since August.
At the time, the trade that sent pitcher Ivan Nova from the New York Yankees to the Pittsburgh Pirates seemed a bit like an afterthought. News of the deal broke minutes before the 4:00 PM deadline on August 1, getting somewhat lost in the flurry of activity. Nearly two months later, the move has proved to be a surprising success for both the right-hander and his new team.
Nova has pitched to a 2.93 ERA in 55.1 innings with the Bucs, along with a 1.07 WHIP and eye-popping 15 K/BB ratio. In fact, the 29-year-old has issued only three walks (0.5 BB/9) since joining Pittsburgh (career 2.8 BB/9). That trend probably won't continue, but it has been a major ingredient of his recent turnaround.
Of Nova's nine outings post-trade, six have been quality starts. He has also spun two complete game, one-run gems. On September 13, he racked up 11 strikeouts (one below his career high) over six frames against the Phillies. The Pirates may have all but faded from the playoff picture (4.5 GB in Wild Card), but it hasn't been for any lack of contribution on Nova's part.
Naturally, the Pirates are keenly interested in keeping the impending free agent around. According to Bill Brink of the Pittsburgh Post-Gazette, the club has made two contract offers to the right-hander, one in late August and another at the beginning of September.
While there are no details on the offers made, they were presumably well below the reported asking price of Nova and his representatives: $70 million over five years. That's a sizable price tag, even in light of Nova's recent success. It's important to note, however, that the overall weakness of this year's starting pitching free agent class will inflate the value of otherwise average pitchers.
Nova's results with the Bucs have been impressive, but they are still a small sample size for a pitcher with a career 4.30 ERA over seven seasons. Yankees fans are familiar with Nova's talent; they also know that seeing that talent consistently has been the issue. The righty appeared well on his way in 2013, when he put up a 3.10 ERA in 139.1 innings as a 26-year-old.
More from Call to the Pen
Unfortunately, things began to derail as he required Tommy John surgery the next season. He never quite rediscovered his footing upon returning, managing a 4.99 ERA in 38 appearances for the Yanks between 2015 and 2016.
There are reasons to believe that Nova has perhaps found his niche, though. Pirates pitching coach Ray Searage has a good track record with reclamation projects, including another former Yankee in A.J. Burnett. More recently, he helped J.A. Happ spin off a sparkling 1.85 ERA over 11 starts last season, launching the southpaw toward a three-year, $36 million contract with the Blue Jays in the offseason. Happ has maintained his strong form in Toronto this year.
Though typically not big spenders in the free agency pool, the Pirates would likely jump at a deal similar to Happ's. Nova is probably going to keep pushing for a fourth or fifth year, and it's hard to blame him in this year's climate. After all, Mike Leake got five years and $80 million from the Cardinals last year after an unremarkable season.
After Gerrit Cole, the Bucs' rotation for 2017 looks rather murky. Top young arms Jameson Taillon and Tyler Glasnow are strong possibilities, but after that there are a lot of variables. Despite his question marks, retaining Nova would give the club a veteran on the staff who seems to have taken well to Pittsburgh.
Brink says that Nova and the Pirates are keeping the lines of communication open, so it sounds like they will continue to work on a potential deal. By initiating the process early, the team likely hopes they can arrive at a number they are comfortable with.
What kind of contract do you think Nova has coming to him this offseason, and should it be the Pirates who pay him? Sound off in the comment section below.
This article originally appeared on