Pittsburgh Pirates Could Re-Arrange Outfield in 2017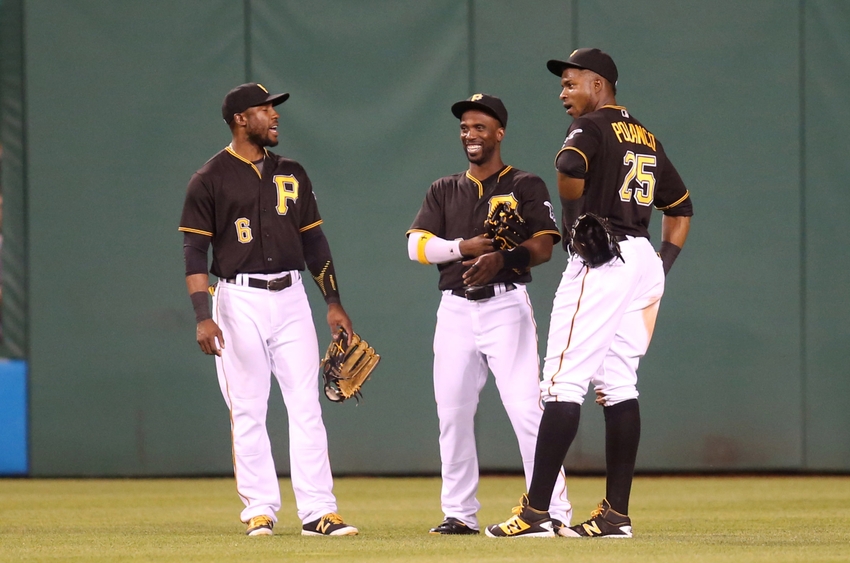 Shuffling their outfield deck could provide the Pittsburgh Pirates with improved defense next year and additional flexibility during the offseason.
After missing the postseason for the first time in four years, the Pittsburgh Pirates are expected to make some changes this offseason. And while some of those changes could involve trades or free agent signings, others might be based on re-arranging the players already on the roster.
According to ESPN's Buster Olney, the team is weighing the possibility of shifting the positions of its outfielders:
Among changes the Pirates are considering: Polanco in left field, Marte in CF, McCutchen in RF

— Buster Olney (@Buster_ESPN) November 10, 2016
From a defensive standpoint, there is some definite logic to the move. 28-year-old Starling Marte has developed into one of the better defensive outfielders in the game. This year he was responsible for 19 DRS (defensive runs saved) and posted an 11.6 UZR/150 as the Pirates' left fielder. It was enough to earn him his second straight Gold Glove earlier this week.
Defensive metrics have never been particularly kind to Andrew McCutchen, but his performance in center field has shown some obvious signs of decline recently. In 2016, he generated an ugly -28 DRS and -23.2 UZR/150 at the position. Those are down from previous highs of 5 DRS and 8.4 UZR/150, both from 2013.
Marte has gotten some run in center in the past, and the numbers aren't exactly world-class. He has averaged -2 DRS and -11.8 UZR/150 over 443.1 innings in center field in his five-year big league career. However, given his athleticism and the relatively small scope of that sample size, there is plenty of reason to believe he will make the transition to everyday center fielder successfully. At the very least, he should be a sizable defensive upgrade over McCutchen.
Shaking up their outfield configuration could also give the Bucs more flexibility in terms of their offseason strategy. Early trade speculation has already cropped up around McCutchen, with some feeling that the club could decide to move on from the franchise icon. Aside from his glovework, the five-time All-Star and former MVP has also seen his production at the plate drop noticeably over the past two seasons.
More from Call to the Pen
This year he slashed .256/.336/.430 with 24 home runs and 79 RBI. His .766 OPS was a career-low by a fair margin. However, McCutchen remains one of baseball's more durable stars, averaging 155 games played over the last seven seasons, and having just turned 30, he still has some time to bounce back. Nevertheless, both sides might agree that a change in scenery could be mutually beneficial.
The Pirates reportedly discussed a McCutchen trade with the Nationals before this year's deadline, and they could explore the idea again this winter with them or another club. He is under contract next season for $14 million and has a $14.75 million team option for 2018, making him a relatively affordable, short-term proposition.
If Pittsburgh chooses to deal McCutchen, they could seek to replace him on the free agent or trade markets. And their willingness to shuffle the outfield around means they could either add a center fielder and keep the same arrangement, or a right fielder and proceed with moving Marte and Gregory Polanco. Yoenis Cespedes or Mark Trumbo would add some serious power to a lineup that ranked just 26th in homers this year with 153, although there would be some defensive concerns with Trumbo specifically. This would also require the Bucs to spend much more than they're used to, which could make it a non-starter.
The Pirates might feel overwhelmed by what everyone assumes is going to be an extensive run of Cubs success in the NL Central, but the right moves could get them back in the playoff mix next season. What they decide to do with their outfield – and McCutchen in particular – will be a key part of that.
Note: All defensive statistics courtesy of Fangraphs.com.
This article originally appeared on