Pittsburgh Pirates: A Message to Disgruntled Fans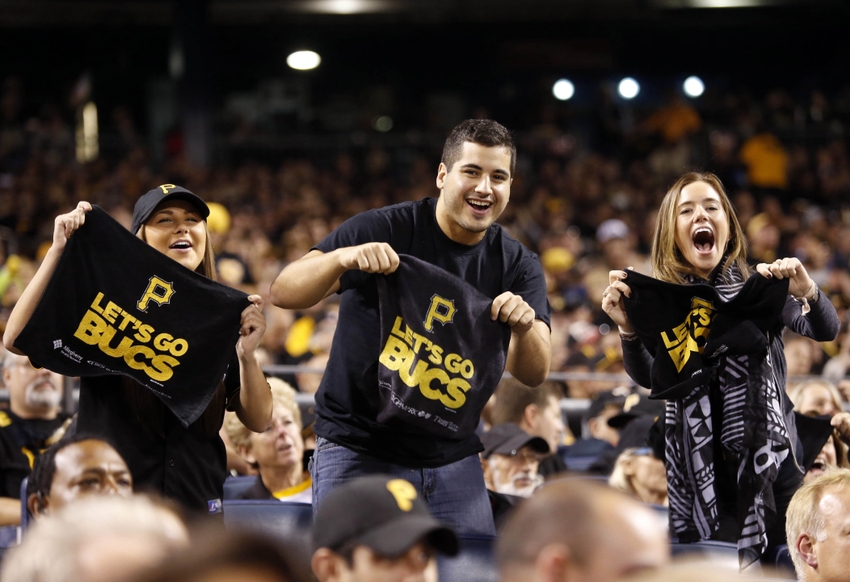 "The fans deserve better." These are four words that are often the first that come to mind from the average sports fan whenever a team isn't living up to expectations. Right now many our saying that about the Pittsburgh Pirates.
"I've been going to *insert team here* games for 30 years, and all they do is disappoint me! I deserve better than this". Every sports fan believes that he/she is an important part of the franchise that they support, and fans are indeed vital. Without fans, there are no ticket sales. When there are not ticket sales, there is no money. Without money, there is no team. Every year, teams use the last home game of the regular season as "Fan Appreciation Day/Night. They use the day to thank the paying customers for all of their support, and those thank you's are genuine. The Pittsburgh Pirates will be doing the same.
Monday afternoon, as I witnessed my Pittsburgh Pirates get utterly embarrassed by the St. Louis Cardinals for their 7th straight loss. I was very frustrated, and I saw many people on social media express their frustrations in a colorful manner. But while I, as a season ticket holder for 18 years, have every right to be frustrated when my teams don't win and have no problem with fans who feel the same way, the idea that failure affects the fans of Pittsburgh more than it does the members of the organization is ridiculous. Let's take a look at the people who "deserve better'.
The Pittsburgh Pirates acquired the starting pitcher from the Yankees with the hopes of finding himself again after a disappointing first four months, and Nova has done just that. Unfortunately, Nova came to Pittsburgh with the hopes of playing for a winner, and his teammates have not given him that. Unlike the fans,
Nova's had his world turned upside down when Brian Cashman traded him to Pittsburgh. While the change of scenery seems to have fixed Nova's career and will fatten his wallet this winter, his chances of playing in the postseason are growing slimmer by the day. Since Nova was a part of the Pittsburgh Pirates horrible trade deadline, by association, he could be the target of abuse from uneducated Bucco fanatics. Unlike Pirate fans who can go cold turkey on the team whenever they choose to, Nova will have to go out there every 5th day and bust his butt on the mound, regardless of whether these games in September mean anything or not.
The reliever acquired in the Mark Melancon trade has been nothing but outstanding since coming to Pittsburgh, but no matter what he does, fans will look at him as the other guy in the Melancon deal. Like Nova, Rivero's had his life flipped with the move to Pittsburgh. But unlike Nova, Rivero was forced to go away from one of the best teams in baseball in Washington and could end up sitting on his couch in October watching his former teammates win the World Series. Felipe Rivero has to deal with the harsh business side of baseball. Tom from Bethel Park does not.
The Pirates veteran hurler came back from a career-threatening eye injury in May and since his return in late July, has done his job well in 5 of his six starts, but only 2 of them have resulted in a Pirates win. If this is the end of the road for Vogey, as it very well could be for the 39-year-old, it would be a damn shame if he did all that work to get back to the mound, only to have his teammates go out with a whimper.
The Pittsburgh Pirates rookie pitcher has pitched well in all 4 of his big league starts, but the Pirates have won just one of those outings. This week, in particular, was rough for Brault, as he was on the mound in Chicago when the Pirates bullpen could not hold a late 6-3 lead and proceeded to lose the game in extra innings. Brault was also on the bump Sunday against the Brewers, where he pitched five innings of one-run ball, only to have it go to waste and end in a 10-0 laugher.
With Gerrit Cole set to return soon, Brault may very well have made his last start for the Pirates in 2016, and given that the starting rotation looks pretty loaded for next year, we don't know if Brault will ever start another game for the Pirates. Brault could find himself in the Pirates rotation next season. He could get traded somewhere and catch on. Or he could end up getting hurt or falling apart, never again the make an appearance on a big-league mound. If the latter were to happen, I would have much more sympathy for Steven Brault than I would for Tim from Elwood City.
Neal Huntington deserves better.
The Pittsburgh Pirates GM has built this club from rock bottom in 2007 to a perennial playoff contender, and yet no matter how good or bad the team has been; he has never received the credit that he deserves for his work. Huntington is taking a lot of heat for his decisions at the trade deadline, and will take even more heat if the Pittsburgh Pirates do not make the playoffs. And it won't be fair.
By getting rid of John Niese and Papa Fransucko (and Papa Fransucko's contract), and acquiring Antonio Bastardo, Felipe Rivero, and Ivan Nova, Huntington made the roster better than it was on July 31st. Trading All-Star closer Mark Melancon is the one that fans gripe the most about, and I certainly see where the anger is. But in dealing Melancon, the Pittsburgh Pirates acquired Felipe Rivero, who has been lights out as the 7th inning man, and who also could develop into a premier reliever within the next three years. If the Pirates miss the playoffs, there will be plenty of reasons why, and the loss of Mark Melancon will not be one of them.
Sure, the team's performance is often a reflection on their manager, but I don't believe that to be the case with the 2016 Pirates. Hurdle is by no means perfect; his overall on-field decision making has always been suspect, but there is no denying the Hurdle's greatest gift is his ability to motivate. I don't think he has lost that gift in 2016, as the fact that he has kept the ship afloat for this long is impressive considering all that has gone wrong this season.
I can't say anything for certain, as I am never in the Pittsburgh Pirates clubhouse, but I refuse to believe that #13 suddenly forgot how to rally his troops. For whatever reason, his players may have quit on him, and Hurdle has done too much good for this franchise and for this city to deserve the effort that his players are giving him right now.
Some people may look at broadcasters as glorified fans, but the work they do in preparing for a broadcast, traveling with the team and sticking it out through blowouts such as the games on Sunday and Monday deserves respect. The Pittsburgh Pirates broadcast team works as hard for this ball-club as anybody, and they mean more to this franchise than Andrew from Bridgeville does. If a fan doesn't like the way a game is going, they can leave the stadium or shut off the television. Broadcasters don't have that option. If you heard Bob Walk's voice through the radio towards the end of Monday's atrocity against the Cardinals, you know that these type of stretches can take quite a toll on the men who call the game.
Lastly, the fans do deserve better.
I've been a Pirate fan since I was born, which was March 7th, 1998. I attended my first game at Three Rivers Stadium on April 11th, 1998 (a 7-6 win over Jim Leyland and the Florida Marlins). My family has had season tickets since 1994, so there aren't a lot of people who have put more money in Kevin McClatchey/Bob Nutting's wallet than we have. There are Pittsburgh Pirates fans who support this club twice, even three times as long as I have.
I know what it takes to be a real fan. I know about all the BS that we have had to suffer through since our last world championship in 1979. Fans like me have every right to rant, rave, laugh, cry over the teams we love. But at the end of the day, I put the fans last on my list of people who deserve better because, in the grand scheme of things, the success of our baseball teams is very, very small in the story of our lives.
Our Twitter Message
One of the recurring themes of this baseball season regarding Rum Bunter is our twitter accounts constant emphasis on fans who take the game of baseball too seriously, and I could not agree more. Many people invest heavily into sports yet they have absolutely no control over. None. Zero. Nada control over. I used to have this problem. In the past, I have cried hubcap-sized tears over the Pirates. I've broken the back case on my phone over the Pittsburgh Pirates. There has even been more than one occasion where I took every bit of Pirates memorabilia that I owned and threw it outside. In short, I've had every single emotion expressed over this baseball team.
But somewhere along the line, I realized how stupid I was being. I realized that, while PBC is still my favorite club to root for in any sport, they are just a baseball team, and as beautiful as sports can be, there are so many things in the lives of us who don't choose to make them our livelihood that matter so much more. The fact that there are so many people on Pirates twitter, some maybe 3x my age, that don't appear to have learned this lesson, is nothing more than pathetic.
It is just sports!
A real fan should know that people like him/her are essential to the club that they root for financially and morally. But a good fan should also know that sports are not life or death. If you don't like the way a game is going, leave the stadium or turn off the TV/Television. When the Pittsburgh Pirates become painful to watch, don't look at them. If you are the type of person who can seem to talk about anything Pirates related without complaining about Bob Nutting's cheapness, then don't make him any richer by buying tickets. All of these are options that us fans can turn to anytime we are not happy with the product. The members of the organization do not have said options, because it is their livelihood.
Vince Lombardi once put his players' lives into three big categories; God, Family, and the Green Bay Packers. That's the way a lot of professional athletes/executives live their lives. Sure, we the fans have been pulling for the Pirates longer than most employees have been working for them. But we also have more time to root for the Pirates. If an MLB player is lucky, his career will last 15 years. I can't speak for anybody, as I am not a former professional baseball player, but I'm sure when players retire, they don't usually become die-hard fans of one of their former teams unless the circumstances are unique (Derek Jeter). In short, the players, the managers, the scouts and even the broadcasters dedicate their lives to the Pittsburgh Pirates. We the fans just root for them.
Not to be rude but….
One of the dumbest conversations that I ever had on social media took place on May 15th, 2015. That was the date that the Pittsburgh Pirates had an exciting affair with the Chicago Cubs at Wrigley Field, which ended in dubious fashion. Gregory Polanco fell in right field, allowing the winning run to score. The Cubs won, 11-10 in 12 innings. Unfortunately, I can't pull up the conversation because it happened too long ago, but you should still get the idea of the point I'm making.
Soon after the game was over, one of the baseball experts (I think it was Buster Onley) tweeted that the Pittsburgh Pirates would be joking about Polanco's blunder within a day. One of our idiotic fans tweeted that Polanco's error, get ready for it.. "hurt the fans more than it hurt the players". I couldn't resist firing back.  I don't remember what I said. However, by this point in the article, you know what my attitude is on fans like this, you should have a pretty good idea that I disagree with this man's claim. After I had said what I said, he responded with something along the lines of "at the end of the day; the players still collect their pay".
Now I'm pretty sure most of the people reading this have common sense.
I'm not going to insult your intelligence by explaining everything wrong with that conversation. The main gist is that professional athletes can be seen as millionaires who don't give a damn. That is just not true. As Tom Hanks said in "A League of Their Own"; "If it were easy, everybody would be doing it."
Pittsburgh is a great sports city with a lot of great fans. But sometimes, we tend to take things we have no control over a little too seriously. This article is not at all meant to be a middle finger to the paying customer. Instead, it is intended to focus on, pardon my cliché, the big picture. I am 18 years old and a freshman at Waynesburg University. I am a journalism major.
No matter what happens nothing changes.
If the Pittsburgh Pirates win the World Series, I will still be 18 years old. a freshman at Waynesburg University and a journalism major. Say the Pirates lose every game they play the rest of the year, I will still be 18 years old, a freshman at Waynesburg University, and a journalism major. If the Pirates win the World Series, Clint Hurdle will get a ring, and will join a list of just 64 people who can say they have managed a World Series champion. If the Pittsburgh Pirates lose every game they play the rest of the year; Clint Hurdle is getting the boot. After breaking that down, who do you think the Pittsburgh Pirates mean more too; Joe Smeltzer or Clint Hurdle?
The fans of Pittsburgh deserve a winner. But so do Ivan Nova, Ryan Vogelsong, Neal Huntington, Steven Brault, Felipe Rivero, Clint Hurdle, the scouts, the trainers, etc. Unlike us fans, those are the guys that make baseball their lives work.
*Disclaimer* I am not referring to any real people aside from members of the Pittsburgh Pirates organization. Fan's names not real.
This article originally appeared on