Pittsburgh Pirates 2017 Promotion: Francisco Cervelli Singing Bobbleheads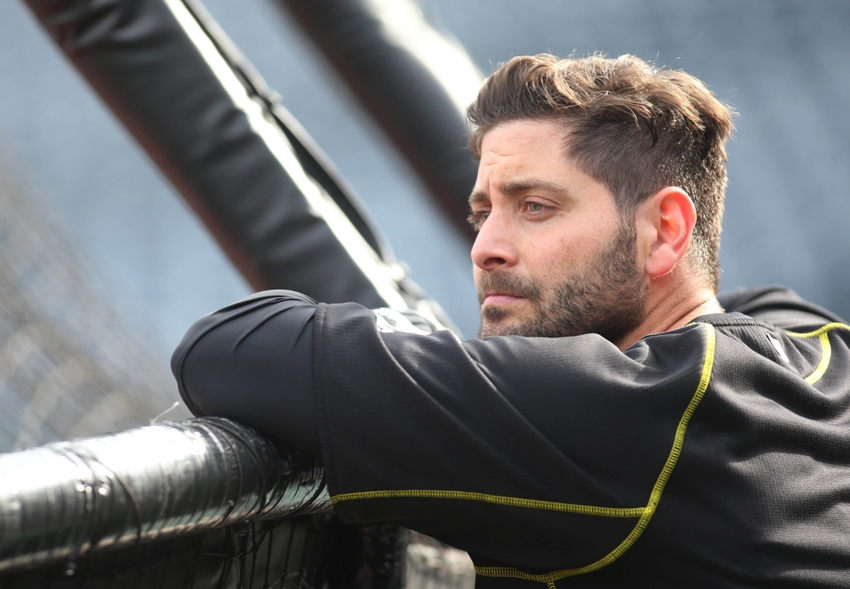 One of the gameday promotions for the Pittsburgh Pirates next year will be a Francisco Cervelli That's Amore Singing Bobblehead.
Pittsburgh Pirates catcher Francisco Cervelli has embraced his Italian heritage. He was born in Valencia, Venezuela to an Italian father and Venezuelan mother. When the opportunity arose for Cervelli to play for the Italian team in the 2009 World Baseball Classic, he jumped at it. At the time, He talked about his father with a smile, saying, "His blood is Italian. You know, he cries for Italy's soccer team. He's Italian, 100 percent."
When the 2009 World Baseball Classic came around, Cervelli was not yet an established major league player. He had played in just three games for the Yankees in 2008. He would play 42 games for the Yankees in the 2009 season, but he never did become the full-time starting catcher for the Yankees. He got his big break after being traded to the Pittsburgh Pirates prior to the 2015 season. In two seasons with the Pirates, Cervelli has hit .282/.373/.368 and been worth 5.5 WAR according to FanGraphs.
He's also become Pittsburgh famous for his dating advice between innings on the scoreboard at PNC Park. When Cervelli steps to the plate, Dean Martin's "That's Amore" plays throughout the ballpark. When he was asked by KDKA's Bob Pompeani if he was a romantic at heart, Cervelli responded, "Oh yeah, every day, every single day."
More from Call to the Pen
Cervelli's accent, passion, and zest for life prompted Pirates in-game entertainment producer Matt Zidik to come up with Cervelli's dating tips. During games, Cervelli appears on the big screen wearing a smoking robe, holding a rose, and dispensing love advice. Fans can ask questions through Twitter.
The "Love Doctor" was so popular last year that the Pirates will recognize Cervelli with an early-season promotion next year. Before their game against the Atlanta Braves on April 8, the Pirates will hand out Francisco Cervelli That's Amore Singing Bobbleheads. The bobblehead features Cervelli in his patented Love Doctor robe with rose petals at his feet and, yes, it does play "That's Amore."
The Pirates have plenty of other promotions on the docket for 2017. They've scheduled 38 promotional dates at PNC Park, which is nearly 50% of their home schedule. Along with the Cervelli bobblehead, the Pirates are giving out bobbleheads for announcer Bob Walk, shortstop Jordy Mercer, and outfielder Gregory "El Coffee" Polanco.
The Bob Walk bobblehead is a chair-tip model that will depict an incident last season when the broadcaster tumbled over in his chair during a broadcast at Safeco Field in Seattle. It was late in the game and the Pirates were down 8-1. Fortunately, one of the cameramen had the camera aimed at Walk and Greg Brown in the booth. Walk leaned back in his chair so he could put his feet up and went straight over backwards.
Another popular promotion in Pittsburgh that will be back in 2017 is a free shirt giveaway. Last year, the team had Free Shirt Fridays. This year, it will be Free Shirt Saturdays and the giveaway tees will highlight favorite players with special Pirates designs. Of course, free t-shirts are nice, but a Francisco Cervelli bobblehead? That's amore!
This article originally appeared on