Pitching duel doesn't transpire in Atlanta Braves loss to Marlins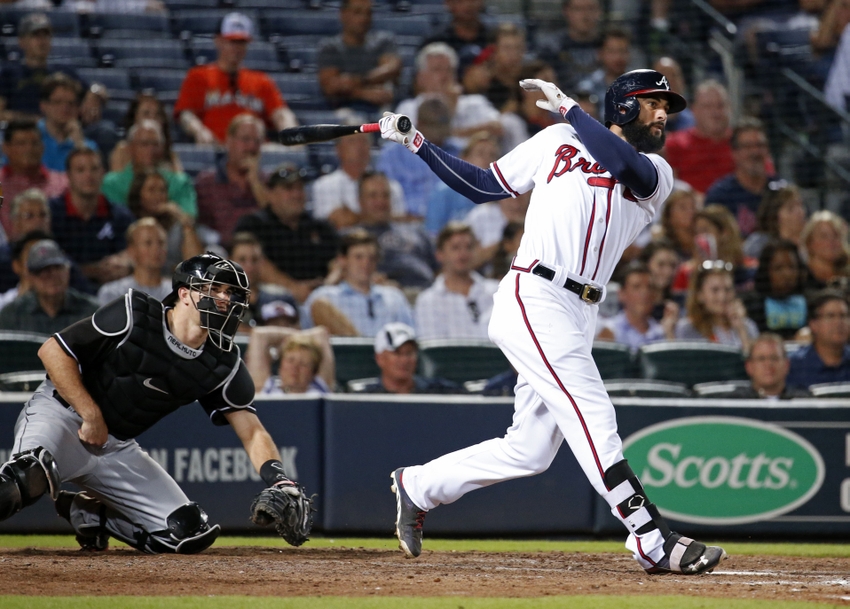 Neither stud was at their best Wednesday, but the Miami offense ultimately got the better of the Atlanta Braves.
When you follow a team—like, I don't know, the Atlanta Braves—that's playing out the string in a rebuilding season, September can be a grind. A host of no-names, has-beens, never-weres and not-quite-ready's populate the roster, getting spot starts and extended bullpen duty. Fans go to their iPhones to figure out where Joe Swofford or whoever is from.
So having young studs like Julio Teheran and Jose Fernandez on the bump made things a little more business-as-usual this evening. The Braves (and their opponents) had combined to use double-digit pitchers in four of the last five games—a good ol' pitcher's duel was just what the doctor ordered.
And while both young starters made it into or past the sixth inning, neither was particularly sharp, but . To make matters better, the benches cleared in the seventh for funsies and for half a moment it looked as though we might have an old-fashioned donnybrook on our hands.
(We didn't. But it livened things up considerably.)
The Marlins got going early, with once (and future?) Brave Martin Prado driving in Dee Gordon, who singled and proceeded to abuse Tyler Flowers on the base paths like quite a few other speedsters in 2016—Gordon took second and third as Flowers (now 2-for-54 on the season attempting to throw guys out) looked like he'd rather be anywhere else.
The Braves didn't need a lot of time to respond, however. Atlanta put up four in the second inning, with Nick Markakis' 12th home run of the season accounting for the first two runs. Dansby Swanson continued the excellent start to his Atlanta career with a run-scoring single and Ender Inciarte capped the inning with a double-play ground out that also scored Jace Peterson to make it 4-1.
Nick Markakis with the two-run #Dinger of Jose Fernandez – who couldn't believe it. #ChopON pic.twitter.com/IF0m0eVkYF

— FOX Sports Southeast (@FOXSportsSE) September 14, 2016
Should be enough for Teheran, right? To quote the great Lee Corso, "Not so fast my friend."
Things sailed along pretty smoothly for Teheran until the sixth. Gordon (again with this guy) tripled to lead it off and then Derek Dietrich rolled a grounder to second that Peterson… overplayed? Allowed to get into his feet? Whatever the case, he stumbled, Gordon scored and Dietrich beat it out at first.
Gordon was going to score anyway, but Dietrich reaching safely became problematic three batters later when Marcell Ozuna launched a first-pitch slider to Saturn. Instead of merely tying the game after Prado was hit by a pitch, Dietrich having reached safely turned it into a three-run homer to give the Fish a 5-4 lead.
I mentioned that Prado was hit by a pitch? Well, Teheran had a little wildness to him this evening. In the fifth, he buzzed Fernandez's tower on a slider that didn't slide. The next inning, he hit Prado.

5

7
This didn't sit well with Fernandez, an emotional guy with a bazooka attached to his right shoulder. With two outs in the bottom of the sixth, Markakis took two balls and then a 95-MPH fastball directly to the right butt cheek (Chipper Jones, joining Chip and Joe in the booth: "That's a good spot. That doesn't hurt.")
Markakis had already taken Fernandez deep, and hit another ball to the warning track. Fernandez was a little miffed about sniffing a fastball and watching a teammate get hit just an inning before. No doubt those things were unrelated.
Teheran was removed in the seventh, but Jose Ramirez did what he was supposed to do when Fernandez stepped up with one out: threw the first pitch directly behind him. Sent a message. He was immediately ejected for his troubles and the game was stopped for a few minutes while Fernandez, Matt Kemp, Markakis and others did some grandstanding, but nobody seemed in any hurry to throw hands (particularly Fernandez, who had the Gob Bluth Memorial "I've Made A Huge Mistake" face going when he started jawing at Flowers) and the game resumed with no further incident.
Tyler Flowers is no longer on Jose Fernandez's Christmas card list. Barry looks constipated. pic.twitter.com/hXKSMIKtM3

— Dayton from Nebraska (@BravesAmerica) September 15, 2016
Ozuna helped the Fish tack on another in the eighth, scoring Prado with a single after Prado walked and (stop me if you've heard this one) stole second to get into scoring position.
Kemp rolled a fielders choice to Gordon to score Garcia for the Atlanta Braves final run in the eighth, while Ichiro brought home J.T. Realmuto with a sac fly in the ninth to end the night for Miami.
The remainder of the evening was notable only for Freddie Freeman grabbing his stuff and sprinting out of the dugout, presumably to head to the hospital for the birth of his son—his wife is due this week and Mazel Tov to the Freeman's for their new bundle of joy.
Freddie Freeman has a baby due at any minute – and was just seen running into the @Braves clubhouse. pic.twitter.com/6yxKVQNjFT

— FOX Sports Southeast (@FOXSportsSE) September 15, 2016
An off-day awaits the Atlanta Braves Thursday, and hopefully the relief corps can get a rest with Washington coming to town for the weekend. Max Scherzer squares off against John Gant in the opener, 7:35 p.m. (ET) from the Ted.
This article originally appeared on