Phillies SS Freddy Galvis, CF Odubel Herrera Lose Gold Glove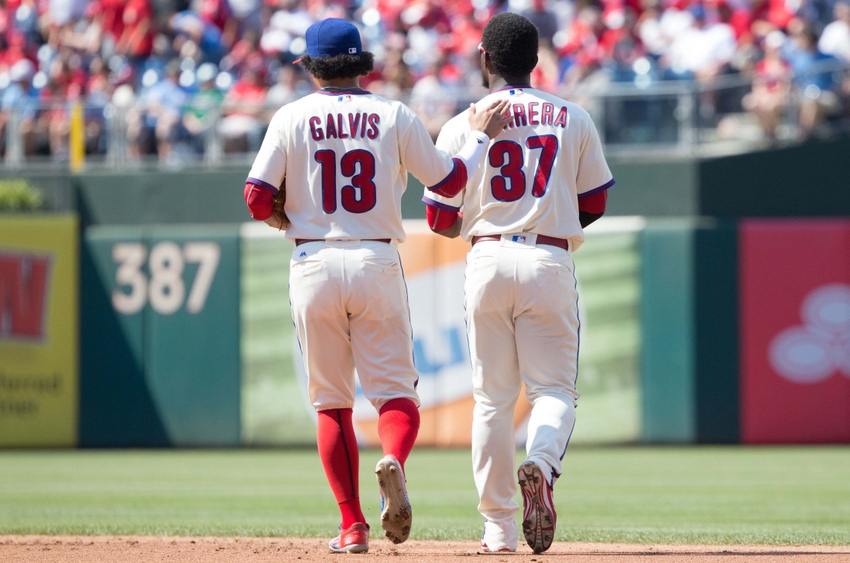 Phillies shortstop Freddy Galvis and center fielder Odubel Herrera were nominated for the Gold Glove Award, but both lost to arguably better candidates.
While almost all of America paid attention to the results of the presidential election Tuesday night, they were not the only voting results being announced that night. Major League Baseball announced the winners of the 2016 Gold Glove Awards, which Phillies shortstop Freddy Galvis and center fielder Odubel Herrera were both nominated for. Unfortunately, Galvis and Herrera lost out to their competitors.
According to MLB.com, "the prestigious Rawlings Gold Glove Awards are selected based on votes that combine input from MLB managers and coaches, plus statistical analysis."
San Francisco Giants shortstop Brandon Crawford took home his second Gold Glove, beating Galvis and Addison Russell of the Cubs. Crawford led all NL shortstops with a 28.0 Fangraphs defensive value and 22.1 UZR/150. Him and Russell also tied for the most defensive runs saved at 19. Crawford also led all National League fielders with 2.7 defensive wins above replacement.
A case still existed for Galvis despite him trailing in some defensive statistics. Galvis led all shortstops in fielding percentage at .987. Here at TBOH, Evan Gusz said Galvis deserved the award "because he has been the model of consistency for the Phillies defensively." Galvis also had a bevy of impressive defensive stops, turning impressive double plays and stopping balls from getting through the holes.
Galvis's loss can at least be partially credited towards the fact that he played for a non-contending team. Crawford and Russell played for playoff teams, and in Russell's case, the eventual World Series champion Chicago Cubs. Some of Galvis's achievements were out of the spotlight because he plays for the paltry Philadelphia squad.
If Galvis had won, he would have been the first Phillie shortstop since Jimmy Rollins in 2012 to win the award. Galvis's teammate Jake Thompson still thinks Galvis will earn a gold Glove before his career is over.
Don't worry @freddygalvis10, your gonna have multiple gold gloves before your done #theguyisavacuum

— Jake Thompson (@jthomp15) November 9, 2016
More from That Balls Outta Here
Turning towards the center field race, it's not much of a surprise to see Herrera lose. He made nine errors, leading all National League outfielders. His UZR/150 of 3.3 and defensive value of 6.1 is a distant third among NL center fielders.
Herrera had to compete with Billy Hamilton of the Reds and Ender Inciarte of the Braves, two of the best defensive outfielders in the game. Inciarte took home the award, leading the three in fielding percentage at .991 with just three errors this season.
Inciarte's win comes at a bit of surprise to those who gauge defense using some of the more advanced stats. Hamilton led Inciarte in defensive runs saved with 15 compared to 13, respecitively. Hamilton also led all center fielders in Revised Zone Rating at .947 and UZR/150 at 17.2.
Despite not having a legitimate chance at the award, the fact that Herrera was even nominated for a Gold Glove is an achievement in its own right. Before his selection in the Rule 5 draft, Herrera was a second baseman while in the Rangers minor-league system. Former manager Ryne Sandberg experimented with Herrera in center field before the 2015 season in spring training, and the move stuck. Some called for the club to move Herrera out of center field after last season, but he silenced those calls this year with his stellar defense.
Shane Victorino was the last Phillies outfielder to take home a Gold Glove, winning three straight between 2008 and 2010.
This article originally appeared on