Phillies Should Trade For Tigers OF J.D. Martinez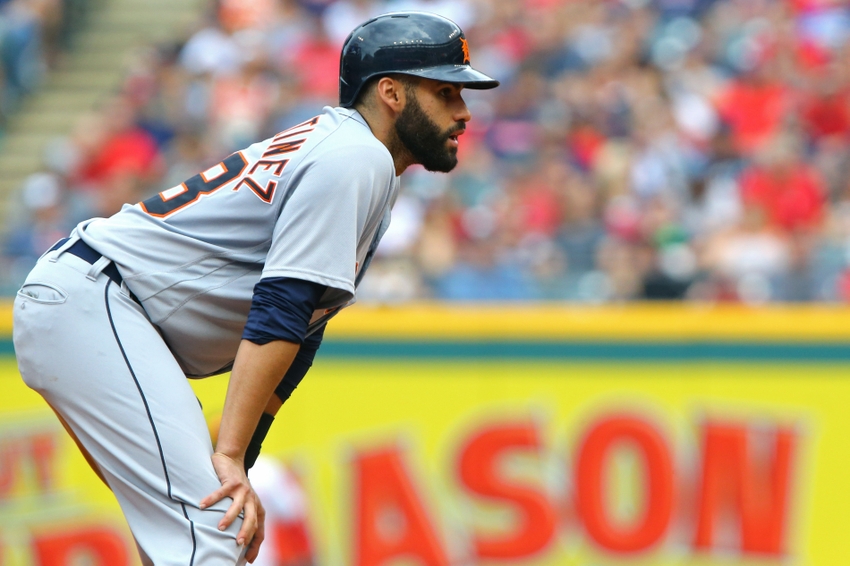 Phillies GM Matt Klentak has made it very clear that the Phillies will be looking to improve upon the team's offensive production from the 2016 season. Here's a chance.
CSNPhilly.com insider Jim Salisbury has stated that the team is going to be in the market for an outfield bat in the offseason, whether it be in free agency or in a trade. Two of the names he mentioned to look out for if the Phillies were to pursue a trade were Dodgers 2B/OF Howie Kendrick and Tigers OF J.D. Martinez.
There is no question that both of these players could provide much-needed offense to an outfield that lacked it during the 2016 season. The team would be very wise to pursue one of these players this offseason, given that the price isn't too high. Here is why I think the Phillies should trade for Tigers OF Martinez, and what it would take to get him.
The trade: Phillies send C Cameron Rupp and P Ricardo Pinto to the Tigers for OF J.D. Martinez and a player to be named later.
This trade makes a lot of sense for both teams involved.
In the eyes of the Tigers, unloading Martinez's contract while acquiring a major-league ready bat and a prospect with upside is exactly what they want to accomplish this offseason.
Pinto would help bolster a farm system that currently ranks among the worst in baseball. The Phils named him named as one of the 2015 Paul Owens Award winners. The award goes to the best minor league pitcher and position player in the Phillies organization each season.
Acquiring Cameron Rupp also makes sense for the Tigers. The team obviously isn't done competing as Miguel Cabrera still has a few outstanding years left. Adding Cameron Rupp would give the team a solid offensive catcher that comes at an affordable price. Rupp would be an immediate upgrade over the Tigers' regular catcher James McCann.
This trade makes plenty of sense for the Phils as well, and there are three reasons why.
1. Martinez would provide immediate offense to the Phillies.
Martinez was very productive last season, despite missing some time with an injury. The 29-year-old hit .307 with 22 HRs and 78 RBIs in just 120 games played this season. He would immediately slide in as the everyday right fielder and clean-up hitter for the team.
Martinez has been very productive since being acquired by the Tigers prior to the 2014 season. He has hit .299/.357/.540 and averaged 28 homers and 82 RBIs in his three seasons in Detroit.
2. Expiring contracts are exactly what the Phillies are looking for.
The Phillies have plenty of money available to spend, but don't want a long contract on their payroll.
Martinez is set to make just under $12 million next season, and his contract is going to expire after the 2017 season. Klentak took on a similar, yet less expensive, contract on last winter in the form of Jeremy Hellickson.
The club could take a similar approach with Martinez as they did Hellickson. The team could see  what Martinez can do in a hitter friendly park and decide whether or not to offer him an extension or a qualifying offer next winter, if they decide not to try to flip him to a contender at the trade deadline.
3. Dealing Cameron Rupp allows Jorge Alfaro to be the full-time catcher.
More from That Balls Outta Here
I'm in the camp that favors dealing Rupp this offseason and letting the team's future at catcher, Alfaro, get an entire season of at-bats under his belt next season.
The Phillies have the opportunity to speed up the team's rebuild this offseason. Acquiring Martinez and cashing in on Rupp's value would do just that. Martinez would bring a big bat with him to Philly and he has the potential to hit 30+ home runs in a full season at Citizens Bank Park.
Additionally, allowing Alfaro to get himself comfortable as the Phils everyday catcher could help speed up his development.
This potential trade is a win-win situation.
What Could Happen
If Martinez thrives in the middle of the Phils' line-up, he'd easily become a safe bet for a extension. He would still be a productive player when the Phillies are ready to compete, given he is only 29.
If he isn't as successful, but remains serviceable, the team could do what they did with Jeremy Hellickson this offseason and extend him a qualifying offer. Which he would likely decline, giving the team a compensation pick.
These are the types of deals that could speed up a rebuild by two years. This is a move the Phils should consider pursuing.
This article originally appeared on