Phillies Rumors: Offensive Rule-5 Draft Targets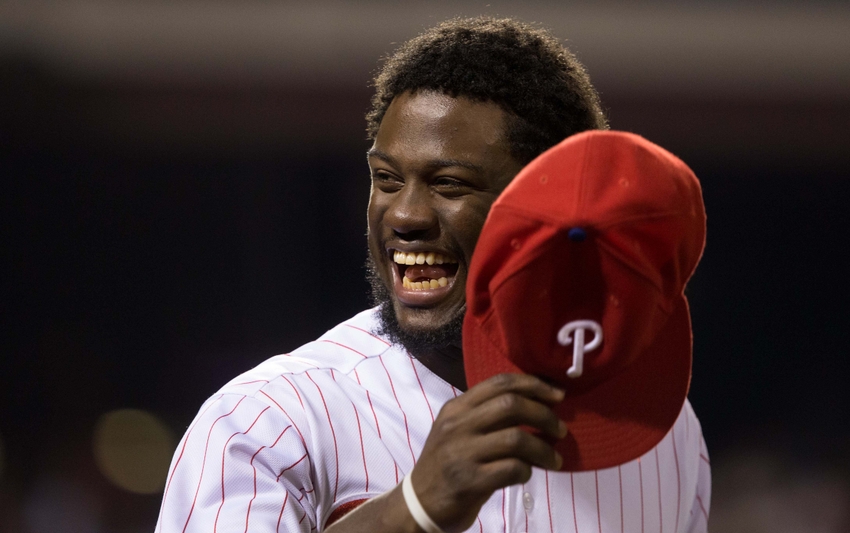 With the 40 man rosters now set among MLB teams some organizations had some tough deacons with regards to which players they could protected from the upcoming Rule-5 draft and which players would be left exposed. Will the Phillies strike again?
As is often the case, good players may be left on the outside looking in. This, as most Phillies fans know, creates opportunity for teams that might not be in a competitive position and can afford the 25 man roster spot for a full year.
More from That Balls Outta Here
The Phillies Way
The Phillies, of course, obtained it's current lone 2016 All-Star Odubel Herrera in this manner. They also obtained Phillies legend and integral piece to the World Championship 2008 team Shane Victorino this way.
They haven't all been winners though. The team was forced to carry Michael Martinez for a full year and he never really panned out. The jury is still out on last years Rule-5 pick up Tyler Goeddel, who may still develop into a valuable MLB player with a little more minor league time.
Are The Phillies Facing Future Challenges?
The challenge with picking up players in the Rule 5 is that not all worthy players are ready to be on a major league roster for a full year. Indeed this may have been what we saw last year with Goeddel. He had never been exposed to that level of competition and, unlike Herrera, it was way too much for him.
In order to be considered worth taking a chance on, the player typically has to be older than 21 and played in a level at or above AA for an extended period. In other words, it would most likely be an unmitigated disaster to bring in a 21-year-old who's highest level played was A ball.
I believe for this reason Andrew Pullin, who hit .322/.362/.572 for an .885 OPS – but has only 46 games played above A ball – won't get poached.
With that being said, here's a few to consider:
Cave is about to turn 24 and plays centerfield in the Yankees system. He has 96 games at AAA and carries a .278/.338/.449 slash line at that level. He was a sixth round draft pick out of Kecoughtan High School in Hampton, VA in the 2011 draft. In three seasons at AA he's hit a combined .276/.336/.391.
It should be noted that Cave was actually selected by the Cincinnati Reds in last years Rule 5 but was returned to the Yankees just prior to the end of Spring Training. He returned to the Yankees and hit .268/.330/.467 at two levels this past season. Cave was ranked by MLB.com as the Reds number 19 prospect entering 2016 after being declared the Yankees 16th ranked prospect.
A speedy outfielder, Barnes was moved out of centerfield by the Pirates after the 2014 season. He appears to have a keen eye at the plate and a good deal of discipline. sporting a career slash line of .279/.367/.436 with 51 stolen bases in 73 attempts through the minors.
Want your voice heard? Join the That Balls Outta Here team!
He's 24 and has 161 games at AA. His hitting and power has gotten better as he's gotten older and moved up the ladder despite moving down on the Pirates prospect rankings. Barrett was a competitive balance round pick in the 2012 draft out of Texas Tech University. He was the 45th player taken that year. He is currently the Pirates 26th ranked prospect.
Smith is a former eight round pick in the 2013 draft out of Oregon State University and is the Mariners 29th ranked prospect. He's a infielder who's logged time at second, third and shortstop with shortstop being his primary position with 322 games played. In 4 minor league season's he's logged a .280/.360/.391 line. This year, his first at AAA he managed a .268/.305/.357 line.
Smith is a former competitive round pick from the 2011 draft where he was the 53rd overall selection. An outfielder who primarily plays left but has experience at all three positions, Smith hit 15 HR's last year as a 23-year-old at the Jays AA affiliate.   It was his second full season at AA. He also has 57 stolen bases in 77 attempts. He is the Blue Jays 27th ranked prospect.
Jose Marmolejos-Diaz, Nationals
Who wouldn't want to steal a great player from the Nationals? Especially after they stuck us with Michael Martinez in our last attempt (although Papelbon was more than enough revenge for that.) Marmolejos-Diaz, now 23, was signed as an 18-year-old latin American player.
In six minor league seasons primarily as a first basemen he's produced a .288/.359/.447 line with 32 home runs. On the downside, Marmolejos-Diaz only has 33 games above A ball so it would be quite a jump for a full season.
Santander, a corner outfielder, is a perfect example of a guy you'd really want to pick up but probably shouldn't because of his limited experience. At 21 he's never played above A ball. Last year in the Indians Carolina League affiliate Santander hit 20 home runs while slashing .290/.368/.494.
He's a Latin American player who started his professional career at age 17. Unfortunately his growth would probably be destroyed by having to face major league caliber talent at this stage. He is Cleveland's 30th ranked prospect.
As stated, in order to keep any of these players a team would have to keep them on their major league roster for a full year. Obviously those roster spots are valuable and the closer a team is to competing the more valuable those spots are. However, for a team like the Phillies last year or the Reds this year, some of these guys would be perfect.
The Rule-5 is an excellent way for a team on the light side of prospects to maybe steal one. Sometimes, like Odubel Herrera, they work out right away and can stick at the MLB level. Sometimes, like Tyler Goeddel, the majors are a bit too advanced and they'll have to return to the minors after their year on the 25 man roster.
But even in those cases, the acquiring team has added to their prospect potential.
This article originally appeared on