Phillies Rumors: Low Risk/High Reward Free Agent Outfielders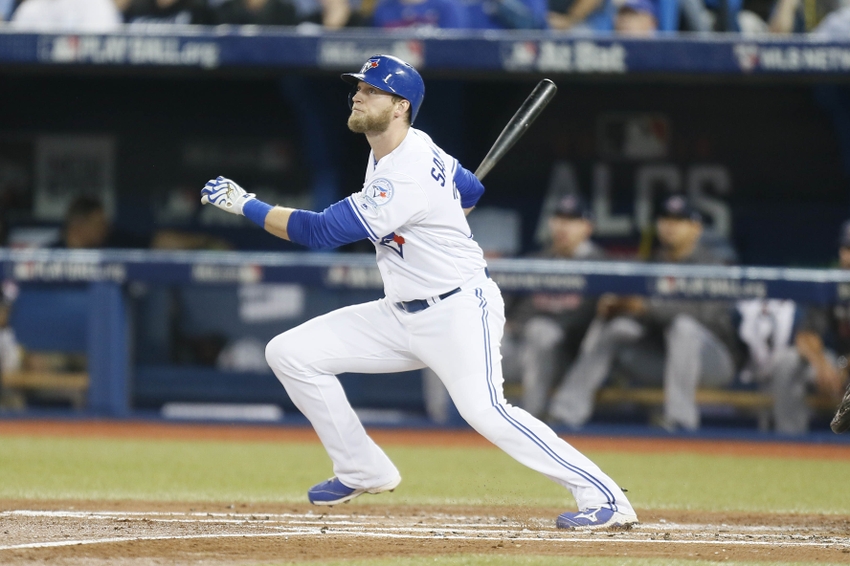 The Phillies already acquired Howie Kendrick to play left field, but he may be deployed as an infielder more often than not. Should the trade rumors around Cesar Hernandez come to fruition, Kendrick will return to his natural position of second base, and the Phillies will be short an outfielder. Last year they brought in Peter Bourjos, this year we're expecting someone new.
If Howie Kendrick is needed at second base, the Phillies will likely be in the market for an outfielder. This year's free agent class features a handful of experienced, productive outfielders. Yoenis Cespedes, Ian Desmond, Jose Bautista, and Dexter Fowler are the cream of the crop.  They will likely be headed to contending teams, and not a rebuilder.
The Phillies' front office isn't going to break the bank on anybody right now, and will probably be sifting through the clearance bins of free agency to bring in an outfielder. Rather than just a placeholder-type, I will be looking at low-risk/high reward guys, or mentors for the young players. Someone that can stick with us if he turns around, or be flipped at the deadline for more young talent.
Honorable Mentions
Beyond the top-tier free agents previously mentioned, there is a solid group of low-cost options. Some will be more sought out than others, and thus less likely to end up with the Phillies.
Coco Crisp would do wonders for the team's clubhouse, based on what he did in Oakland. His impressive playoff performance with the Indians makes him pretty desirable, and he likely won't need to settle for a rebuilding team.
Matt Holliday would fit well in Philadelphia, but he seems destined for a reunion with the Rockies. Carlos Gomez, Jon Jay, and Angel Pagan would also be good fits with the Phillies, if not for how sought-after they will be.
Eric Thames, NC Dinos (KBO)
Eric Thames is not an easy player to interpret. Thames soared through the minors with a .305/.383/.508 batting line and 53 homers across 1487 at bats. He appeared to have a promising future with the Blue Jays.
More from That Balls Outta Here
Unfortunately for Thames, Jose Bautista burst onto the scene in Toronto a year before Thames' MLB debut. He hit to the tune of 262/.313/.456 in 95 games during his rookie campaign and failed to impress. In 2012 he was shipped to Baltimore, and hasn't seen the big leagues since.
Fast forward to 2014, and Thames is a star for the notoriously hitter-friendly Korean Baseball Organization. He hit 37 or more home runs and never batted under .317 during his 3 seasons in Korea, peaking with an MVP campaign in '14 in which he hit.381/.497/.790 with 47 HR and 40 SB. Unsurprisingly, he is now drawing interest from MLB teams.
The small market A's, Padres, and Rays are already said to be looking at Thames, and he projects to make under $10 million annually upon his return. Jung Ho Kang made the successful transition from KBO to MLB, and Thames' KBO numbers are actually a bit better than Kang's . For a small investment over no more than 3 years, GM Matt Klentak could strike gold on Eric Thames
Estimated Offer – 2 years/16 million plus incentives, club option
Michael Saunders, Toronto Blue Jays
A few days ago, Max Frankel of Off the Bench talked about why Saunders would be a good fit for the Phillies (and the Giants…meh), and I happen to agree with him. Saunders had a breakout campaign in '16, storming to All Star break with a .298/.372/.551 line and 16 homers.
He couldn't keep up the pace, and hit under .200 after the break. However, Saunders found himself just in time for the playoffs, going 8-for-21 with a homer in 8 postseason games.
Want your voice heard? Join the That Balls Outta Here team!
The Phillies' new hitting coach, Matt Stairs, was also a slugging lefty. If he could work on Saunders' mental approach, I have no doubt Saunders could maintain the elite level of production displayed in Toronto last season. He has reverse platoon splits, hitting lefties 28 points higher than righties (.275 compared to .247).
The talent is there, and his second-half struggles will keep his price down. If he turns things around, the Phillies could flip him for talent.  If he takes another step forward, they could keep him around and sign him to an extension.
Estimated Offer – 2 years/$25 million plus club option
Colby Rasmus, Houston Astros
The Astros extended a qualifying offer to Rasmus during the '15 offseason following a productive campaign in which he batted .238/.314/.475 with 25 HR (good for  2.6 WAR). That decision backfired on them when he accepted the offer. He failed to replicate his offensive production from the year prior, as his OPS dropped to .641 (0.1 OWAR) this past season.
If not for his cannon of an arm in the outfield, Rasmus would have been an absolute bust in 2016. His 11 assists were the 4th-most of any left fielder, which helped him contribute 1.8 DWAR on the season.
He still blasted 22 homers, and his pull-happy, left-handed swing would play well at Citizen's Bank Park. For less than what they'll pay Jeremy Hellickson, the Phillies could get a premium defender in left field and a slugging lefty in the middle of the lineup.
Estimated Offer – 1 year/$12 million
Michael Bourn, Baltimore Orioles
He's no longer the speed demon he used to be, nor is his defense elite anymore. This is more of a mentorship opportunity than anything else. Bourn would be great if he could teach the young crop of outfielders a thing or two on the base paths.
Before his hamstrings betrayed him, Bourn was one of the best baserunners in the game, stealing 61 bases in two separate seasons. His record as an excellent base runner makes him an appealing players-coach option for the Phils in 2017.
The biggest factor here, which I haven't mentioned yet, is the fact that Bourn was drafted by the Phillies. At this point in his career, Bourn might be very welcome to the idea of returning to the team that game him his first shot.
Estimated Offer – 1 year/$600,000 minor league deal
This article originally appeared on