Phillies Rumors: Cameron Rupp A Trade Candidate?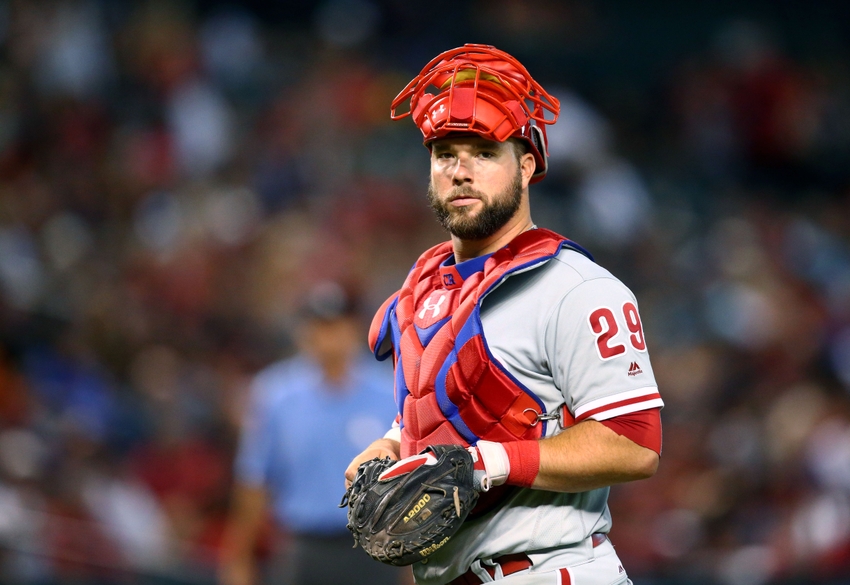 The catching market took an unexpected twist on Thursday. The Phillies have some depth at the position, should they be in sell-mode?
When the Houston Astros gave up two prospects (Albert Abreu and Jorge Guzman) to the New York Yankees for veteran catcher Brian McCann and $11 million, it crept a thought into my mind:
Is now the time to sell high on Cameron Rupp's  breakout 2016 season?
Let's breakdown everything than come to a verdict.
Even with a thin market, does Cameron Rupp carry enough value to warrant a valuable return?
Cameron Rupp is far from a proven backstop like Brian McCann. However, at 28-years-old, and under club control through 2021, Rupp does have trade value.
More from That Balls Outta Here
How much is unknown. But if the Yankees can get two solid pitching prospects for a soon-to-be 33-year-old coming off a 0.9 WAR season in which he hit .242/.335/.413 (.748 OPS), with 20 homers and 58 RBI, while costing $11.5 million over the next two seasons, than maybe the Phillies can get something of value for Rupp.
Rupp is coming off a solid, unexpected, breakout season in 2016. Slashing .253/.303/.447 (.750 OPS) with 16 HR and 54 RBI, posting a 1.3 WAR.
Similar numbers, no?
Since McCann played in 25 more games than Rupp this past season, let's dig back even further to both players last 561 plate appearances:
Rupp – 24 HR and 75 RBI, .250/.306/.416 (.722 OPS), 141 strikeouts
McCann – 21 HR and 65 RBI, .230/.326/.366 (.692 OPS), 111 strikeouts.
Both had very strong first halves this season, but in a bigger picture, Rupp has been the better hitter. McCann has the better BB/SO ratio, but that's pretty much it at the plate.
While McCann stands as a far better framer and overall defender, Rupp isn't horrible by any means. Rupp carries a much stronger arm and is quicker to react, but he still needs to improve his below average pitch framing. That's really all that stands out defensively for Rupp.
Want your voice heard? Join the That Balls Outta Here team!
If Brian McCann's trade value netted New York two pitching prospects (respected highly enough that if the Yanks didn't eat $11 million of McCann's contract, they more than likely weren't seeing), than Rupp must be able to generate some positive return value.
Maybe not to extent of McCann's (Abreu was the Astros 7th rated prospect in a deep system) simply due to track record, but there's no reason Rupp couldn't net a return that doesn't leave fans in question.
If Rupp is made available, who would come calling?
Even after a shaky second half, Rupp is still very much an above average offensive catcher. And there's about half the league who could use his services (MLB average OPS for catchers in 2016 was .701, and in the AL just .681).
Obviously half of baseball doesn't have interest Rupp, but there's still a handful of teams who might. The AL champion Cleveland Indians (MLB worst .596 OPS from catchers), Baltimore Orioles (likely losing Matt Wieters via free agency), and Boston Red Sox (Sandy Leon showed promise, but really struggled down the stretch) all seem like logical fits.
Rupp and his power would be very good fits in both Camden Yards and Fenway Park, and Cleveland desperately needs an upgrade offensively.
At just 28, entering his prime, and with four more years of club control – Rupp would make plenty of sense for all three teams – and more.
While Andrew Knapp and Jorge Alfaro represent the future, the Phillies could look into some familiar faces to the upper management to replace Rupp's production now.
The Phillies front office is very familiar with four-time all-star catcher, switch-hitter Matt Wieters.
Both GM Matt Klentak and president Andy Macphail were in the Orioles upper management during Wieters debut and rise in Baltimore from 2009-2011. Where he averaged 14 HR and 55 RBI during that stretch, slashing .265/.328/.415 (.743 OPS), and posting a 8.9 WAR.
Wieters continued his success for two more seasons, but from 2014-2015 he would only play in 101 games for Baltimore dealing with multiple injuries.
The backstop bounced back strong during his age 30 season. Making the all-star team, not losing anything defensively, finished with 17 homers and 66 RBI, slashed .243/.302/.409 (.711 OPS), while posting a 1.7 WAR. (Note: Wieters hit .117 in July).
Is Wieters A Reality?
Wieters could get multi-year deal, and should. However, I believe the Phillies wouldn't be wasting if they went that route here. As mentioned, Wieters is still just 30. And while he did make the all-star team this past season, and doesn't have a draft pick attached to him in free agency (no QO), this was still just his first season back.
A player like Wieters could benefit from taking a massive one year deal. He's taken a qualifying offer before, so the idea that he's a player who wants to bet on himself is at least real.
The Phils can always overpay, and he could always sign for some serious cash ($18 million?), than re-market himself next season for an even bigger, longer term deal for the latter stages of his career. Scott Boras is his agent, so the odds may not be good, but do exist.
Check out this list of other viable veteran options at catcher, who would make sense if Rupp were traded as well. But if he'd do it, a year of Matt Wieters wouldn't be the worst deal for the team.
With all things considered, should the Phillies trade Rupp?
With two premium catching prospects, money to spend, a desire for veteran hitters – and the fact there's a real chance this could be the best of Cameron Rupp – I'm on board with selling now.
Rupp has value, but not much upside for the Phillies. Jorge Alfaro is penciled in as the man of the future, and Andrew Knapp is damn fine insurance policy. But let's not forget, money with flexibility can always help too.
If the Phillies do in fact sell high on Rupp, expect Knapp and a veteran to take the wings until Alfaro is ready (this isn't to say Knapp is out of a job once Alfaro is ready, his bat will find him AB's).
Considering the market for catching, and the current position the club is in, trading the breakout catcher Rupp suddenly becomes an interesting topic of discussion for the Phillies. Stay tuned to TBOH as Hot Stove season swirls on.
This article originally appeared on