Phillies Prospects: Evaluating Who Could Be Selected in Rule 5 Draft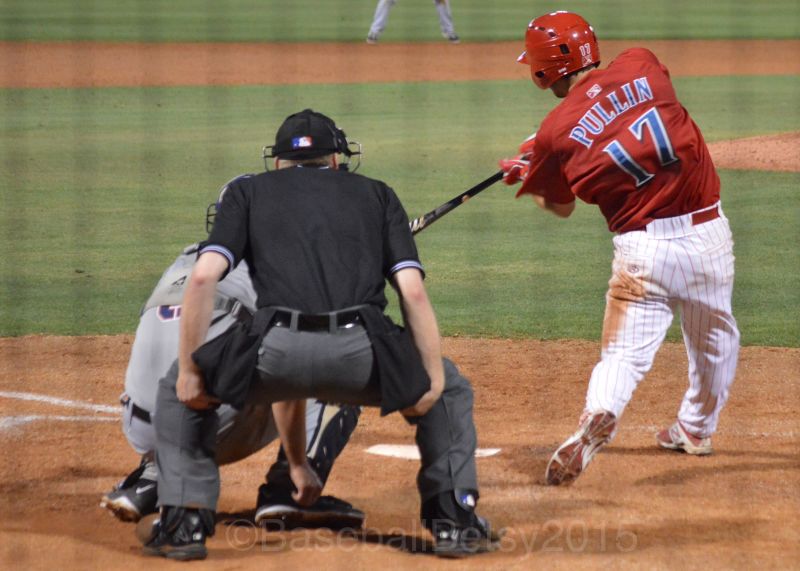 The Phillies left several notable players off their 40-man roster, leaving them eligible for the Rule 5 draft. We'll take a look at who could be selected.
When the Phillies added 11 players to their 40-man roster earlier this November, they made a commitment to a younger team for the future. The average age of their 40-man roster is about 25 years old with just two players over 30 in recent acquisitions Howie Kendrick and Pat Neshek. With this bevy of youth on the 40-man roster, the Phillies will be young both this year and for years to come.
Even though 11 players were added to the roster, there will still some players the team wished to protect. Klentak told Ryan Lawrence of Philly Voice, "We know we can't protect everybody and we did our best to protect as many as we could." Klentak said it would be "disappointing" to lose anyone in the Rule 5 draft but also "encouraging" because that means the Phils farm system is producing quality players.
The Phillies have kept both of their Rule 5 selections from the past two years – outfielders Odubel Herrera and Tyler Goeddel – for the full season required to hang onto them. It could go the opposite way in 2017. Let's take a look at the likelihood of the Phillies losing someone to the next Rule 5 draft.
Outfielder Carlos Tocci
Carlos Tocci was the first of four TBOH Top 30 prospects to be left exposed to the Rule 5 draft this winter. I ranked Tocci as the No. 15 prospect in the system.
The Phillies signed Tocci when he turned 16 and gave him an aggressive assignment right off the bat as he started off his professional career in the Gulf Coast League at 17 years old. He then was promoted to Low-A Lakewood in 2013 at 18. The aggressive assignments may have hampered his development as he didn't reach High-A Clearwater until two years later in 2015, and he spent all of 2016 in Clearwater as well.
Tocci's youth has come back to bite him as the 21-year old is now eligible for the Rule 5 draft. International prospects like Tocci often need to rise through the minors quickly as their Rule 5 eligibility comes much sooner than Americans who are drafted out of high school.
The biggest argument for Tocci being selected in the Rule 5 draft is his high floor as a defender.
Tocci is generally considered to be an above-average to plus defender in center fielder with a solid arm and speed to go with it. He will likely have some major-league role in the future based on his defense alone.
However, Tocci's offense will likely hold him back from being selected. He posted a below-average OPS of .693 in 127 games with Clearwater this season. Tocci struggles with power, hitting just nine home runs in 2,219 plate appearances. That's Ben Revere-like power (or lack thereof). There is little, if any, precedent of a High-A hitter jumping straight to the major-leagues with any form of success. It would take an advanced kind of hitter to do that, and that just isn't Tocci.
Fangraphs' KATOH system projected the WAR through the first six seasons of all the eligible players in this year's Rule 5 draft. Tocci had the eight-highest projected WAR of all outfielders available in the draft, likely coming from his defensive ability. Considering his lack of offense and relative inexperience, it's unlikely Tocci will be selected and even more unlikely he remains on a roster for a full season.
Outfielder Jose Pujols
Jose Pujols has all the power that Carlos Tocci lacks. The TBOH No. 26 prospect finally converted his raw power to in-game power as he smashed 24 home runs in his first full professional season with Low-A Lakewood. While his home run power was overshadowed by Rhys Hoskins' and Dylan Cozens' monster seasons in Double-A Reading, Pujols's power development was a huge step in the right direction.
Note how I said this season was Pujols's first full season. The Phillies signed Pujols back in 2012 for $540,000, and he spent three years in the rookie leagues upon becoming a professional. As I mentioned with Tocci, international prospects are often Rule 5 eligible earlier on in their development.
Pujols was stuck in the short-season leagues because of his lack of contact ability. He struck out more than 28% of the time in all of his minor-league seasons and more than 30% in all but one. Pujols posted the highest batting average of his career this season at .241.
Pujols is a complete and utter longshot to be selected in the Rule 5 draft. While he is a Top 30 prospect, he would have no chance against major-league pitchers. Adding Pujols to the 40-man roster would have been a waste since he has essentially no risk of being selected.
Catcher Deivi Grullon
Deivi Grullon is another Top 30 prospect the Phillies left off the 40-man roster, and it's easy to see why.
The No. 28 prospect has spent parts of three seasons with Low-A Lakewood. Grullon struggled to hit Low-A pitching in his first two years with the BlueClaws before finally starting to show some life at the plate this season. Grullon hit for a 101 wRC+ this season, the first time it was above 100 since he was in the Gulf Coast League back in 2013.
Grullon's one redeeming factor is his defense, and it is far and away the best aspect of his game. MLB.com gave his arm a rating of 70, calling it "one of the strongest arms of any catcher in the Minor Leagues." He is also is a strong pitch blocker, and he should work out the kinks of the finer aspects of his defense with experience.
Even with the strong arm and defense, Grullon is also a longshot to be selected in the Rule 5 draft due to his abysmal hitting. The 20-year old will likely need at least another year or two before his hitting could have a chance at the major-league level.
Shortstop Malquin Canelo
Malquin Canelo may be the most intriguing Top 30 Phillies prospect available in the Rule 5 draft as he could become quite versatile defensively.
Canelo, my No. 29 prospect, spent all of 2016 with High-A Clearwater and was rather unimpressive at the plate. He posted a well below-average .624 OPS in 124 games with the Threshers in 2016. Canelo flashed some offensive potential in 2015 with Lakewood when he hit for a .311/.364/.466 line in 63 games with the BlueClaws to start off the year.
Where Canelo shines is on defense as a plus all-around defender at shortstop. Some say he is the best defensive shortstop of anyone in the system, including No. 1 prospect J.P. Crawford. Dan Farnsworth of Fangraphs said Canelo is "a definite shortstop at the next level."
It isn't a stretch to say that a plus defender like Canelo could very well be an above-average defender at other positions in the infield as well. A team in need of a utility infielder could view Canelo as a project if they see upside in his offense somewhere.
Like many other players, Canelo's lack of experience above Class-A ball could keep him safe from the Rule 5 draft.
Outfielder Andrew Pullin
Andrew Pullin had a weird season in 2016. After announcing his retirement just before the season started, Pullin returned to hit for a .796 OPS in 36 games with Clearwater. He hit even better after a promotion to Double-A Reading, posting a .346/.393/.559 line over 46 games.
Pullin's offensive production at Double-A may be the key to his selection in the Rule 5 draft. His defense is serviceable and he flashed legitimate potential at the plate this season. Pullin doesn't strike out much but he could stand to walk more than he has. Odubel Herrera made the transition from Double-A to the majors without too much of an issue, and Pullin has that same potential.
Injuries may be the biggest detractor from Pullin's stock. His time in Double-A was limited due to two separate injuries.
The latter of the two injuries – a right elbow strain – kept him out of playing in the Arizona Fall League. Pullin's early retirement and quick return from it may also scare away a few teams.
Overall, Pullin is the most likely hitter to be drafted in this list thanks to his offensive potential. Considering Pullin is stuck behind numerous talented outfielders in the Phillies farm system, being selected in the Rule 5 draft may actually give him the best chance at becoming a major-leaguer.
Right-Handed Pitcher Miguel Nunez
The Phillies protected numerous pitchers from the Rule 5 draft, but Miguel Nunez was one of the pitchers left on the outside looking in. This came as a slight surprise as Nunez was one of the minor-leaguers sent to the Arizona Fall League by the Phillies.
2016 was Nunez's first season without starting a single game as he saw mixed results. In 45 relief appearances with Double-A Reading, Nunez struck out 9.71 batters per nine innings. However, his control was a complete mess as he walked 5.44 batters per nine. He managed to post a 3.11 ERA despite his 1.47 WHIP with Reading.
Nunez features a fastball that touches 96-97 mph and mixes it with a curveball and splitter. However, his spotty control forced a move to the bullpen where he will likely stay.
Despite being re-signed to another minor-league deal after the season ended, Nunez will still be Rule 5 eligible after not making the 40-man roster. His potential as a hard-throwing reliever means a team will likely try to stash him in their bullpen and reign in his control. Whether he stays with his hypothetical new team depends on how much Nunez's control improves.
Left-Handed Pitcher Hoby Milner
Relief pitching prospects got little love from the Phillies as Hoby Milner, a reliever like Miguel Nunez, was also left off the 40-man roster.
Milner flourished in his new role as a reliever this year after being converted to the bullpen at Double-A in 2015. Milner posted a 1.84 ERA and 1.08 WHIP over 49 innings with Reading this season. He struck out 26.5% and walked just 5.9% of opposing hitters with the Fightin' Phils.
Milner was also effective in his limited time at Triple-A Lehigh Valley. While his 4.50 ERA looks rather poor, his 2.61 FIP (fielding-independent pitching) and .350 BABIP allowed indicate the defense behind him let him down. Milner dominated opposing hitters as he struck out 12.38 per nine innings.
What makes Milner a likely target in the Rule 5 draft is his effectiveness as a reliever this year as well as his left-handedness. Lefty relievers will always be in demand, and Milner has the potential to be a solid lefty specialist out of the bullpen if nothing else. This means one team, if not more, will hope to add Milner in the Rule 5 draft if he falls to them in the draft.
This article originally appeared on