Phillies: Predicting The 40-Man Roster Before Deadline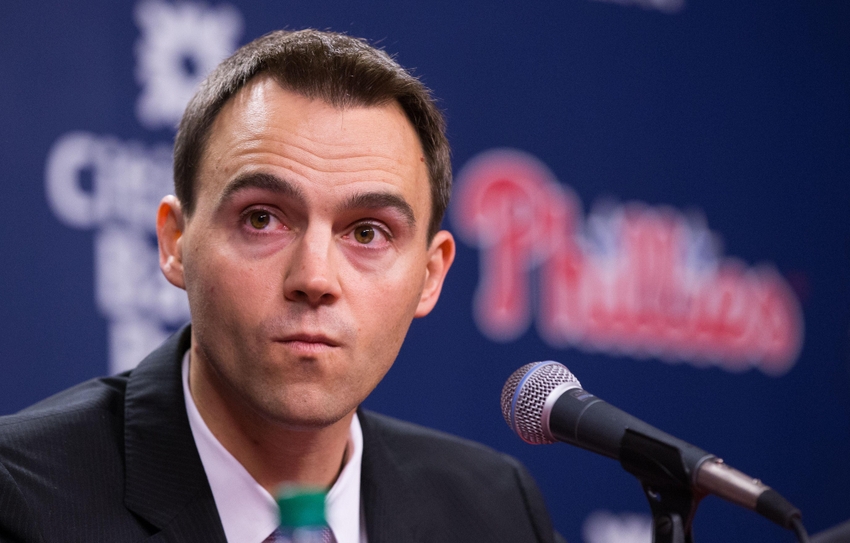 The Phillies have until friday to make the final call on their 40-man roster heading into the offseason, with some tough decisions to come, here's my final prediction.
More from That Balls Outta Here
When the Phillies released SP Matt Harrison on Tuesday it cost the club over $15 million. While that price may seem lofty for someone who never pitched for the team (back injury), Harrison's departure now opens up a spot on the Phils 40-man roster, which needs to be finalized this coming Friday.
The Phillies have some very tough decisions to make before Fridays 40-man deadline. From fringe players, upcoming prospects, and prospects that still need grooming, there's going to be some hard choices made by GM Matt Klentak before Friday.
It should be noted that Andres Blanco, David Hernandez, Peter Bourjos, and A.J Ellis are all currently free agents. Some could be back. But for now we're going strictly in-house.
From the major league team to the prospects, lets look at where the Phillies 40-man roster stands and I'll predict who's in and who's out at this point in time:
While nothing is ever set in stone, the Phillies enter 2017 with a bevy of in-house pitching options, here's the starters set for the 40-man:
Jeremy Hellickson
Jared Eickhoff
Vince Velasquez
Jake Thompson
Aaron Nola 
Zach Eflin 
Alec Asher
Adam Morgan
Ben Lively (minors)
Nick Pivetta (minors)
Mark Appel (minors)
Ricardo Pinto (minors)
Elniery Garcia (minors)
Nola and Eflin are still on the road to recovery. Thompson, Asher, and Morgan could battle for a spot as well. I'd give the nod to Thompson and Nola (if healthy) for big league gigs at this point in time, however, all are options for the 40-man.
Appel, Pinto, and Garcia are the names to watch here. I have them being protected from the rule-5 draft along with Lively and Pivetta (locks), but hey, you never know. I just think Appel still has enough upside, Pinto had been very consistent prior to his up-and-down 2016 Reading – but still warrants protection, and Garcia is a lefty the Phillies can't risk losing.
You never what can happen, and moves likely will be made. It's true when they say you can never have enough starting pitching.
For now, these 13 guys would be my guesses.
The Phillies are going to need more bullpen help, but here's what we're looking at until something happens:
Hector Neris
Edubray Ramos
Jeanmar Gomez
Pat Neshek
Joely Rodriguez
Elvis Araujo
Luis Garcia
Jimmy Cordero (minors)
Alberto Tirado (minors)
Want your voice heard? Join the That Balls Outta Here team!
Rodriguez is a safe bet for the minors, Araujo and Garcia are unpopular options until the club brings in proven relief help, and the team can't risk losing the electric stuff that both Cordero and Tirado have at their age.
The bullpen is an area to watch all offseason. There's just no way the Phillies go into the year with this.
While the future is very bright, the present has some questions at catcher. Here's a look:
Cameron Rupp
Andrew Knapp (minors)
Jorge Alfaro (minors)
Having just three catchers on the 40-man, and just one locked in for a job in 2017 (Rupp), is a definitive sign of moves to come.
Alfaro needs more minor league development, and Knapp could use some more seasoning, just some. A veteran could be useful for the big league team if Knapp isn't ready, but it's obvious the Phils are going to need more catching heading into season.
I would expect at some point an additional catcher is added to the 40-man, but for now these three are it.
The Phillies face a familiar decision in the infield:
Maikel Franco
Tommy Joseph
Freddy Galvis
Cesar Hernandez
Jesmuel Valentine (minors)
Valentine is a lock because of Hernandez's uncertainty this offseason and his steady minor league development. While Franco, Joseph, and Galvis all appear set in the Phils current plans.
The Phillies do need some more bench depth, especially with infielders. I expect Andres Blanco to be back next season, and more moves could come. Let's not forget Howie Kendrick is an infielder as well.
However, this is how my 40-man infield rounds up until further moves are made.
The biggest decisions for the Phillies outfield in regards to the 40-man come from a familiar face, and 4 newcomers.
Odubel Herrera
Howie Kendrick
Roman Quinn
Aaron Altherr
Cody Asche
Tyler Goeddel
Nick Williams (minors)
Dylan Cozens (minors)
Andrew Pullin (minors)
Carlos Tocci (minors)
Yes, for now, Asche sticks. Williams and Cozens are locks due to rule-5 eligibility, Pullin showed real promise in Reading, and Tocci is finally putting his tools together and slowly but surely filling out.
The outfield is where I expect changes at some point. Who comes off? Asche would be the easy call to get the axe first, but after that things do get tricky.
Is the club bringing in more veterans? Or should we expect someone like Nick Williams up sooner than expected?
With roster spots at a premium, and the need for big league help, the outfield situation is definitely one to keep an eye on.
Who's on the outs of the Phillies 40-man roster, and who should we be concerned about?
(P) David Buchanan
(P) Michael Mariot
(P) Severino Gonzalez
(P) Phil Klein
(SS) Malquin Canelo (rule-5 eligible, 21st ranked prospect)
(OF) Jose Pujols (rule-5 eligible, 26th ranked prospect)
(C) Deivi Grullon (rule-5 eligible, 29th ranked prospect)
(OF) Cam Perkins (rule-5 eligible, 26-years-old, slashed .292/.329/.419 at AAA in 2016)
(P) Seranthony Dominguez (rule-5 eligible, 21-years-old – 2.93 ERA career in minors)
(P) Shane Watson (rule-5 eligible, 22-years-old, former first round pick, 3.67 ERA in 21 starts at the A level combined in 2016)
Of the group above, the only real scares in terms of upside are Canelo, Pujols, Grullon, and Dominguez. Of them four, only Canelo and Pujols have truly high upsides, but both are still incredibly raw at the plate.
Perkins and Watson, among others, could be taken in the rule-5 draft. However, anyone taken or not protected is either 1) nowhere near ready to stick on a major league team for a year, or 2) out-of-place with the Phillies, which is the case with both mentioned.
So don't hang your heads low if a name you're familiar with gets taken. Remember, it's all about the big picture here.
More to come for Phillies?
The team still needs left handed pitching, bullpen depth, a veteran catcher (maybe), and an additional veteran bat or two, not to mention the aforementioned free agents (some of which provide legitimate value).
This 40-man is nowhere near set in stone.
Matt Klentak has his hands full. His organization is stacked on multiple levels, and he needs to be careful with all 40 roster spots. However, even after moves are made, this is an exciting time for Phillies fans and followers alike. Big time prospects are inching ever-so closer, and borderline MLB players could be replaced with actual valued players.
This is a low-key big deal for the offseason for the Phillies, rule-5 aside, expect rumors to start swirling in before Fridays deadline in regards to the stance of the 40-man.
This article originally appeared on