Phillies: Potential Hector Neris Trades To Consider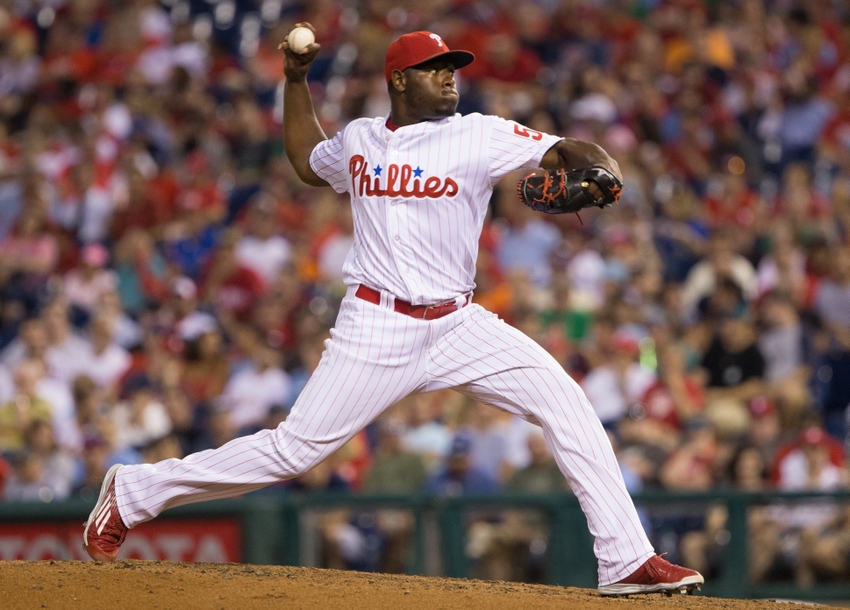 Reports suggests the Phillies could be willing to move on from top reliever Hector Neris. Would the team actually do it? If so, to who?
Ryan Lawrence of PhillyVoice.com suggested that the Phillies and GM Matt Klentak could have something in place heading into Hot Stove season.
Maybe dealing someone who will catch fans off guard, but Lawrence believes the Phillies could be ready to sell high on reliever Hector Neris and his phenomenal 2016 season (2.58 ERA, 11.4 SO/9, 80.1 IP).
Can fans take another Ken Giles situation? Why would the team trade their most reliable reliever, again? Would the return be worth it?
The Phillies face many future questions. But replacing Neris should not be one of them. If the offer is right, the Phils would be wise to trade Neris now.
At the end of the day, Neris is a reliever (a good one albeit), but a reliever. They can be replaced. If the team finds what it feels is a fair return, there shouldn't be any hesitation to deal the 27-year-old under club control until 2022.
Here's three potential trades for Hector Neris this offseason:
The Phillies could use Hector Neris to take a flyer on a high-upside, high-risk player who may have run his course in Los Angeles.
If the Phillies wanted to get fancy, this is the deal. Trading Neris for Los Angeles Dodgers outfielder Yasiel Puig would be quite something.
The Phils would be getting a 26-year-old potential superstar on very team-friendly deal.
Through his first two seasons with LA, Puig slashed .305/.386/.502 (.888 OPS), while averaging 18 HR and 56 RBI with 11 SB. Puig posted a 10.3 WAR over his first 252 games, and when you add in his freakish athleticism and rocket arm – now you have the makings of a legitimate five-tool player.
Over the past two seasons, Puig has only played in 183 games. Posting a 2.5 WAR, slashing .260/.323/.425 (.748 OPS), while averaging 11 HR and 42 RBI. Obviously, he hasn't been the same.
His frame, work ethic, flashiness, and many other various character issues have come into play with Puig. It's safe to assume the Dodgers are done at this point, and will try to get value out of Puig while they still can.
The Dodgers would finally be free of the often disgruntled and questioned Puig, would free $17 million over the next two years with his contract, and would be adding to their already solid bullpen (major league best 3.35 ERA), while adding insurance in case of a Kenley Jansen departure via free agency.
Is this risk worth it? Is this fair compensation on both parts?
I think so. Puig desperately needs a change of scenery. A city like Philadelphia would put his talents in every spotlight imaginable, something that often brings the best out of Puig.
However, a deal would seem unlikely at this time. But this is something that could interest two clubs with a good history of communication.
The Phillies could use a starter for next year, and potentially beyond. The Rangers could provide the club with that, and more, for the services of Neris.
The Texas Rangers need help out of the bullpen. A 4.40 team ERA out of the pen is just not going to get it done in the American League.
More from That Balls Outta Here
Hector Neris would certainly help improve those numbers.
The Rangers seem set in stone on making changes to their pitching staff, so parting with a back-end, potentially high-priced starter like Martin Perez shouldn't be hard for the team to part with, and easy for the Phils to pick up.
Obviously, Perez is not enough for the Phillies to part with Neris. But the Rangers still have a quality farm system, with many arms on the rise.
Parting with some projectable arms like left hander Brett Martin or former first rounder Luke Jackson (who currently sit 8th and 15th respectively among top Rangers prospects according to MLB.com) along with Perez (who's owed $4.4 million in 2017, with $22.5 remaining over the following three seasons, albeit with buyout options every year), that could be enough to get a deal done and leave both sides feeling satisfied.
Maybe the most logical so far, the Phillies could call the world champs about an outfielder without a future place in Chicago.
This is a deal that makes too much sense in my opinion. The Chicago Cubs hands are on the verge of being tied. The Phillies can help them out.
The Cubs are set to lose multiple key players this offseason, but the biggest name of the bunch is closer Aroldis Chapman.
Losing an impact reliever like Chapman after winning a World Series could leave a serious hole in the Cubs plans to repeat. They will have to do whatever they can to keep their bullpen strong heading into 2017.
Live Feed

MLB trade rumors
Enter lost outfielder Jorge Soler, and the aforementioned Hector Neris.
This is similar to the Puig deal, but with less headache and much more power potential.
Soler is almost 25-years-old, but carries a massive 6'4", 220 pound frame, with an electric bat and some discipline.
His career .258./.328/.434 (.762 OPS) doesn't scream "get this guy now". Not to mention, he's been a very poor defender through the star of his career (1.65 RF/9, -2.2 dWAR).
But that doesn't take away from Soler's potential. He was a highly touted prospect for a reason. Add in the fact he's under club control through 2020 with just $17 million remaining, and he becomes a risk worth taking for the Phillies.
The Phils get a chance at seeing a young, MLB-ready power bat – with no place in his current situation – develop with them in the heart of their order. While giving the Cubs a very solid reliever for next season and beyond.
It's a deal that makes sense on the surface.
How likely are the Phillies to move on from their most reliable reliever?
This is just a gut call, but Neris seems like a safe bet to be moved this offseason. The situation is very similar to the Ken Giles one, but with Neris turning 28 next June, and coming off the third-highest workload of any reliever in baseball last season, this potential deal might actually make more sense.
These deals are likely the best-case scenarios for the Phillies, but at least ones to ponder. Neris is a valuable reliever coming off a dominant season. He wont come cheap.
However the situation unfolds, the Phillies still posted the third-lowest bull ERA (5.05) in 2016. Replacing a reliever like Neris shouldn't be taken with a hopeful approach like the Giles trade was.
Stay tuned for more, but the Phillies could be in line for a major bullpen shakeup.
This article originally appeared on