Phillies Post-2016 Top 30 Prospect Rankings: 11-15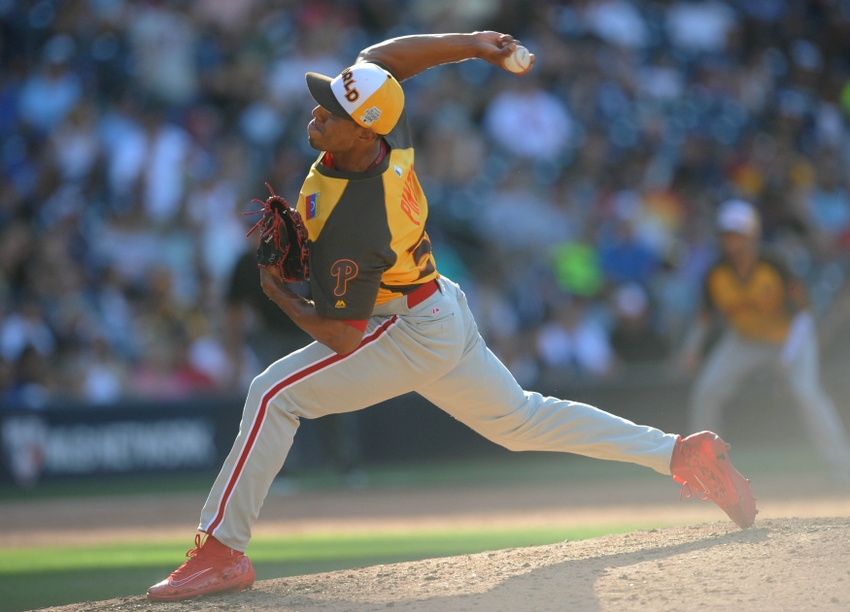 Rather than dilly-dallying about something random for 200 words on the first slide, I'm just going to jump right in with the No. 15 Phillies Prospect: Outfielder Carlos Tocci.
The biggest gripe about Carlos Tocci is his size. The Phillies signed Tocci the day after he turned 16 in 2011, starting him in the Gulf Coast League at age 17. He still hasn't grown much since then, weighing just 160 pounds despite standing 6'2.
Despite his lack of experience, the Phillies gave Tocci a chance at Low-A Lakewood at 18 years old. It took his third season there in 2015 for Tocci's hitting to finally start clicking. He hit for an .810 OPS with the BlueClaws in 59 games. After a promotion to High-A Clearwater, Tocci's numbers came back down to earth with a .258/.296/.313 line by the end of the year.
Tocci returned to Clearwater this year, spending the full season in Florida. Tocci did better in his second stint in the Florida State League, but not as well as his 2015 stint with Lakewood. His wRC+ was barely above-average at 103, stemming mostly from his lack of power. Tocci had a .331 on-base percentage and 13.7% walk rate this year with the Threshers.
Tocci is one of the best defensive outfielders the Phillies have and one of the few prospects who should have no problem remaining in center field. Matt Winkelman of Phillies Minor Thoughts loves what Tocci offers on defense, saying:
"Defense is the foundation of what Tocci is as a prospect. His defense in center field would be at least above average in the majors right now with a great first step, efficient routes, and plus speed. There is no reason to believe he will be anything but a plus defender by the time he reaches the majors. Additionally, Tocci has a plus, accurate arm which is an asset in center field."
At the plate, Tocci has a solid-average hit tool, but his power is well below-average. He can pepper the gaps and leg out extra-base hits, but long balls will be hard to come by. If Tocci can add some strength his power projection could go up, but he is a long ways away.
Tocci is eligible for the Rule 5 draft this year, but it's hard to imagine him sticking on a major-league roster for a full season since he's never played above High-A. Considering his prospect value, the Phillies might still protect him rather than lose one of their better outfielding prospects.
No. 14: Right-Handed Pitcher Mark Appel
When the Phillies traded Ken Giles last offseason, the team acquired two big-name pitchers in Vince Velasquez and Mark Appel. Appel was the No. 1 overall pick in the 2013 draft, giving him a high bar to reach. Unfortunately, Appel hasn't lived up to the hype.
Appel's 2015 was less than ideal after reaching the upper-minors. In 25 starts between Double-A Corpus Christi and Triple-A Fresno, Appel had a 4.37 ERA and 1.44 WHIP.
When Appel reached spring training with the Phillies, he felt like the change of scenery could really benefit him. Appel told Kelsie Heneghan of MiLB.com:
"I think that being able to hit the reset button with the new organization and go about things with a different focus and not having really the expectation and the pressure of being the first overall pick with that organization. I think mentally it feels a little bit different and it feels different in a very good way."
Through his first four starts in Triple-A Lehigh Valley, Appel looked to be a pitcher worth the No. 1 overall pick. Appel had a 1.64 ERA and opposing hitters had a .244 average in that span. When May rolled around, Appel fell apart. His ERA ballooned to 8.27 ERA in his next four starts with a 1.90 WHIP.
Looking at each aspect of Appel's arsenal, it doesn't correlate with his struggles.
His fastball ranges from 92-96 mph, sometimes hitting upwards of 98. His slider and changeup could both be plus off-speed pitches. What causes the struggles is his lack of consistency. In most starts, only one of Appel's three pitches actually looks plus while the others struggle. He needs to hone in his command of each pitch as well as commanding two at one time.
Appel landed on the disabled list with a strained shoulder May 27. As he was working back from the injury, he sustained another injury, this time to his elbow. Matt Gelb of the Philadelphia Inquirer reported Appel underwent season-ending shoulder surgery to remove a bone spur from his elbow in late June. Jim Salisbury of CSN reported Appel was throwing earlier this month and "is expected to be on a mound in a few weeks."
Appel's injury could be what protects from the Rule 5 draft this offseason. The Phillies have to add Appel to the 40-man roster or leave him open to the draft. Plenty of teams would be scared away by the recent surgery, but just one would have to take the risk on Appel. The club is likely to protect Appel rather than losing him just a year after acquiring him.
No. 13: Right-Handed Pitcher Sixto Sanchez
No Phillies prospect outside of Mickey Moniak garnered more attention in the Gulf Coast League than Sixto Sanchez. He was still just 17 when the GCL season started and looked it too, standing just over six feet tall.
Despite his youth, Sanchez dominated batters in his first season stateside. Opposing hitters had just a .179 average against Sanchez. He finished the season with a 0.50 ERA, 2.25 FIP, and 0.76 WHIP. He struck out 22.7% of the batters he faced and walked just 4.1%.
In addition, Sanchez wasn't afraid to pitch to contact. According to MLBFarm, Sanchez induced ground balls 58.57% of the time. The strategy panned out, as opposing hitters had a .236 batting average on balls in play.
Thanks to his success in the GCL, Baseball America named Sanchez the GCL Pitcher of the Year as well as ranking him the No. 7 prospect in the league. In the ensuing chat, Ben Badler said Sanchez is farther along at his age than other Phillies pitching prospects Franklyn Kilome and Adonis Medina.
Sanchez's fastball is his best pitch, typical of teenage pitchers. However, it is better than most other pitchers' fastballs his age, sitting in the mid-90s with good sinking action. His changeup is a solid secondary pitch, fading away from opposing batters. Sanchez's breaking ball also flashes plus, so at least one his secondary pitches should be above-average.
Sanchez will rocket up rankings this offseason after his impressive debut, but there is a still long way to go before he reaches the major-leagues. The team will likely send Sanchez back to extended spring training next year and see how he fares in short-season Williamsport. A strong showing there will warrant his first chance at full-season ball in 2018.
No. 12: Right-Handed Pitcher Ricardo Pinto
Ricardo Pinto flew through the lower levels of the Phillies minor-league system but hit a snag upon reaching Double-A Reading this season. 2016 was by far his worst statistical year, but he got progressively better as it went on.
In Pinto's first two months of Double-A, he really struggled. In eight starts through May, Pinto carried a 4.78 ERA and 1.35 WHIP while striking out just 12.5% of opposing hitters. June and July were a bit better, as his ERA was 3.95 in 11 appearances in that span. However, he still walked 7.5% of opposing hitters.
Pinto struggled in part to the higher level of hitters he has to face in Double-A. He told Evan Webeck of MLB.com, "I've noticed the hitters are more mature. If you throw a mistake, they're going to make you pay…Sometimes I could get away with those mistakes in High A ball, but here I don't get outs with the mistake pitches."
Despite his early-season struggles, Pinto, along with his Double-A teammate Dylan Cozens, earned the opportunity to represent the Phillies at the MLB Futures Game this season. He retired two batters with the help of San Diego's Manuel Margot, who brought back a would-be home run.
August turned out to be Pinto's best month this season, finishing the month with a 2.84 ERA and 0.85 WHIP. He benefited from his defense, as opposing hitters had just a .169 batting average on balls in play. Pinto still walked 7.4% of batters that month, and his strikeout rate was poor at 15.6%.
Even though he struggled in-game, Pinto is still the same pitcher he always has been. He pairs his fastball that easily sits in the mid-90s with a changeup Baseball America called the best in the Phillies system in their 2016 rankings. However, Pinto's breaking ball hasn't progressed as hoped this year, flashing average at times but it is an overall below-average pitch. While Pinto has his control down, he doesn't command his pitches well.
Pinto is Rule 5 eligible this offseason, and he has enough presently to stay in a bullpen for a full season and not be terrible. I can't imagine the Phillies leaving Pinto unprotected just a year after giving him the Paul Owens Award.
Pinto will likely start 2017 back in Reading, where he should do better after a full year facing Double-A hitters. It's hard to see him in Philadelphia before September if at all in 2017, but a 2018 arrival is likely.
If Pinto can either improve his command or his breaking ball, he could be a back-end starter. If he can improve them both, then Pinto could be an electric piece of the rotation. If he stays where he is, he could still be an effective reliever.
No. 11: First Baseman Rhys Hoskins
Rhys Hoskins was the second part of Reading's "Smash Bros." this year along with outfielder and No. 18 prospect Dylan Cozens. The two combined for 78 home runs this season, with Hoskins contributing 38. He and Cozens shared the Paul Owens Award as the top hitting prospects in the Phillies system.
Despite Cozens hitting more home runs than Hoskins, I am more confident in Hoskins's future, which is why he ranks higher on the list. While Hoskins did strike out 21.1% of the time, he also walked in 12.1% of his plate appearances. Plate discipline is one of Hoskins's trademarks, and he showed it this year.
In addition, Hoskins can hit against right-handed pitchers as well as left-handed pitchers. This season, Hoskins had a 1.024 OPS against lefties, and it was still well above-average against righties at .920. Considering there is little value in right-handed hitting platoon first baseman, it's a definite plus Hoskins can hit against both types of pitchers.
While Hoskins benefited from Reading's hitter-friendly stadium – everyone does – he was still an above-average hitter on the road. In 65 road games, Hoskins hit 13 home runs with a .270/.357/.496 line. His hitting didn't evaporate on the road, which shows that his overall numbers aren't a fluke.
Hoskins batted above .300 in 2015 and had a .281 average this year, but Dan Farnsworth of Fangraphs believes his average will go down as he faces better pitching. Farnsworth said Hoskins "has a one-piece, one-speed swing" that "puts pressure on his pitch recognition and contact skills to square enough pitches up, given his lack of physical adaptability." So far it has worked, but it will have to improve with the pitchers he faces.
The Phillies have no need to rush Hoskins to the majors with Tommy Joseph holding down first base. If Joseph turns out to be the real deal, Hoskins could be an interesting piece of trade bait. If the Phillies would rather keep Hoskins, some speculate the team could try to move him to left field so they can get his bat in the lineup. If he continues to hit like this, the Phillies will find one way or another to get Hoskins on the major-league roster.
This article originally appeared on