Phillies Next Great Prospect: Right-Handed Pitcher Sixto Sanchez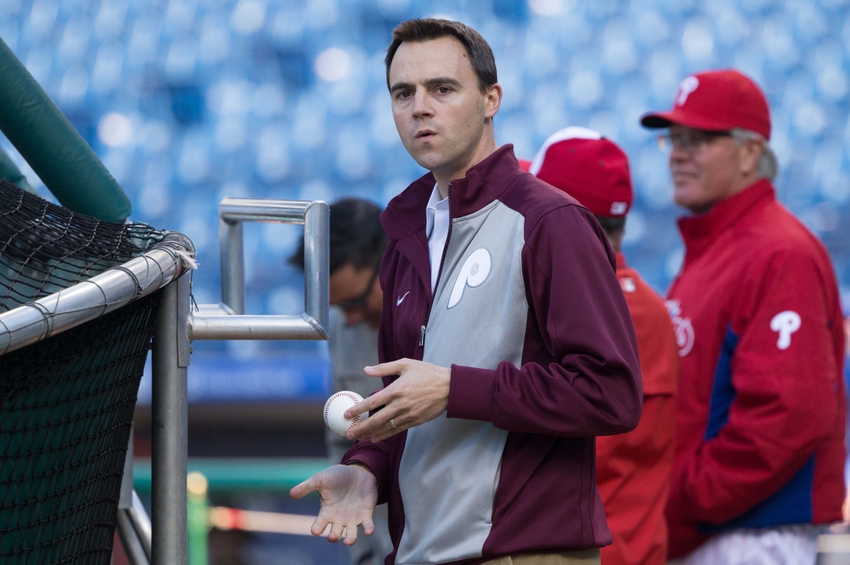 Nearly every Phillies fan has heard of J.P. Crawford. However, pitcher Sixto Sanchez may be the next big thing coming through the Phillies farm system.
In the fall of 2014, then-Phillies general manager Ruben Amaro sent out special assistant Bart Braun to the Dominican Republic to scout a Cuban catcher named Lednier Ricardo. Ricardo worked out at the team's academy in Boca Chica, and team scout Luis Garcia brought some pitchers with him so Ricardo could take batting practice.
By the time the workout ended, Braun left impressed with one of the players, but it wasn't Ricardo. It was then-16 year old pitcher Sixto Sanchez. What was meant to be a scouting trip for a catcher turned into a $35,000 bonus for Sanchez. Braun told Jim Salisbury of CSN Philly, "It was kind of an accident, a luck deal. We were in the right place at the right time. Sometimes when you keep working you bump into stuff."
In 2015, Sanchez didn't do anything to garner much attention. In 25.2 innings in the Dominican Summer League, Sanchez struck out 18 batters and walked six with a 1.48 WHIP and 4.56 ERA.
This season, Sanchez truly burst onto the scene in the rookie-level Gulf Coast League. In eleven starts, Sanchez struck out 7.33 batters per nine innings and walked just 1.33 per nine. He finished the year with a 0.76 WHIP, 0.50 ERA, and 2.25 FIP.
Scouts and evaluators agree that Sanchez is a dynamic prospect. Ben Badler of Baseball America said Sanchez is ahead of both Adonis Medina and Franklyn Kilome when they were in the GCL.
Matt Winkelman of Phillies Minor Thoughts said Sanchez "is a guy who will be right on the cusp of the Phillies' top prospects due to the combination of age and velocity."
Not only did Sanchez impress those outside the organization, but he also impressed those in the organization. Phillies general manager Matt Klentak watched the GCL Phillies play back in July, and he summed up his impression of Sanchez in two words: "Sixto. Wow." Team director of international scouting Sal Agostinelli saw Sanchez throw seven shutout innings in the GCL semifinals. After the fact, Agostinelli gave a rave review:
"Tremendous performance. Not one fastball was under 95. And it's an easy, almost effortless 95. His slider was 88 to 90. No walks. He's special."
Rafael Chaves, the team's minor-league pitching coordinator, also likes what he sees in Sanchez. He said Sanchez has a "tremendous" arm with a fastball that is a "70 to 80 on a scouting scale". Chaves also praised Sanchez's "poise", which he exhibited throughout the summer as "he dominated the league."
More from That Balls Outta Here
What separates Sanchez from a majority of the other young pitchers is that his velocity comes so easily. This comes despite his rather short stature, standing 5'10 and weighing 160 pounds. Braun, who originally scouted Sanchez back in the Dominican Republic, said Sanchez is "so athletic and under control in his delivery that he doesn't have to come out of his body and flop around with his arms and legs to get velocity."
Thanks to his easy delivery, Sanchez can run his fastball well into the mid-90s and even top out upwards of 99 mph. He pairs that fastball with two solid secondary pitches in his curveball and changeup.
Both pitches could be even better as Sanchez progresses. He has all the present tools to project him as a solid rotation piece.
Sanchez should be part of a talent-packed Low-A Lakewood team next season. I ranked Sanchez as the No. 13 prospect in the Phillies system, and he could even land higher on some rankings this offseason. If he continues his dominance into the full-season leagues, he could easily rocket up rankings among some of the top prospects in the farm.
This article originally appeared on