Phillies: Low Cost Closing Pitchers in Free Agency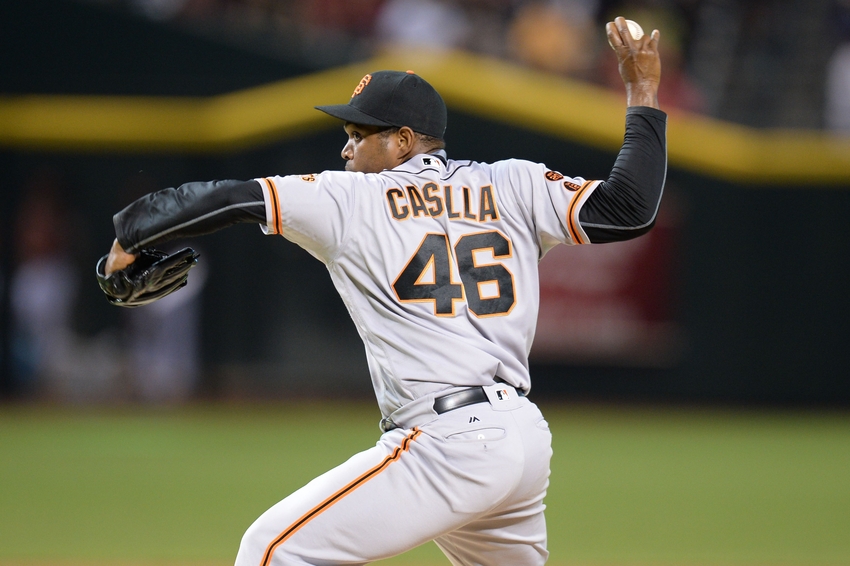 The Phillies need an upgrade at the closer position heading into 2017. Several low-cost free agent closers are out there on the market.
For a while, it appeared that the Phillies had struck gold with Jeanmar Gomez. Gomez cruised to the All-Star break with 24 saves and a 2.59 ERA. At times, he was actually leading the league in saves.
The remainder of the season was not nice to Gomez, and he got progressively worse as the year went on (8.33 ERA post All-Star). In the end, Gomez's stats for 2016 – 4.85 ERA, 37-for-43 in save chances, .289 batting average against – make it clear that he shouldn't  close games.
Is it time for the Phillies to get a new closer? Heck yeah it is.
Closers are certainly low on the priority list for a rebuilding team such as the Phillies, but there's no reason they can't sift through the clearance bins. Let's take a look at some of the free agent relievers that could be closing in Philly next year:
Honorable Mentions
As with most free agents signing with the Phillies these days, expect a "damaged goods" veteran. Signing an elite closer right now would be a waste of money and that closer's prime years. Much like the rest of the team's free agent bullpen options, the closers I'll be looking at today are trying to rebuild their value. Neftali Feliz and Francisco Rodriguez are likely to be closing next season, but I suspect the demand for their services will put them out of the Phillies' desired price range.
Santiago Casilla, San Francisco Giants
Casilla made it known that he was not happy to watch the Giants lose while he sat in the bullpen. Much like Gomez, Casilla started the season well but tapered off towards the end. His 3.57 ERA is unimpressive for a closer, but this was the first time in seven years that Casilla posted an earned run mark above 3.00. In fact, since 2010, he's had three seasons with an ERA under 2.00. In addition to that, Casilla posted career-highs in K/9 (10.09) and K/BB (3.42). 
To me, the 2016 season looks like a mere blip on the excellence that is Casilla's late-blooming career. Spotrac puts his market value at $9.6 million for the coming year, but that seems a bit high. With Aroldis Chapman, Kenley Jansen, and Mark Melancon all free agents this year, it's likely that Casilla will be more of an afterthought to high-paying contenders.
Estimated Offer – 1 year/$7.5 million
Koji Uehara, Boston Red Sox
Here is a reliever with an excellent track record that the Phillies could score for very a reasonable price. Koji Uehara is 41 years old, and his performance dipped last season, which means he won't be as expensive as some of his peers. His 3.45 ERA last season was his highest since his debut season, but he still carries a lifetime 2.53 lifetime mark across 437.2 major league innings. Uehara wasn't a closer in 2016, but he is 93-for-108 for his career in save situations.
Any 41 year-old pitcher comes with injury risks, and Uehara is no different. He missed two months of last season to a pectoral strain, but looks like a reasonable bounce-back candidate despite his age. Uehara still strikes out a ton of batters (12.06 K/9 last season), and has pretty decent playoff numbers too. While the playoffs aren't relevant to the Phillies right now, his postseason record makes him all the more appealing to contenders when it's time to make trades.
Estimated Offer – 1 year/$8 million
Shawn Tolleson, Texas Rangers
This is very much a buy-low option for the Phillies. The big appeal of Shawn Tolleson is the fact that he will be the least expensive closer on the market. After holding opposition to a .675 OPS and 2.99 ERA, Tolleson's ERA jumped to 7.68 in 2016. He was removed from the closer's role, and lost the remainder of his season to a back injury soon thereafter.
Tolleson's velocity hasn't changed much (his changeup was 3 MPH faster in '16), so control seems to be his issue. He's recovered from the back injury that ended his season, and just became a free agent after rejecting his outright assignment to Triple-A Round Rock. For the cost of arbitration, the Phillies could end up with a surprisingly effective closer in 2017.
Estimated Offer – Remainder of Rookie Contract (2nd year arbitration plus team control through 2018)
This article originally appeared on