Phillies Likely Finished With Darin Ruf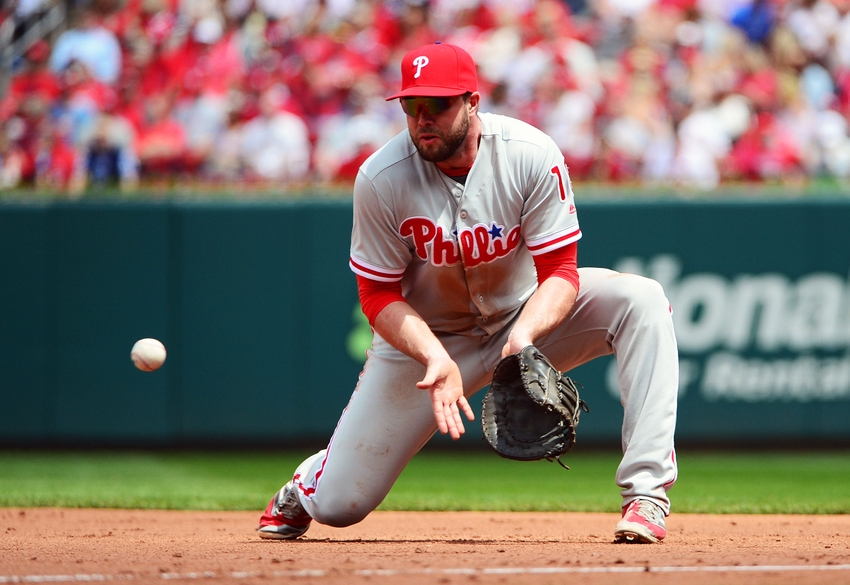 No In-Editor Preview for 120 Sports Videos
Video Details
ID: 203173718
Source: 120 Sports
The Phillies are likely to part with first baseman Ryan Howard after this season. However, don't be surprised if the team part ways with Darin Ruf as Tommy Joseph emerges.
The Phillies have just six games left in their season, and afterwards they will have plenty of decisions to make regarding which players will stay and which will go. Darin Ruf is one of the players who may be in one of their last games with the team.
Ruf started the year in the majors, and the plan was to platoon him with Howard at first base. However, that went awry when Ruf started the year with a .158/.206/.193 line. He managed just three RBI in 63 plate appearances. The Phillies soon demoted him in favor of the hot-hitting Tommy Joseph.
Ruf played surprisingly well in Triple-A this year after his demotion, hitting 20 home runs in 95 games. However, with Joseph performing even better in the majors, Ruf had no chance to make it back until September.
More from

That Balls Outta Here
Since returning to the majors with the September roster expansion, Ruf has bounced back in limited playing time. In 22 plate appearances, Ruf has two home runs with a .909 OPS, along with a 140 wRC+.
Despite his recent successes, it's hard to imagine Ruf staying here in 2017. They clearly have more faith in Joseph as their first baseman; otherwise Ruf would have been in the majors all year.
One of the biggest issues with Ruf is that he can only hit against lefties. In his career, Ruf has a .921 OPS against lefties but a mere .638 against lefties. There's no need for a platoon first baseman, especially a right handed one like Ruf. Joseph has more consistent platoon splits with a .912 OPS against lefties and .783 against righties.
More from That Balls Outta Here
Ruf's best season by rWAR standards was his first season in 2012, where he made just 37 plate appearances that September. He collected 0.3 rWAR that year, than was about replacement-level the next two years. In 2015, Ruf detracted from the team by -0.6 WAR, then was nearly a full win below-replacement this season.
While first basemen are never known for their defense, Ruf was never particularly good in that aspect either. Over his career, Ruf had a -4 UZR/150 at first base.
In addition to first base, it's safe to say the Ruf experiment in the outfield is a failure. In his career, Ruf has a -12.9 UZR/150 in the outfield. Overall, he has a defensive WAR of -3.3 in his career. While that number includes his time at first base, it should show that Ruf has no defensive value.
The 30-year old doesn't have any more minor-league options remaining, so he would have to be outrighted off the 40-man roster to go back to Lehigh Valley. It is more likely that he will elect free agency, hoping he has a chance to make a major-league roster in spring training somewhere else.
With limited value at the plate and none on defense, it's hard to see Ruf staying with the Phillies much longer. Much like Domonic Brown, the former highly-touted prospect will likely meet his end with the team with an outright removal from the 40-man roster.
This article originally appeared on