Phillies Jerad Eickhoff Championship Week Gem: Waiver Wire Add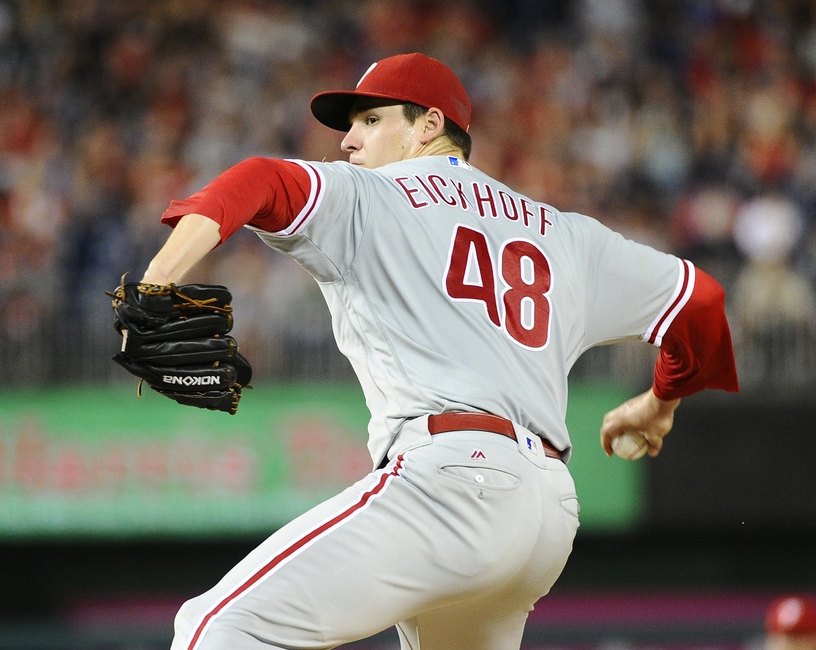 Jerad Eickhoff has quietly had a solid season for the Phillies. But, can fantasy owners trust him as a waiver wire add heading into championship week?
The Phillies knew that the 2016 season was a rebuilding year, as they patiently wait for their solid core of prospects to arrive. While the Phillies have a solid core of position players nearly ready, they also feature plenty on intriguing young arms. Jerad Eickhoff is certainly one of those, and after his performance this season, he has cemented his future with the club.
Eickhoff is unquestionably the Phillies workhorse after posting a, 3.75/1.19 WHIP/154 K line, over 187 innings this season. He has taken the ball every fifth day since the start of the season, and the Phillies now know that he is a big part of their rotation for the foreseeable future.
Fantasy owners should understand that Eickhoff is by no means overpowering, his fastball tops off at around 92 mph, but his great command allows him to stay out of trouble. He features a five pitch mix, with his curveball and improved slider, being his out pitches.
Fantasy owners looking to add players at this point of the season are usually only worried about: who does the player face and how well have they been performing as of late? Eickhoff checks both boxes, currently pitching the best he has all season, and with two favorable matchups against the Mets and Braves next week.
In the month of September, Eickhoff currently holds a, 2 W/ 2.81 ERA/20 K/3 BB line, over 25 innings. His most notable start may have been his last, where he out pitched Chris Sale, limiting the White Sox to only three ER over seven innings while striking out six. He did give up three homers during that start, bringing his total on the year to a league high 29 surrendered, but he has shown the ability to navigate around trouble.
Fantasy owners can believe in Eickhoff heading into next week in large part to who the Phillies play to end the season. He is a coveted two start candidate, and he happens to face two of the worst hitting teams in the NL. He will get the Braves in Atlanta and the Mets in Philly, two teams whose offensive struggles are well documented.
He is still widely available in over 50% of leagues across all fantasy formats, leaving owners plenty of chances to snag him. Eickhoff is not going to go out and strike out 20 batters next week, but he will post solid enough numbers that owners can insert him into the back-end of their fantasy rotations. Make the move.
More from Fantasy Baseball Crackerjacks
This article originally appeared on