Phillies Hot Stove: Team Interested In Mets Outfielder Jay Bruce?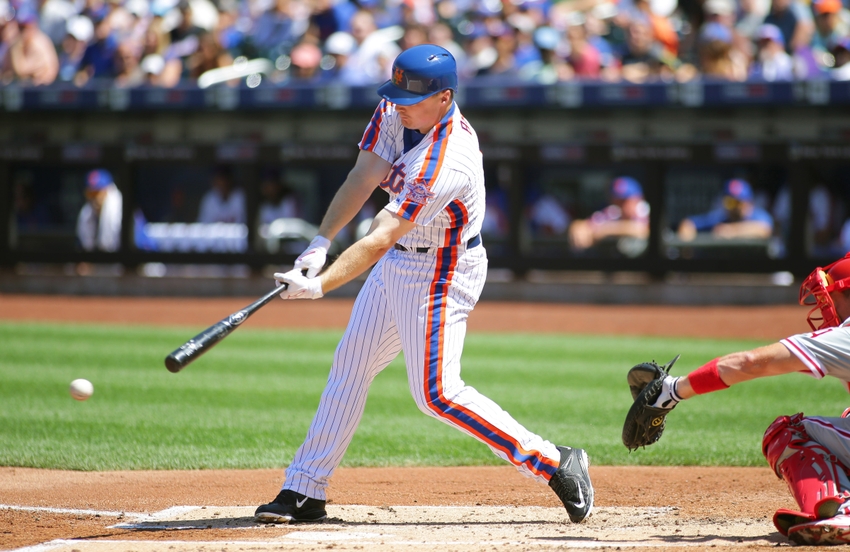 Reports are surfacing the Phillies could have interest in a division rivals power-hitting outfielder, and it makes a world of sense.
More from That Balls Outta Here
The NY Post is reporting the Phillies (who were momentarily linked to New York Mets free agent Yoenis Cespedes), are more likely to try and acquire a player like Mets OF Jay Bruce, if not Bruce himself.
Would we be okay giving the Mets a prospect or two? Does Bruce fit into the teams plans? Can he provide any value to the team?
Well, quite frankly, yes.
Jay Bruce is exactly the type of player the Phils should be looking into acquiring,
Here's why the Phillies trading for Jay Bruce would be a good move:
Bruce would provide the Phillies with consistent left handed power.
The Phillies have a need for power in the middle of the lineup. Any power would be welcomed, but some left handed punch could have a greater impact on the teams lineup.
Live Feed

MLB Trade Rumors
This would be the name of Bruce's offensive game.
Since 2010, Bruce has averaged 152 games played a season, slashing .249/.320/.469 (.789 OPS), while averaging 28 HR and 90 RBI per season over this stretch as well.
Bruce has flaws, sure. His .045 BB/K percentage over that span is less than ideal, and his career numbers versus left handed pitching (.226/.292/.411) aren't great. But the guy plays every day and provides legitimate pop consistently.
He can sit pretty in the cleanup spot, providing some serious power balance with Maikel Franco and Tommy Joseph in the heart of the order.
The team could even sit Bruce against lefties if the matchup calls for it.
Offensively, Bruce is a fit.
Bruce is a powerful hitter, sure. But the Phillies would be getting a solid defender as well.
Bruce is by no means a Gold Glover. But he doesn't kill you defensively. His -3.6 dWAR for his career is not pretty. But if you look deeper, he's mostly been up-and-down overall.
He's got a very good arm (86 career assist), and above average range (2.17 RF/9).
Want your voice heard? Join the That Balls Outta Here team!
Bruce can be prone to the occasional blunder, but with a .984 fielding percentage for his career, he's shown he's far from a defensive killer and more than capable of holding his own.
Not to mention, the relief of playing next to a gold glove caliber center fielder in Odubel Herrera, Bruce would be just fine.
Bruce's contract is perfect for what the Phillies are looking to add.
Bruce is only due $13 million in 2017, with just one year left under contract.
This fits the Phillies mold to a tee.
He wouldn't hurt the payroll, he'd provide everyday value, he's not (likely) holding up any prospects, and he wouldn't be tying your hands (although, anything could happen) at the end of his deal.
Think of the Jeremy Hellickson situation for a prime example of how this would benefit the Phils.
It's a win-win.
While Bruce would provide legitimate value to the Phillies in 2017, he wouldn't hurt their future plans at all.
Bruce was shunned at times for his struggles with the Mets after they acquired him.
However, he did slash .269/.333/.495 (.828 OPS) with 6 HR and 13 RBI over his last 30 games of the season with New York.
And after finishing the year with 33 HR and 99 RBI, while slashing .250/.309/.506 (.815 OPS), there's no real worry for a drop off in what would be his age 30 season if he remains healthy.
But that also means the Phils might have to part with a mid level prospect to get Bruce. Someone fans may have a hard time understanding at first, but still no one to get too upset over.
As I mentioned, think of the Jeremy Hellickson situation. The Phillies very well could end up with a solid year from Bruce, and a first round pick at the end of it if things go as planned.
The logic starts to make and more and more sense, no?
Jay Bruce is exactly the type of Player the Phillies should be targeting.
The likelihood of such deal is unknown. But with Bruce's production and contract, he could be a prime target for the club.
The deal would have to come down the to Mets, and what they plan on doing this offseason in regards to their 2017 club. They have plenty of decisions to make.
The Phillies would be wise to act soon in regards to acquiring Bruce. They have the luxury of not having to wait and see how the Mets situation unfolds, and they very well could attempt to tie the Mets hands quick with a quality offer.
As mentioned, Bruce wouldn't cost much on the books or in the deep farm, wouldn't hinder development, and could potentially reward the club for his services in not only 2017, but beyond.
He's definitely someone for the Phils to look at this offseason.
Stay tuned to TBOH for more.
This article originally appeared on