Phillies Former Players Heading to 2016 MLB Playoffs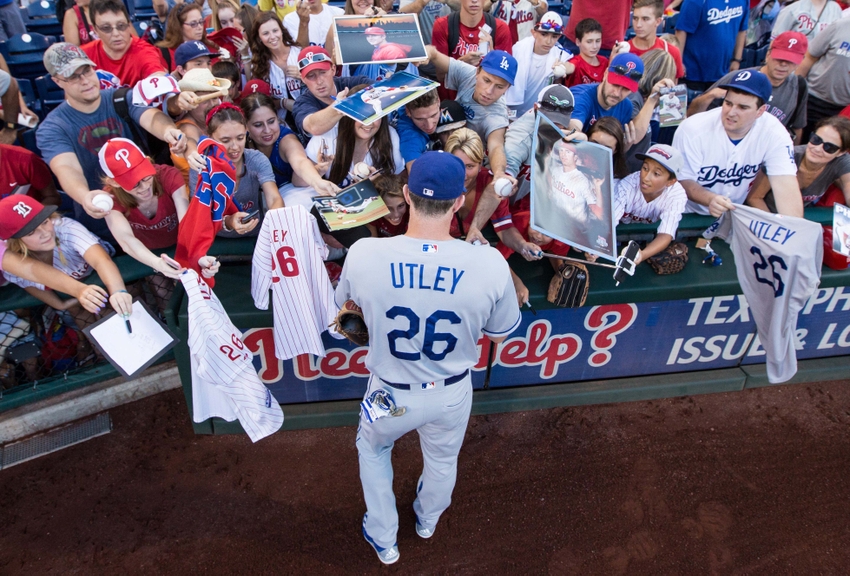 No In-Editor Preview for 120 Sports Videos
Video Details
ID: 203642614
Source: 120 Sports
Even with the Phillies already eliminated from the playoffs, several former players are headed to the playoffs. Most were part of the 2008 World Series team.
This time eight years ago, Phillies fans were gearing up for the Phillies' second straight playoff run. Brad Lidge clinched the NL East, inducing a double play from the Nationals' Ryan Zimmerman. Excitement was in the air, and unbeknownst to us fans, the Phillies would soon become World Champions.
Now Zimmerman's Nationals are the top dogs in the NL East with a legitimate chance to win the World Series. Meanwhile, the Phillies will finish well below .500.
The core of Ryan Howard, Chase Utley, Jimmy Rollins, and Cole Hamels has since split apart after numerous trades. Many of the players who helped the Phillies reach the World Series in 2008 and the playoffs for five straight years are once again headed to the playoffs.
Those players who were once young Phillies stars are now experienced veterans who will help the next crop of young stars adjust to the playoffs. Some who were on the 2008 squad could easily collect their second championship ring.
Chase Utley keeps on chugging in LA Blue.
Frankly, I expected 2015 to be Chase Utley's last season in the majors. He batted just .212 between the Phillies and Dodgers, hitting just .202 after the August trade. He struck out at a higher rate than he ever did with the Phillies, striking out more than 20% of the time.
Of course, Utley made headlines in the 2015 playoffs after his takeout slide on the Mets' Ruben Tejada. Without much offensive value and plenty of controversy surrounding him, Utley didn't seem long for Los Angeles.
However, the Dodgers appreciated Utley's presence enough to bring him back on a one-year, seven million dollar deal. So far, it's paid off for them.
More from

That Balls Outta Here
Despite the fact Utley continued to strikeout at an abnormally high rate, he still provided nearly two fWAR for the Dodgers at second base. Fangraphs estimates Utley's value at $14.9 million this season, more than double what the Dodgers are paying him. Despite this being one of Utley's worst seasons, it's still a bargain for Los Angeles.
One intangible Utley has going for him is his relationship with Rookie of the Year favorite Corey Seager. The two follow a near-identical schedule, from when they arrive to the clubhouse to recovery after workouts. Dodgers reliever J.P. Howell said the two "are so much alike. They have the same personality. They are blue-collar with talent, super humble, super straight-up, with no flash" to Bob Nightengale of USA Today. Howell called Utley an "inspiration" for the younger players on L.A.'s roster.
Seager told Nightengale that Utley still wants to win a World Series for his hometown team. With a young core of Seager, Clayton Kershaw, and Yasmani Grandal, along with veterans like Utley, the Dodgers have a good shot at going the distance.
Carlos Ruiz has done little since joining the Dodgers, but still provides playoff experience behind the plate.
While the Dodgers have used Utley plenty this year, Carlos Ruiz has played little for Los Angeles since the August 25 trade. In the month since, Ruiz has just 30 plate appearances in 11 games. Overall, he has been replacement-level for L.A.
In exchange for Ruiz, the Phillies received longtime Dodger catcher A.J. Ellis. Ellis has played well since joining the Phillies, slashing .286/.355/.500 in ten games in pinstripes.
Since Ruiz is doing little with the Dodgers, many fans disapprove of the trade. It's hard to disagree with them, as Ellis was a fan favorite and Ruiz hasn't fulfilled the offensive role the team promised he would.
Carlos Ruiz has not done anything for the Dodgers since he came over. Was the AJ Ellis trade a good idea?

— LA Dodgers (@DodgersFanPage1) September 20, 2016
Despite Ellis being a clubhouse favorite, the Dodgers welcomed Ruiz with open arms. Ruiz told JP Hoornstra of the Los Angeles Daily News that the team accepted him in just "two or three days".
Even if Ruiz sees limited playing time with the Dodgers in the playoffs, he can help guide their star catcher, Yasmani Grandal, through a grinding playoff run. Every pitch matters in October, and Ruiz could be very valuable coaching Grandal from the backup catcher spot.
Before September rolled around, Cole Hamels was in ace form as he guided the Rangers rotation
Cole Hamels anchored the Phillies rotation in 2008, and the Rangers called on him to do so once again this year. With Yu Darvish missing nearly all of the first three months of the season, Hamels was the clear ace in the rotation.
After Darvish came off the disabled list in mid-July, Hamels put together an elite run on the mound. In nine starts through August, Hamels struck out more than nine batters per nine innings. He carried a 2.36 ERA and 2.63 FIP through that span.
More from That Balls Outta Here
At the beginning of September, Bovada listed Hamels as the favorite for the AL Cy Young Award. All Hamels had to do was maintain the course and he could finally bring home his first Cy Young award.
However, this September has been a rough one for Hamels. In four September starts, Hamels walked 12.8% of opposing hitters. While his xFIP (Expected Fielding-Independent Pitching) this month is reasonable at 3.87, his ERA is the highest of any month by far at 6.53.
Hamels was effective in two starts with Texas last year in the ALDS. He walked just 3.6% of opposing hitters and struck out 25.5% with a 2.70 ERA. Unfortunately, Hamels wound up on the wrong end of one of the craziest innings in MLB history. The Blue Jays scored four unearned runs on Hamels, leading to the Rangers losing Game 5 and the series.
With the Rangers spot in the postseason secure, Hamels will need to return to his August form if he wants to take Texas deep into the postseason. I doubt he or anyone else on the Rangers wants a repeat from 2015, and Hamels will do everything to keep Texas's playoff hopes alive.
After a terrible 2015, Jayson Werth is finding his stride again with the Nationals.
Jayson Werth hit rock-bottom in 2015. He spent five days in jail after pleading guilty to reckless driving in January of that year. His play was significantly worse compared to the previous year, where he earned 4.7 wins above replacement by Baseball Reference's standards. Instead, he detracted from the Nationals by -0.4 wins above replacement.
With Werth earning $21 million a year over the last three years of his seven-year, $126 million contract, that below-average play was impossible to justify.
Werth certainly turned his play around in 2016. He struggled to start the year, but he came alive in June with a .926 OPS. Between July and August, Werth tied Washington's franchise on-base streak record at 46 games.
What helped Werth reach such a high streak is his high walk rate. Among all Nationals batters with 50 or more plate appearances, Werth ranks second behind Bryce Harper with a 11.6% walk rate.
In addition, Werth is one of five Nationals with 20 or more home runs on the year. He ranks fifth on the team with 21 home runs.
Even with his midseason surge, Werth collected just 1.2 fWAR this season. His $9.6 million of value is still far below what the Nationals are paying him, but he is back on the rise after his poor 2015.
The Phillies traded Carlos Carrasco to the Indians in exchange for Cliff Lee, and the deal has paid off so far for Cleveland.
When the Phillies acquired Cliff Lee in 2009, they needed a second elite pitcher to bring them to the World Series. A top prospect like Carlos Carrasco was the price for Lee, who won the Cy Young Award in 2008.
The Indians bounced Carrasco between the bullpen and the rotation in his first couple seasons in the majors. However, they fully committed Carrasco to the rotation last year, and it's worked so far.
In 2015, Carrasco finished the year with a 3.63 ERA, 2.84 FIP, and 2.66 xFIP. He finished second on the team in fWAR behind Cy Young finalist Corey Kluber. Carrasco himself finished 13th in Cy Young voting.
This year, Carrasco hasn't been as effective, but he is still a solid piece of Cleveland's rotation. He struck out a quarter of opposing hitters this year, but also allowed home runs on 16.3% of fly balls. His 2.5 fWAR this year is still third on the team behind Kluber and Danny Salazar.
The Indians cashed in on Lee when they realized they weren't contenders in 2009. They've slowly risen to the top of the AL Central since then, running away with the division this year. The Indians have one of the best rotations in the game, and a former Phillies prospect is a big part of it.
This article originally appeared on