Phillies Fall 2016 Top Ten Prospects: the Near Misses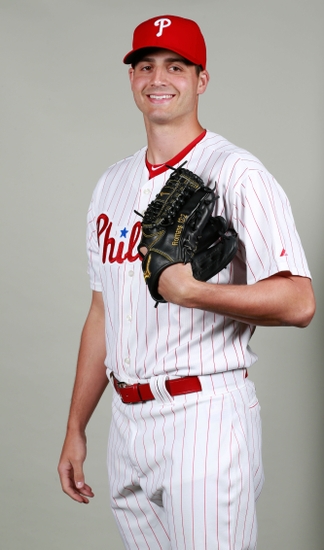 On the heels of last week's Philadelphia Phillies Fall 2016 Top Ten Prospects ranking comes a handful of players who just missed the list.
Over the past week, I have been releasing a countdown of the Philadelphia Phillies Top Ten Prospects as of Fall 2016.
That Phillies top prospect list shows that this vastly improved organization has a tremendous mix of talented youngsters coming at a variety of positions.
The current top ten includes three pitchers, a catcher, a second baseman, a shortstop, and four outfielders. At least three of these prospects appear ready to impact the team in the 2017 season.
But there were others who didn't make the cut, but who were close. Players who are legitimate big league prospects. Certainly a few of them would have made the top ten list in the estimations of other talent evaluators. Let's examine a few of the prospects who just missed my list.
HITTERS WHO JUST MISSED THE TOP TEN
Possibly the most familiar name who was not included on my Fall 2016 Phillies Top Ten prospects countdown was outfielder Dylan Cozens. If I went further, he would probably be #11 or 12 on my list.
Along with another interesting hitter, first baseman Rhys Hoskins, I want to see Cozens produce next season at AAA Lehigh Valley before ranking them any higher.
The pair played the 2016 season with AA Reading, a notorious hitting environment. When I think of guys who were bat-first players who put up big numbers at Reading, I think of Darin Ruf.
If Cozens and Hoskins turn into Ruf, they are not top ten caliber prospects. For me, it will be all about how these two perform at the next level in the 2017 season.
Another who just missed is catcher Andrew Knapp. The 2015 Paul Owens Award winner has clearly been passed on the organizational catching ladder. Knapp seemed to regress a bit in 2016, so next year will be a big season for the now 25-year old.
There are four other hitters who I really like, but who are just too far away yet for me to include in a top ten list. Those are third baseman Cole Stobbe, and outfielder Jose Pujols, Jhailyn Ortiz, and Carlos Tocci.
PITCHERS JUST OUTSIDE THE TOP TEN
Easily the biggest name pitcher who missed my list was former first overall MLB Amateur Draft pick Mark Appel. He would have battled Cozens for the #11 spot on my rankings.
Appel needed bone spurs removed from his right pitching elbow in June. Before his talent can take over and give him a chance, he needs to get and stay healthy.
The 25-year old has a big 2017 season ahead of him, one that could find him advance quickly. If Appel is indeed healthy and performing to his talent level, he could finish the year in Philadelphia.
It's easy to like Appel as a person. He is quality in that regard. Now it's time to find out what he can be as a professional baseball player.
I'm a guy who likes command and control from my pitchers, and the more talented pitchers in the Phillies farm system outside my top ten seem to be lacking that right now.
More from Call to the Pen
One who highlights that well is Alberto Tirado. The righty turns 22 years old in a couple of weeks. In 314 minor league innings over parts of five seasons across two organizations, Tirado has shown that he can strike hitters out. He has a 9.4 K/9 ratio. However, he also has an unacceptable 5.7 BB/9 mark.
This was his first full season in the Phils' organization this year after coming over in the 2015 trade from the Toronto Blue Jays for Ben Revere. Tirado went 7-1 with a 3.90 ERA, allowing just 51 hits over 64.2 innings with 102 strikeouts. Pretty darned impressive. However, he also walked 42 batters, a 5.8 BB/9 ratio that is right in line with his career totals. Unacceptable.
Another arm that I really like, but who is just too far away yet to put in my top ten, is 18-year old righty Sixto Sanchez. He snapped onto the radar this summer, leading the GCL with a 0.50 ERA.
Sanchez has only been pitching for two years, and this was the first year in the United States for the Dominican native. He needs to show that it was no fluke, and that he can keep progressing.
PHILLIES FALL 2016 TOP TEN
For those who may have missed it, the below is my Philadelphia Phillies Fall 2016 Top Ten Prospects ranking. I'll be re-evaluating the system again and updating the ranking next May, prior to the 2017 MLB Amateur Draft.
The "name" link takes you to the player's statistical page at Baseball Reference. The "Fall Evaluation" link takes you to my piece on them, explaining my ranking.
1 – Jorge Alfaro, catcher: Alfaro 2016 Fall Evaluation
2 – J.P. Crawford, shortstop: Crawford 2016 Fall Evaluation
3 – Mickey Moniak, outfield: Moniak 2016 Fall Evaluation
4 – Roman Quinn, outfield: Quinn 2016 Fall Evaluation
5 – Nick Williams, outfield: Williams 2016 Fall Evaluation
6 – Franklyn Kilome, pitcher: Kilome 2016 Fall Evaluation
7 – Ben Lively, pitcher: Lively 2016 Fall Evaluation
8 – Cornelius Randolph, outfield: Randolph 2016 Fall Evaluation
9 – Kevin Gowdy, pitcher: Gowdy 2016 Fall Evaluation
10 – Scott Kingery, second base: Kingery 2016 Fall Evaluation
This article originally appeared on