Phillies: Early Look At Fourth Outfielder Candidates For 2017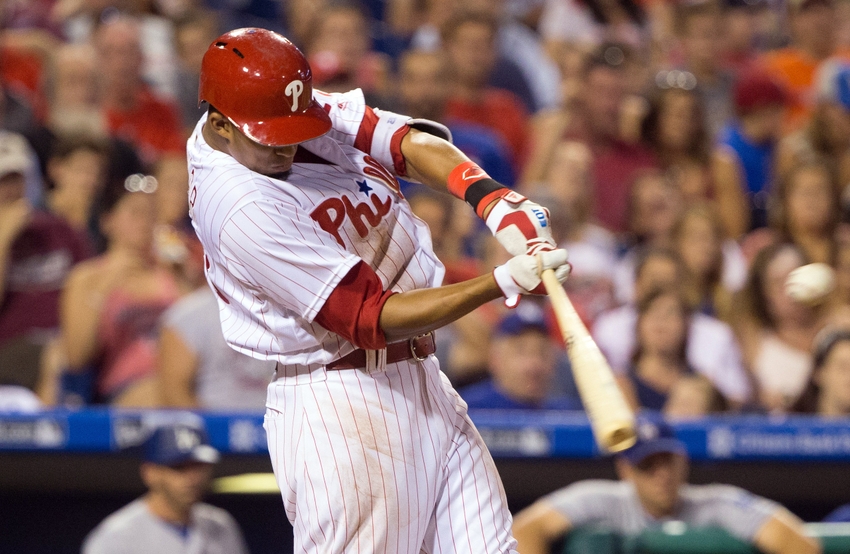 The Phillies will have many youngsters fighting for a position on the club in 2017, let's take a look at the early candidates to be the teams fourth outfielder next year.
Heading into the 2016 season, the Phillies had their outfield plan set. Odubel Herrera in center, Aaron Altherr in right, and a platoon of Cody Asche and veteran Peter Bourjos in left. Not to mention, rule-5 pick Tyler Goeddel as a fifth outfielder.
However, that plan fell apart very quickly.
Altherr would miss the first five months of the season due to a wrist injury suffered in spring training. And Asche would miss the first 2 months of the season after an oblique injury prior to spring training.
This forced the team to enter the season with an outfield tandem of Herrera in center, Bourjos in right, and a mix of Goeddel, Cedric Hunter (remember!), and David Lough (again, remember!).
To say the least, it wasn't pretty. Outside of Herrera, there was never stability.
With all of that in the rear-view now, the club seems primed to make changes to its outfield. The younger players from last season may be better off in a fourth/extra outfielder role for many reasons.
So with that in mind, lets take a look at the early in-house candidates for the role:
The young speedster put the entire roster on notice at the end of the season.
I know many want Roman Quinn to be an everyday player. He's got the tools to be a very impactful player.
The reality is, Quinn is an injury-prone player. So while he may see regular at-bats to start his career, his best position going forward very well may be as super-tool bench player.
Meaning late game substitutions, pinch running, and spot starts. Think of the role Jarrod Dyson carved out for himself in Kansas City for example.
Quinn doesn't have to start every game to make an impact, he's that skilled. The team would be better off not wearing Quinn's body down, and take a conservative approach to his playing time.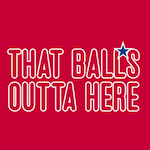 Apply to That Balls Outta Here.
Start your application process by filling out the fields below
He's an early favorite for a roster spot in 2017, and seems primed for a meaningful role with the club.
After a surprising debut, Altherr took a huge step back in 2016 returning from injury.
Oh boy. How the thoughts on Aaron Altherr have changed in a year time.
After bursting on to the scene late in 2015, Altherr would finish the season as a regular in right field. He slashed .241/.338/.489 (.827 OPS),  finished with five homers and 22 RBI, stole six bases, and played stellar defense.
Altherr finished with a very impressive 1.7 WAR through just 39 games and 161 plate appearances.
As mentioned, he was a lock heading into spring training 2016 to be the everyday right fielder, but a wrist injury side-lined Altherr for the first 103 games of the season.
Altherr just wasn't the same player. He finished the year hitting just .202 with a miserable .597 OPS in 227 plate appearances.
More from That Balls Outta Here
Hope could still be out on the soon-to-be 26-year-old outfielder. He's versatile in that he can play all three outfield positions at an above average level (2.19 RF/9 for his career), he's still a terrific athlete with great speed for his size (6'5″, 215 pounds – with 13 stolen bases in 98 career games), and has shown some power potential with 30 extra-base hits in his short career.
However, he'll have to earn his way back up the ranks before the Phillies give him an everyday opportunity again.
Regardless of his numbers, his tools will help Altherr remain an option as a platoon player/extra outfielder heading into 2017, and maybe he's better off in that role. If so, and if he can show he's healthy, Altherr could be a solid option for the role next season.
Asche has had many opportunities since his arrival in 2013. Is 2017 really it?
Cody Asche, like Aaron Atlherr, was injured out of the gates in the spring, and never hit the ground running upon returning.
It's a shame for Asche, who's been handed numerous opportunities to carve out a role with the club, because he really ended the 2015 season on a high-note.
Over the final 44 games of 2015, Asche slashed .239/.312/.458 (.770 OPS) with seven homers and 19 RBI. In his first 85 games of he season he hit for a better average (.251), but had just a .289 OBP and .378 SLG for a poor .667 OPS. So it's easy to see why this was revelation for some.
He seemed like a decent choice for a platoon player in the outfield heading into 2016. However, as mentioned, Asche's oblique injury before spring training would set him back immensely, and he would miss the first 54 games of the season.
There was a slight sign of hope for Asche in 2016, after starting 0-5 in his first two games back, Asche would go on red-hot tear over his next 29 games. Slashing .298/.343/.553 (.896 OPS), while hitting four homers and driving in 13 runs in 102 plate appearances.
Shortly thereafter, Asche had come back down to earth, and then some. Over his next 26 games Asche hit just .120 with a .370 OPS and zero home runs. And would be sent down to AAA to figure it out.
After returning in September, Asche played in 14 of the teams last 20 games. However, receiving just 28 plate appearances. He'd end the season hitting .143 with a .417 OPS over his final 40 games, finishing the year slashing .213/.284./.350 (.635 OPS).
Asche's best hope at this point is finding that stroke from the best 74 game stretch of his career played from the end of 2015, to his start of 2016, where he slashed .253/.315/.481 (.796 OPS) with 11 homers and 32 RBI in 260 plate appearances to find a role in the outfield.
If he doesn't, his days with the team will be all but over.
A strong month wasn't enough for the rule-5 pick to keep a starting job, but should he be given a better look in 2017?
Tyler Goeddel had high semi-high expectations for those watching the team simply because he was a talented young player guaranteed a roster spot.
With the injuries to Asche and Altherr, followed with a slow start from Peter Bourjos, Goeddel got his chance to shine in the month of May. Breaking free from the bench, slashing an impressive .288/.342/.452 (.794 OPS) in 79 plate appearances, and making one of the best defensive plays of the MLB season (you remember), Goeddel had seemingly arrived.
However, as the season progressed and players started coming back and heating up, Goeddel became the odd man out, and would only receive 129 plate appearances the rest of the season.
This was a very odd situation all year. The Phillies never gave the kid a chance to consistently stay in a groove after his terrific May, and seemed more focused on just not loosing him due to rule-5 draft implications.
Goeddel will have to earn a spot this time around, and he'll need to impress a whole lot to be the teams fourth outfielder. Still, he remains a candidate at this point in time.
With prospects on the rise, the time is now for a lot of these guys.
With an elite prospect like Nick Williams soon-to-arrive – and guys like Mickey Moniak, Dylan Cozens, and Cornelius Randolph continuing positive development – these players really need to step up now and make a name for themselves.
Goeddel and Quinn are setting prettier than Asche and Altherr simply due to age, but that doesn't mean there's not hope for the other two.
All things considered, expect a what could be a very entertaining battle for positioning with these young in-house competitors this spring for the Phils.
This article originally appeared on