Phillies Are Primed To Take Advantage Of MLB's Qualifying Offer System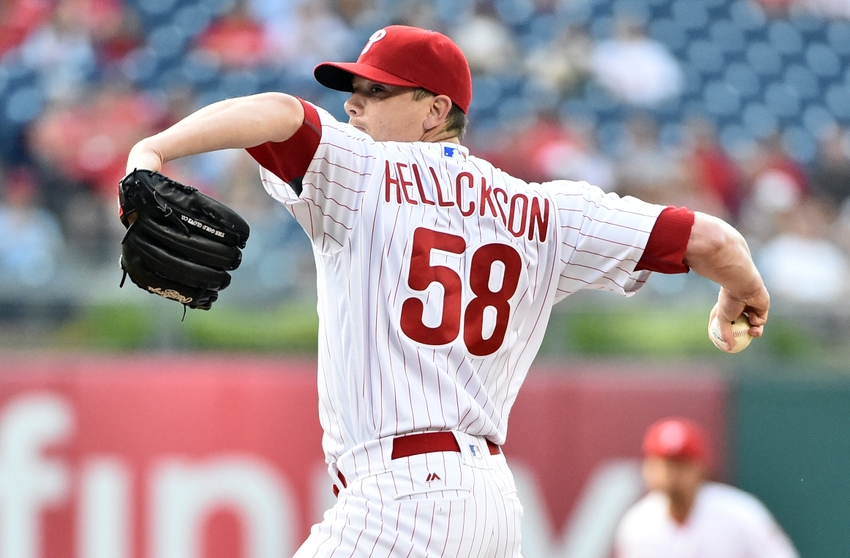 The Phillies have the chance to land several top draft picks through MLB's qualifying offer system.
To sign or not to sign, that is the question, Whether 'tis better on the field to suffer
Fastballs and curves of top tier pitchers, Or to take a bat against this sea of arms
And by opposing beat them
–  Tommy Shakespeare, GM Philadelphia Athletics 1902
Qualifying offers. The old QO. Agreed to in Major League Baseball's last Collective Bargaining Agreement with the Major League Baseball Players Association, or, as us wise-guys like to say, the QO in the CBA between MLB and the MLBPA. It's meant to do two things: Keep fan favorite players where they are and keep already good teams from getting better.
You hear a lot about it this time of year but how exactly does it affect the Phillies and should they alter their actions because of it?
First off, earlier today the Phillies made a qualifying offer of their own to pitcher Jeremy Hellickson. This is important because, believe it or not, it does carry an implication into whether or not they should sign a big name free agent this offseason. Essentially, this puts the Phils in a win/win situation and it's a very smart move by management that may have actually been concocted earlier this year when they stood pat at the trade deadline.
So, the first win: he accepts the QO and we get another year of Hellickson at a somewhat reasonable cost
The Phillies have money. They are currently set to have the lowest payroll in the majors and we're talking about one of the richest teams in the sport. They had a payroll of $150M as recently as 2015 and since then they've only gotten wealthier via their new TV contract. Paying Hellickson slightly above market rate shouldn't matter one bit to the Phillies. They'll get a very good veteran pitcher who can also act as a mentor to this extremely young pitching staff.
Now, win two: he declines and signs elsewhere. According to the QO system, the Phillies would be given a compensatory draft pick that would fall somewhere between the first and second rounds. According to some this pick could be as high as the mid-20's based on how many QO's were offered this year and how many teams may lose their first round pick.
Win/win.
So let's look at the converse of making a QO. Should they be looking to sign a free agent who has been made a qualifying offer?
Ab-so-f'in'-lutely. And here's why:
As mentioned, the QO system is meant to help bad teams get better and keep good team from accumulating all the good free agents.
An example:
The Los Angeles Dodgers are a good team who just made a nice postseason run. They're fairly complete as teams go but maybe they need another starting pitcher. They could offer Jeremy Hellickson, who has already declined his QO, a deal and if Hellickson accepts then the Dodgers would have to forfeit their first round pick in next year's amateur draft. The Phillies wouldn't get that pick but again, they'd get a comp pick between rounds one and two.
There's a ton of value in a first round pick and keeping it is the incentive for the good team not to sign that particular player.
Conversely, the Phillies didn't have that great of a season, finishing with one of the ten worst records in baseball. They, unlike the Dodgers, are free to sign a player who was offered and subsequently declined a QO and they'll only lose their next pick outside of the first round.
More from That Balls Outta Here
Bad teams finish in the bottom ten record-wise, they're incentivized to get better by signing a big name free agent without severe penalty.
Here's where it gets interesting. The Phillies both finished in the bottom ten and made a QO to one of their players. They could technically not lose ANY draft pick by signing a QO'ed player.
If Hellickson declines and signs elsewhere they'll get their comp round pick; if they sign a QO offered player, they'll lose that comp round pick. They'll still have their first round pick, they'll still have their second round pick.
Essentially they'll lose something they never really had to begin with. They certainly don't have it as of this writing.
Ahhh, they've achieved the extremely rare win/win/win situational status. Nice.
This is why it's imperative for the Phillies to strike now with a big free agent signing. This free agent class is looking to be as good as most in recent past and as the foreseeable future will hold. But again, the difference is that if they make that same acquisition next year they'll (hopefully) be losing their first round pick because of it.
The Phillies finished with the eight worst record this year so they're just sneaking into that protected area. In fact, had they won only five more games they would have finished out of the bottom ten and that pick wouldn't be protected.
It's not hard to imagine the Phillies being that much better next year.  Five games?  Should be easy.
You take your shots where you can get them and you hope when you do you aren't risking too much and that the shot pans out. Now is the time for the Phillies to take that shot, the risk probably won't be this low for them for quite a while.
This article originally appeared on