Philadelphia Phillies: Will They Be Players in Free Agency?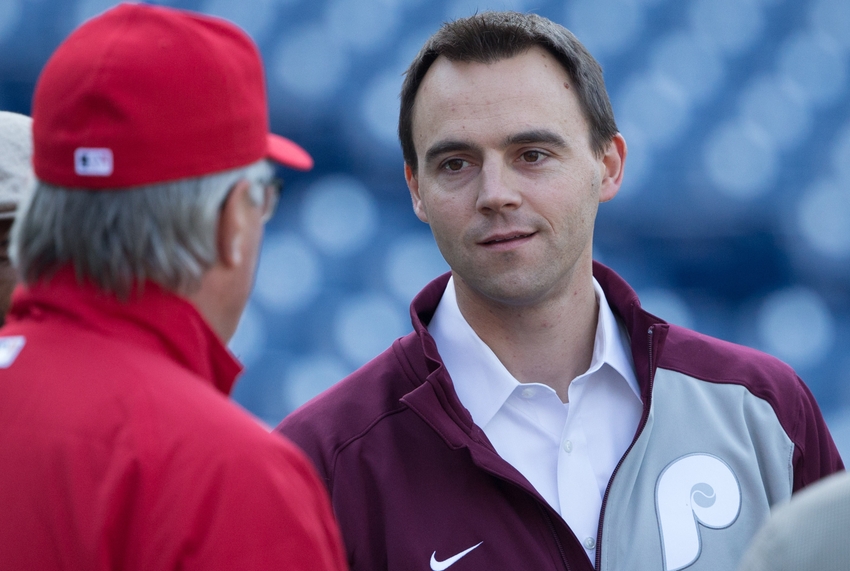 The Philadelphia Phillies have shown signs of promise in a rebuilding year. Could they bank on further success in 2017 by spending on this winter's free agent class?
2016 was supposed to be a total rebuilding year for the Philadelphia Phillies, and for the most part it has been. In the first season with President Andy MacPhail and General Manager Matt Klentak at the helm, the Phils have never really been in the National League postseason picture. But they have been a bit better than many expected, and as late as August 20 they were eight games behind in the Wild Card race. If they make some additional strides next year, could they at least be in the playoff conversation near the end of the season?
The Phillies have incorporated a handful of young players into their lineup to lay the foundation for their future. 24-year-old third baseman Maikel Franco, one of the club's former top prospects, has flexed his power potential by belting 22 home runs thus far in his first full campaign. Center fielder Odubel Herrera, also 24, has enjoyed a solid sophomore season, slashing .280/.358/.408 with 13 homers, 42 RBI and 20 steals. He also earned his first All-Star nod.
Vince Velasquez, Aaron Nola and Jerad Eickhoff have shown tangible promise in the Phils' rotation as well. All are age 25 or younger and controllable through 2021, and all but Nola have posted an ERA+ of at least 100 this year. Velasquez and Nola have spent time on the DL with injuries, however, so Philadelphia will hope they are healthy for next season.
The Phillies also have some exciting prospects down in the minor leagues who should be able to help soon. Shortstop J.P. Crawford is currently ranked as the #2 prospect in baseball by MLB Pipeline and could be ready to make his debut in 2017. He's drawn rave reviews for his defense and figures to have a strong bat as well.
Outfielder Nick Williams (Phillies' #3 prospect per MLB Pipeline), catcher Jorge Alfaro (#4) and right-hander Jake Thompson (#5) are all in the mix for the near future as well. Williams and Alfaro have shown hitting chops this year at Triple-A and Double-A, respectively, and Thompson made his first six starts in the majors. He was bitten by the home run bug in those outings (seven long balls in 33.1 innings), but the Phils are still confident he can be a workhorse for them moving forward.
Rebuilding teams typically don't participate much on the free agent market, but if the Phillies are feeling bullish about their chances heading into next year, could they seek to enhance their roster via the free agent pool? The Phils will have some money to spend, with Ryan Howard and his $25 million salary finally – and mercifully – coming off the books (although they will owe him a $10 million buyout). But is there anyone worth spending on?
More from Call to the Pen
The Philadelphia offense has been awful this year, ranking dead last in MLB with 510 runs scored and a .679 OPS, so they might be tempted to add a big bat. There will be a few sluggers available, namely Edwin Encarnacion, Jose Bautista, Mark Trumbo, and likely Yoenis Cespedes as well, assuming he opts out of his deal with the Mets.
Any of them would boost the Phillies lineup, but they don't quite make sense for a young rebuilding squad either. Bautista will be 36 in October and has spent significant time on the shelf this year. Encarnacion and Trumbo are probably best suited for DH roles. And if Cespedes hits the market, he won't lack for suitors, and the Phils may not be comfortable getting into a bidding war.
The free agent class' strong point is undoubtedly its group of closers, with Aroldis Chapman, Kenley Jansen and Mark Melancon all set to hit the market. Jeanmar Gomez has racked up 35 saves for the Phillies this year, but he's struggled lately in the ninth inning. The team is more likely to try setup man Hector Neris (2.27 ERA, 11.4 K/9) in the role before forking over a big contract to a frontline closer.
The starting pitching pool is remarkably shallow this year, with names like Rich Hill, Andrew Cashner and Doug Fister leading the group. The Phils might try to retain Jeremy Hellickson, who has been surprisingly effective for them this year, via a qualifying offer or new contract. But given the starkness of options available, even his price tag could increase beyond the Phillies' comfort level.
In other years, it might very well have made sense for the Phils to be players in free agency, positioning themselves as a young team on the rise. But just because they have payroll opening up and a brightening future ahead doesn't mean they need to spend money on a subpar free agent class. They might be better served combing the trade market, aiming to strike gold on another buy-low reclamation project.
With some more prospects potentially entering the fold, the Phillies should get a better idea of where their rebuild stands next season. And by that point, they may want to hold out for the now-mythic 2018 free agent class, a strategy which quite a few teams are likely adopting.
This article originally appeared on