Philadelphia Phillies: The Anatomy of the Jeremy Hellickson Decision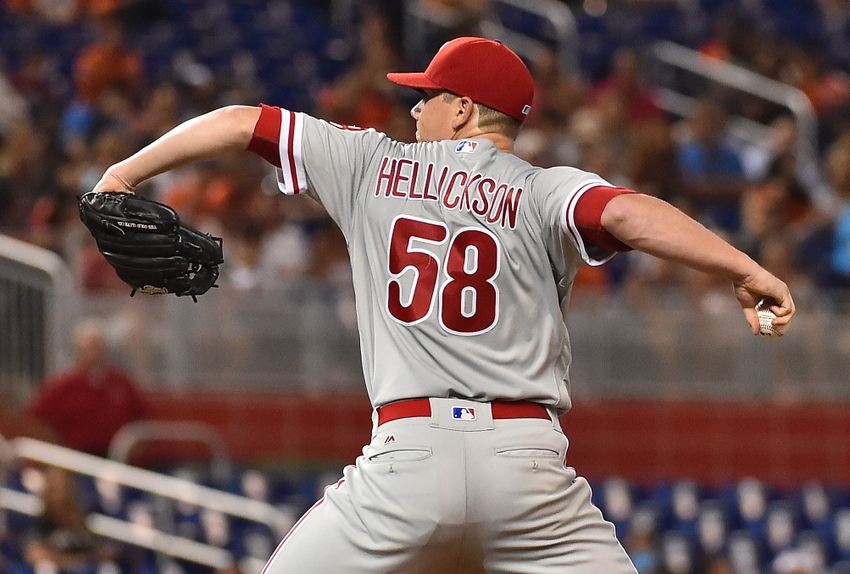 Even in today's baseball market, $17.2 million is not to be taken lightly. Both the team and the player have some serious thinking to do before saying yes or no. The Philadelphia Phillies thought long and hard before extending a qualifying offer to Jeremy Hellickson. In turn, Hellickson thought long and hard before accepting the offer instead of opting for free agency. How and why were those decisions reached?
From the Phillies' Side
All things considered, Jeremy Hellickson had a pretty good 2016 season (12-10, 3.57 ERA). But when the Philadelphia Phillies looked at his numbers, those were not the ones that caught their attention. Instead, what they saw were 189 innings eaten up and only 45 bases on balls.
And they probably also saw that other than Hellickson, only Jerad Eickhoff made as many starts and threw as many innings.
Translation: Jeremy Hellickson has value to the Phillies and without him there would be a void in their starting pitching that would need to be filled another way. Ergo: The Phillies decide he's worth offering the $17.2 million to. Because for them at that point, it's a win/win situation. If Hellickson accepts the other, they win by having his services for the coming season. And if he rejects the offer and another team signs him, they get that team's first round draft pick in June's draft.
From Hellickson's Side
Now from Jeremy Hellickson's side, how did that offer look? In a separate article yesterday , we looked at the reasons why both Hellickson and Neil Walker exercised some rare common sense when it comes to these things by accepting their offers. But for Hellickson, what was behind his decision? It's telling, and here's what he told MLB.com:
"I was leaning toward declining it last week," Hellickson said in a telephone interview with MLB.com. "But then I talked with Scott [Boras] over the last few days. The teams he talked to said that I was at the top of their free-agent list, but they were reluctant to give up a first-round pick. It's unfortunate that free agents like myself this year and in the past have had to deal with that, but at the same time I'm going back to a team I love playing for. It was an easy decision with the uncertainty in the market right now."
Translation: "I was kind of pissed off that no one thought I was worth a first round draft pick. But it's okay because me and my family can scrape by on $17 million. And oh, by the way, I really love the Phillies."
Too harsh? Maybe so. But it's on point. Because what Jeremy Hellickson doesn't say is that $17 million is way more than he would have commanded per year on the free agent market. Because he's a good pitcher, not a great pitcher. And only great pitchers earn that kind of money.
What's Wrong With This Picture?
More from Call to the Pen
So maybe in retrospect, I take back some of the nice things I said about Jeremy Hellickson. Because when he tells us what he was thinking, he falls right into the same barrel of greed that my friend from yesterday is in: Mr. Cespedes, who tells the world that he's never been happier than he's been as a New York Met, but he's still out there trawling for a few dollars more.
To be fair, though, maybe Hellickson did have a point to make. Which is that the first round draft pick is too severe a penalty to pay for signing someone who rejects a qualifying offer. And maybe the negotiations that are going on now for a new collective bargaining agreement are considering reducing the penalty. All we know at the moment though is that the general topic of QOs is being discussed. Whatever the outcome, we can be sure of only one thing. And that i$ that all partie$ are $ure to profit hand$omely.
Personally, I don't really care. As long as baseball continues to put a good product on the field and we can have a postseason like the one we just had.
This article originally appeared on