Philadelphia Phillies Storyline: In-House Fixes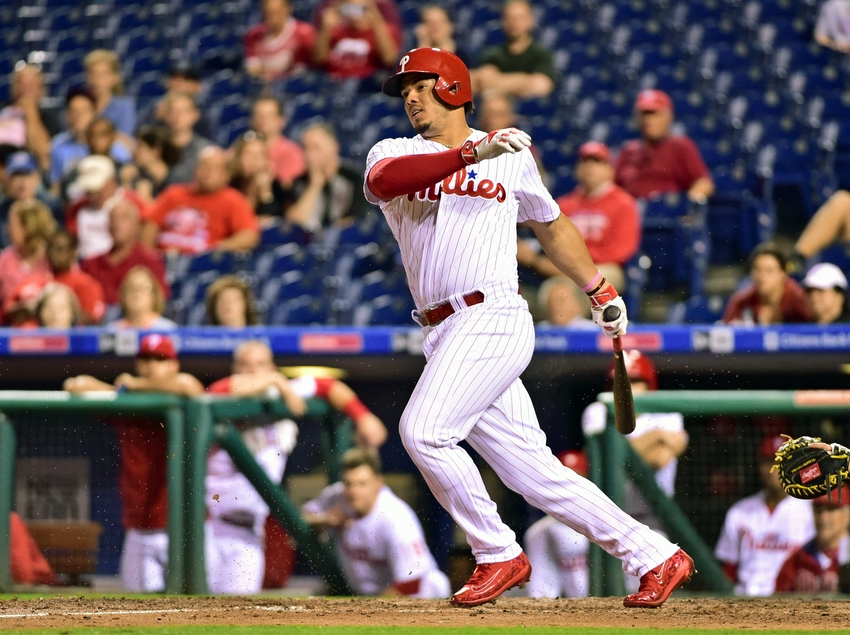 While management considers many outside options for offensive production, one rookie could make the Philadelphia Phillies in April besides receiver Jorge Alfaro.
The young backstop will probably be on the back end of the catching tandem, while his teammate could claim a starting job in the outfield. That stated, general manager Matt Klentak should only fill one outfield corner with a free agent or a trade candidate.
The Future in 2017:
Eventually, tomorrow arrives and is neither late nor punctual: It has its own schedule regardless of plans or expectations.
Trending isn't only on Twitter: Baseball has many examples of fads and extreme thinking; franchises imitate their competitor's success. In fact, the current tendency is to overvalue prospects and draft selections. And while only one of six will make a 25-man roster for three months of consecutive playing time, the front-office fear is swapping the wrong youngster for better odds in the postseason. They don't want to be the executive haunted for years after dealing away a future star. A golden boy.
More from Call to the Pen
As the home stand was ending, Klentak and manager Pete Mackanin watched batting practice just behind the cage. They discussed bench roles for Cody Asche, Darin Ruf and Aaron Altherr. And while the decision-maker is aware of Nick Williams' struggles in August, the front office still believes his improvement with the Triple-A Lehigh Valley IronPigs boils down to two words: Plate discipline.
Under the Philadelphia Phillies management team, on-base percentage (OBP) and a solid ratio of walks to strikeouts is necessary for a promotion. In other words, if plate discipline isn't present, no advancement will be forthcoming. For instance, Williams hit only .161 with one free pass to 45 punch outs from July 30 through season's end, which means another campaign at Lehigh Valley. But J.P. Crawford by comparison had totals that included a .244 average and a .328 OBP with 42 bases on balls to 59 strikeouts for the IronPigs.
IN OTHER WORDS:

"If you don't set goals, you can't regret not reaching them."

–Yogi Berra
Operating on a shorter timeframe than his predecessor, Klentak has already pigeonholed Ruf as a reserve, even though he worked on what the coaches wanted and produced the desired results with Lehigh Valley. But Ruf is 29 years old.
On the other hand, Asche came off the disabled list in early June and flourished, but he slumped his way out of picture. Then, Altherr reentered the audition process in late July after months on the DL, and he also smacked the ball in the gaps, off the wall, and over the fence before a gradual drop-off. A .202 finish. In other words, Ruf, Asche and Altherr are already long shots to be regulars.
In today's baseball world, elite is the key word. And when Klentak reviews scouting reports, he–like his contemporaries–sees a 95-mph fastball, and it translates into the front of the line for the hurler.
Think Vince Velasquez, Hector Neris and Edubray Ramos. And because the Philadelphia Phillies GM eyeballed one blasted pitch after another during his first spring training here, Alfaro advanced from Double-A to the majors due to his power. And you can bet the general manager will be watching the rookie again next March.
After favoring the smoke-throwing starter and the power hitter, Klentak turned his attention to the speed merchant. Yes, the time for consideration is here for Roman Quinn. And if he impresses the brass in March, he'll be a starting outfielder. In fact, a teammate also felt Quinn's presence after his arrival on September 11 by averaging .391 with five stolen bases. Who? Odubel Herrera.
This article originally appeared on