Philadelphia Phillies: Ryan Howard Unhappily Being Phased Out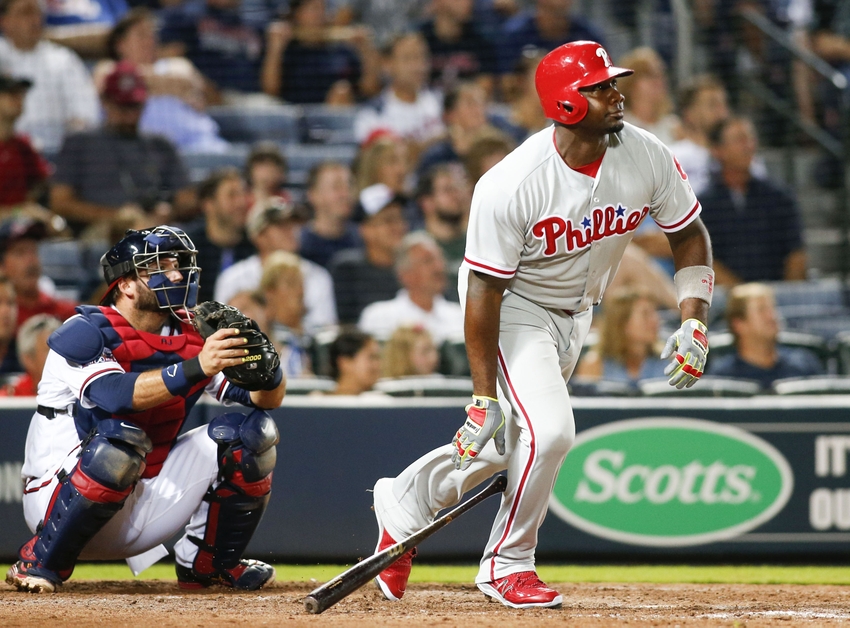 After a long run, including a World Series win, the relationship between the Philadelphia Phillies and Ryan Howard is almost over and Howard is chafing.
Ryan Howard's days with the Philadelphia Phillies are coming to an end. Both sides know that Howard will not return in a Phillies uniform this season just as well as they know he is only a shadow of the player he used to be.
Ryan Howard was the face of the Phillies for many seasons and quickly became one of the best power hitters in the Major Leagues. He has hit 377 career homers, all with the Phillies, and hit 58 in his best season in 2006. Hitting more than forty homers is a rare achievement and the fact that Howard did it four seasons in a row gained him one of the largest contracts that the Phillies have handed out in recent history.
Howard is owed $25 million this season and has a $10 million buyout in his contract next season. It is certain that the Phillies will exercise his buyout and move on officially move on from all the regrettable contracts they signed after the 2008 season. Howard has flashed his power this season, hitting 20 homers, but otherwise has struggled failing to hit above the Mendoza line.
More from Call to the Pen
Not surprisingly, Ryan Howard's poor play has resulted in loss of playing time with the Phillies this season. Howard hasn't been quiet about his dislike for this decision, making it clear that he wants to start for the Phillies for the last month that he will remain with them.
Ryan Howard is an intriguing player that could still have useful at-bats left as a designated hitter in the American League. If he continues to complain about his newfound role, despite his lack of production, the interest in Howard will become much less.
Not to say that teams want a player who is accepting of a bench role. Rather that they want them to fight for their role with their effort and training, not by complaining to the the media who will then, no doubt, take the story and run with it.
Ryan Howard has gone from one of the best power hitters in the game to a player that looks like a platoon option in the American League. If he continues to vocalize his preferences to start every game, he may find that this offseason his list of possible suitors becomes very short, if it is not so already.
Howard's days as part of the Phillies team are coming to a close and Philadelphia can finally focus solely on their bright future and move on from the forgettable team they have been for the last few seasons.
This article originally appeared on