Philadelphia Phillies: Pat Neshek's Role as a Stopgap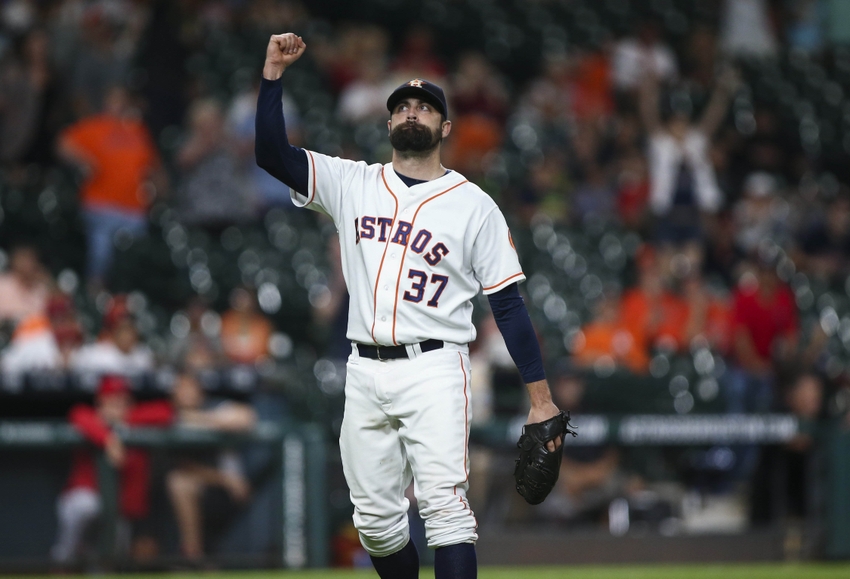 Fixing a broken link in the bullpen, the front office absorbed the $6.5 million commitment to Pat Neshek, but now the Philadelphia Phillies will probably concentrate on signing a free agent and/or moving a regular for a left-handed bat with power.
The New Alignment:
When you are between your starting point and your destination, you make temporary plans to keep your options open.
In the shadow of the Bank, a few blue-collar workers enjoyed happy hour at their local bar in South Philly. Soon, the diamond and the seats at the ballpark will wear a snowy blanket in the dead of night. But, eventually, the winter's silence along Ashburn Alley will end, and the first signs of life will appear. Truck day! Yes, they will load the equipment behemoth with balls, bats, gloves and other necessary items for the interstate drive to Bright House Field in Clearwater.
The coworkers talked about the veteran presence of Pat Neshek in the relief corps and Howie Kendrick in the dugout. And they especially liked Jeremy Hellickson returning to head the rotation and provide an example for their young staff. In other words – among the healthy moundsmen – only Hellickson and Jerad Eickhoff were working six innings or more per outing in September, while Jake Thompson, Alec Asher and Adam Morgan had much shorter appearances. Why? Inconsistency.
Batting around the reasons, they eliminated pen auditions and a shortage of work for the relievers because those hurlers – except for Hector Neris – had struggled to get three outs, pitched too often, and lacked effectiveness. In fact, the call to the bullpen in the final month was the beginning of a loss. And one beer drinker questioned if the starters had been on an innings count or near a shutdown like Vince Velasquez. No, the only thing manager Pete Mackanin stated was the inconsistency of Thompson and Asher, while he neglected to even mention Morgan.
Discussing next year's pen, the men spent the next hour trying to figure out the five arms they expected to see besides Neris and Neshek. For starters, the coworkers felt Edubray Ramos, Jeanmar Gomez and Joely Rodriguez will have a leg up on the competition, while Michael Mariot must earn a spot during Spring Training. And they believed they'll also see "four or five" non-roster invitees again this March.
In their environment, the relievers do more than just watch during the game. They prepare themselves mentally for the ringing phone with the scoreboard-dictated decision. For instance, if the starter is tiring in the sixth inning with a one-run lead, the setup hurlers for the seventh frame know whether a right-hander or a southpaw should warm up. And while Ramos, Gomez and Mariot are the righties, Rodriguez is the only lefty. However, their effectiveness will determine the pecking order.
IN OTHER WORDS:

 "In my opinion, the best setup guys now have a tougher job than the closers. They pitch more innings, inherit more runners." – Goose Gossage
In the closer's role, Neris has a heater and a splitter to baffle the hitters, and he no longer exhibits tightrope-like stress during every outing. But he rarely got the ball for a save due to virtually no opportunities in the final days. In other words, the starter and/or the setup men failed to deliver a one-run advantage – or even a tie – before the final frame. So, when the offseason began, the Philadelphia Phillies had Neris and four candidates for the seventh inning,
Before the Winter Meetings begin in early December, general manager Matt Klentak already has his desired bullpen piece. Neshek is here to get three outs in the eighth, save a game for a resting Neris, take the pressure off developing relievers, and be the backup if Neris has difficulties. What should fans expect from Neris and Neshek? Protected leads.
The Numerical Bible:
This review is not a sabermetrics article, which means no heavy statistical analysis. But because some readers rely on stats, this is only a reference: no reason to articulate the importance of these numbers.
Neris, 27.5: 79 Gms., 80 1/3 Inn., a 2.58 ERA, 2 Saves, 28 Holds, a 3.30 FIP, a 3.17 xFIP, a 2.95 SIERA, a 1.2 WAR and a 1.11 WHIP.
Neshek, 36: 60 Gms., 47 Inn., a 3.06 ERA, 18 Holds, a 3.68 FIP, a 4.07 xFIP, a 3.57 SIERA, a 0.5 WAR and a 0.94 WHIP.
Ramos, 24: 42 Gms., 40 Inn., a 3.83 ERA, 15 Holds, a 3.60 FIP, a 3.68 xFIP, a 3.37 SIERA, a 0.5 WAR and a 1.18 WHIP.
Gomez, 28.5: 70 Gms., 68 2/3 Inn., a 4.85 ERA, 37 Saves, 6 BS,1 Hold, a 3.96 FIP, a 4.26 xFIP, a 4.12 SIERA, a 0.4 WAR and a 1.46 WHIP.
Rodriguez, 25: 12 Gms., 9 2/3 Inn., a 2.79 ERA, 3 Holds, a 3.25 FIP, a 4.80 xFIP, a 4.36 SIERA, a 0.2 WAR and a 1.24 WHIP.
Mariot, 28: 25 Gms., 21 2/3 Inn., a 5.82 ERA, 2 Saves, 4 Holds, a 5.96 FIP, a 5.19 xFIP, a 4.60 SIERA, a -0.3 WAR and a 1.48 WHIP.
More from Call to the Pen
This article originally appeared on