Philadelphia Phillies: Howie Kendrick's Role as a Stopgap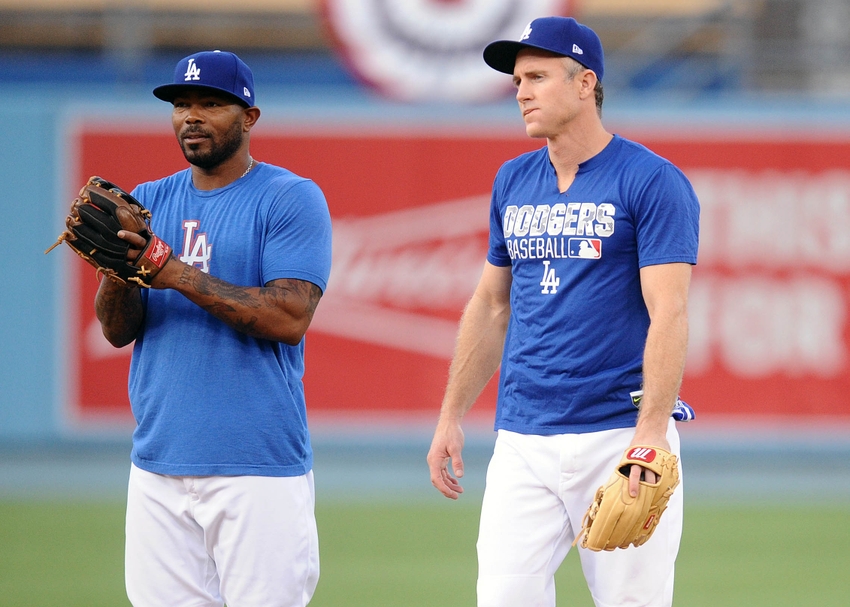 By mid-December, the hours of roster research, phone conversations and in-person meetings will bring the possibility of one additional change to the starting lineup of the Philadelphia Phillies.
Modus Operandi: 
Patterns basically define our daily life because we have the restriction of time: Our survival depends on meeting our necessary obligations in an organized fashion.
If anyone is expecting a big expenditure on the free agent market, they can anticipate disappointment. In other words, even though management has the money regardless of the price, the club hasn't produced a winning campaign: 82-80. Ergo, the next rung on the ladder is to have more victories than defeats.
Among his many questions, Double D, a poster at another site, was curious about improvements during the offseason. Well, those answers are in the previous transactions of Matt Klentak, the general manager: Jeremy Hellickson, Charlie Morton, Pat Neshek and Howie Kendrick. That stated, after he accepted a qualifying offer of $17.2 million, Hellickson is now the veteran in the rotation. Neshek is the experienced hand in the bullpen, and Kendrick is the vet in the order, which indicates only a move for a left-handed bat with power is still on their wish list.
Four salary dumps:
Hellickson from the Arizona Diamondbacks for $7 million.
Morton from the Pittsburgh Pirates for $9 million including a $1 million buyout.
Neshek from the Houston Astros for $6.5 million.
Kendrick from the Los Angeles Dodgers for $10 million.
Searching for candidates in their final guaranteed year, Klentak sought a franchise wanting to free up dollars for other needs. And when Los Angeles (NL) had an available outfielder and multi-positional player, Double D, the GM struck a deal. He eyed Kendrick with the Dodgers because he'll be a free agent after 2017, and the exec needed a stopgap in left field. In other words, taking on the entire $10 million contract only required the decision-maker to part with two reserves.
While left field is Kendrick's best position defensively, he can also play second base, first base and the hot corner. Basically, the Philadelphia Phillies acquired him to plug an outfield hole for '17. But their preference was a left-handed bat with pop for a corner outfield spot.
Even though the new left fielder won't affect Roman Quinn, only a backup role could remain for Cody Asche if he's still with the team. Meanwhile, outfielder Nick Williams and right fielder Dylan Cozens will be with the Triple-A Lehigh Valley IronPigs. That said, Cozens will probably need most of the summer before getting a call-up, and what will Williams get if he has plate discipline, Double D? A promotion.
At the Winter Meetings in early December, you can imagine Klentak haggling with other general managers because the front office still wants to improve their offensive. For now, however, Klentak will count on Odubel Herrera in center field, Quinn as the right fielder and a bounce-back gamble in left field. But you can also envision Kendrick fitting the GM's bill because he is a second sacker by trade, who averaged .295, .293 and .297 in the three campaigns before 2016. So why was he available now for Klentak? He hit .255.
IN OTHER WORDS: 

"In the split second from the time the ball leaves the pitcher's hand until it reaches the plate you have to think about your stride, your hip action, your wrist action, determine how much, if any the ball is going to break and then decide whether to swing at it." – Duke Snider
Acquiring Kendrick could have a secondary benefit, Double D, because Klentak could swap a middle infielder for a left-side bat with pop. Then, Kendrick could man second base until J.P. Crawford advances to Philly. And if the youngster joins the red pinstripes after the All-Star break, management could swap Kendrick to a contender. Yet, while Freddy Galvis has more versatility and a better glove, Cesar Hernandez averaged .294 last season and stole 17 bags in 30 tries. So, which middle infielder would the executive move? Hernandez.
If you examine Klentak's pattern with young talent, Double D, you'd notice Vince Velasquez's 95-mph smoke, Jorge Alfaro's moon shots, Quinn's elite speed and Crawford's extraordinary plate discipline. Then, add the trade rumors in the weeks since campaign's end, and the only buzz is about Hernandez. In fact, nobody has even mentioned Galvis once regarding a swap. So the conclusion here is the quick-deciding GM was happier with Galvis. Who floated Hernandez's name into the deal-making conversations? Klentak.
The Numerical Bible:
This review is not a sabermetrics article, which means no heavy statistical analysis. But because some readers rely on stats, this is only a reference: no reason to articulate the importance of these numbers.
These statistics do not include any postseason activity.
Hitting:
Kendrick, 33.5: 146 Gms., 543 PA, a .255 Avg., a .326 OBP, a .366 SLG, a .111 ISO, a .301 BABIP, 8 HR, 40 RBI, a .691 OPS, a 0.9 WAR, 10 SB, 2 CS and a 4.8 Spd.
Hernandez, 26.5: 155 Gms., 622 PA, a .294 Avg., a .371 OBP, a .393 SLG, a .099 ISO, a .363 BABIP, 6 HR, 39 RBI, a .764 OPS, a 4.4 WAR, 17 SB, 13 CS and a 5.7 Spd.
Galvis, 27: 158 Gms., 624 PA, a .241 Avg., a .274 OBP, a .399 SLG, a .158 ISO, a .280 BABIP, 20 HR, 67 RBI, a .673 OPS and a 2.4 WAR.
Herrera, almost 25: 159 Gms., 656 PA, a .286 Avg., a .361 OBP, a .420 SLG, a .134 ISO, a .349 BABIP, 15 HR, 49 RBI, a .781 OPS, a 4.0 WAR, 25 SB, 7 CS and a 6.3 Spd.
Quinn, 23.5: 15 Gms., 69 PA, a .263 Avg., a .373 OBP, a .333 SLG, a .070 ISO, a .395 BABIP, 0 HR, 6 RBI, a .706 OPS, a 0.4 WAR, 5 SB, 1 CS and a 6.0 Spd.
More from Call to the Pen
This article originally appeared on