Philadelphia Phillies: Cesar Hernandez Best Current Second Base Option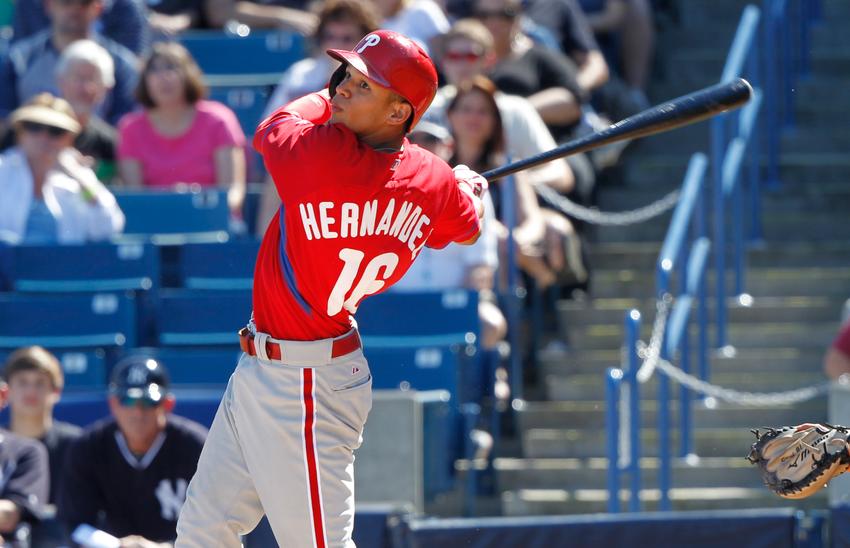 Philadelphia Phillies second baseman Cesar Hernandez performed well overall at the plate and in the field this season, which may secure his slot for 2017.
Cesar Hernandez is the Philadelphia Phillies' starting second baseman, for now. While his trade value has never been higher, Hernandez has been offering manager Pete Mackanin a reliable leadoff hitter during the second half of this season. Unless general manager Matt Klentak can obtain a better option, it may be best to keep number 16 for 2017.
A brief 2013 experiment in center field proved that Hernandez should stay in the infield. The Phillies were considering all options at that time. Caught between the glory days (2007-2011) and the current rebuild, which was announced late in the 2014 season, Hernandez was seen as a prospect with potential. However, he was without a position because Chase Utley was still locked in at second base.
Utley's trade to the Los Angeles Dodgers last August meant that Hernandez owned second base. He and his childhood baseball partner, Freddy Galvis, already had a naturally chemistry. However, the amateur free agent the Phillies signed 10 years ago had a rough go of it offensively earlier this season. Hernandez's plate discipline and base running gaffes were troubling. Was the 26-year-old going to develop into a full-time starter and potential long-term middle infield answer? Was he merely a bench player, or even a fringe Four-A player, all along?
Meanwhile, down on the farm this year, 2015 second round draft pick Scott Kingery made progress. He impressed in Single-A Clearwater and was promoted to Double-A in late July when Andres Blanco fractured a finger. While Kingery's Reading Fightins' offensive output wasn't noteworthy (.606 OPS, .250 batting average), his defense was outstanding (.993 fielding percentage, 3.78 Range Factor per game).
More from Call to the Pen
Kingery is a legitimate prospect at second. If he maintains glove work and improves at the plate, the 22-year-old (who will turn 23 on April 29) could earn a promotion to the Triple-A Lehigh Valley IronPigs sometime next summer. After that he could challenge Hernandez, or whoever is playing second base for the Phillies in 2018. But all so-called prospects are really just good baseball players until they earn the major league call. After that point those young men prove if they can be consistent.
Hernandez, Galvis or possibly both could be dealt this offseason. Trade opportunities and free agent signings will factor into their futures for sure. Assuming he stays, Galvis could easily shift to second base if J.P. Crawford arrives sometime next year. But Hernandez's previously noted ability to perform at the top spot in the batting order shouldn't be discounted, as he currently leads the team with a .367 OBP and a .293 batting average. He also incorporated bench coach Larry Bowa's advice into his overall game, which helped to save his job this year.
Hernandez seems to be addressing his base running blunders and other in-game IQ points. But, time and consistency will answer the disturbing question of why he didn't bring situational smarts to the majors when he debuted in 2013.
That undeniable fact almost certainly reflects on lower-level coaching within the organization, the team's lack of talent depth until recently and upon the player himself. But Hernandez is finishing strong and that positive impression may bode well for his future in red pinstripes, or allow him to be better trade bait.
This article originally appeared on