Philadelphia Phillies: Acing the Rotation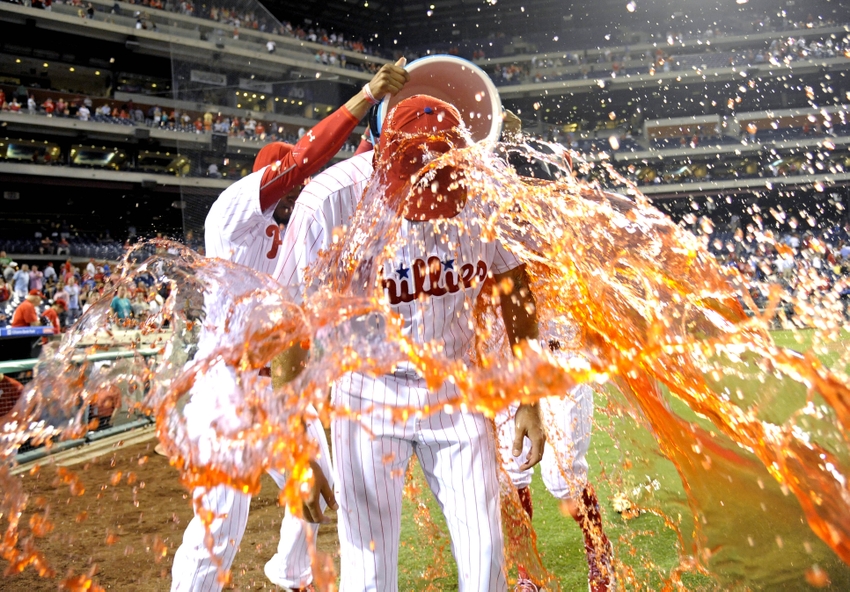 By moving their number one and their closer, the front office acquired five possible starters for 2017, while other arms came to the Philadelphia Phillies via additional trades.
The Final Decision:  
If someone has three excellent choices or more, this good problem does not exclude challenging situations.
Keep in mind, plans require time and patience for completion, but annual improvement is a reasonable expectation. Rebuilding an entire 25-man roster is a major undertaking, which every organization views as a last resort. And the reason is financial: Attendance dictates the available resources to pick up and keep talent for the long haul. In other words, fans will come to see a gem from Cole Hamels or Ken Giles' 100-mph smoke, not Adam Morgan.
Between the deals for Hamels and Giles, the franchise acquired Vince Velasquez, Jerad Eickhoff, Jake Thompson, Alec Asher and Mark Appel. This group contains two studs: Velasquez and Appel. But if you expected an ace through a swap, realize no executive will part with a future Hamels. Injury-risk Velasquez and a former number-one overall draft pick like Appel are the closest options.
While manager Pete Mackanin and pitching coach Bob McClure are enjoying their time away from the grind, general manager Matt Klentak is reviewing the hurlers for his five-man staff. He jots down Jeremy Hellickson as the veteran leader from last summer and also pencils in Eickhoff because he earned his keep from April to season's end. In other words, both moundsmen will give the team a chance to win on most nights.
In early December, as management strives to improve the club at the Winter Meetings, you can almost hear the first powwow in February between Mackanin and McClure. Who slots third? Well, Aaron Nola has worked some bullpen sessions and is healthy, while Velasquez might be a bit short of a 200-frame campaign. Third? Nola.
Besides good health, Velasquez must complement his heater by developing his secondary pitches to be a number one. On the other hand, Nola needs to reprise the consistency of his first 12 starts to front a rotation.
IN OTHER WORDS: 
"The concentration and dedication: the intangibles are the deciding factors between who won and who lost." – Thomas Seaver
According to baseball lore, having many qualified candidates for one opportunity is a good problem. So when a GM combines that thinking with statistical partitioning, he will have many difficult decisions if all six hopefuls overcome their deficiencies. For instance, Klentak must separate the stats of strong and weak competition, the poor numbers preceding a revealed injury and other factors muddying the stats. But – unlike being on the outside looking in – Klentak can confer with his field management to roughly pinpoint the difference between a bad outing or compensating for a physical issue.
For 2017, the Triple-A Lehigh Valley IronPigs already have three pitchers for their starting staff: Appel, Morgan and Lively. Firstly, Appel will have the opportunity to duplicate his April success for three months instead of only one. And if Morgan's not the long man for the Philadelphia Phillies, he will also be a starter at Lehigh Valley to hone his skills. Lastly, even though Ben Lively had success with the IronPigs, he will be there likewise to begin the campaign.
If you listened to the skipper during his postgame interviews, you heard his assessment of Thompson and Asher. Which was? Inconsistency. And unless those hurlers change Mackanin's mind in March, they'll complete the five-man staff in Allentown. That stated, what are the Phils hoping for in Clearwater besides two good knees from Zach Eflin? A breakout year.
WHAT TO EXPECT: 11/23/16
The second slot in the rotation will be Eickhoff in April. 
The fifth starter in April will be Eflin.  
Appel will have an excellent April at Triple-A. 
(These expectations are barring injury, trade and/or any unforeseen events.)
The Numerical Bible:
Appel's Triple-A stats:
April: 3-0 in 4 outings with a 1.64 ERA for 22 innings.
Lively's Triple-A stats:
3-0 in his first five appearances with a 2.45 ERA for 40 1/3 frames.
1-4 in his next five starts with a 5.93 ERA for 27 1/3 innings.
7-1 in his final eight outings with a 1.98 ERA for 50 frames.
Morgan's stats:
First stint: 1-7 with a 6.65 ERA for 66 1/3 innings.
Second stint: 1-3 with a 3.86 ERA for 42 frames before his last appearance (including his final start: 1-4 with a 5.17 ERA for 47 innings).
Asher's stats for his five outings against only stronger competition:
2-1 with a 2.28 ERA for 27 2/3 frames versus Washington, Pittsburgh, Miami and New York (NL).
Thompson's stats for his first four games and his final six contests:
1-3 with a 9.78 ERA for 19 1/3 innings.
2-3 with a 3.41 ERA for 34 1/3 frames.
Eflin's stats:
2-1 with a 2.70 ERA for 26 2/3 innings versus the Diamondbacks, Braves and Rockies.
1-2 with a 4.18 ERA for 23 2/3 frames against the Blue Jays (first-game debacle), Giants, Mets and Pirates.
0-3 with a 13.85  ERA for his final 13 innings before his season ended (not included in above bulleted statistics).
Eickhoff's stats:
5-8 with a 3.65 ERA for 103 2/3 innings versus San Diego, Milwaukee, Atlanta, Arizona, Minnesota, Colorado and Chicago (AL).
6-6 with a 3.65 ERA for 93 2/3 frames against New York (NL), Cleveland, St. Louis, Miami, Chicago (NL), Toronto, Los Angeles (NL), Washington and Pittsburgh.
Nola's stats before his struggles:
3-2 with a 1.98 ERA for 41 innings versus the Reds, Padres, Brewers and Braves.
2-2 with a 3.41 ERA for 37 frames against the Nationals, Cardinals, Marlins and Tigers.
Velasquez's stats:
3-1 with a 2.37 ERA for 43 1/3 innings versus San Diego, Atlanta, Milwaukee, Arizona and Colorado.
8-5 with a 4.93 ERA for 87 2/3 frames against New York (NL), Washington, Cleveland, Miami, Detroit, Chicago (NL), Kansas City, Pittsburgh, San Francisco, Los Angeles (NL) and St. Louis.
More from Call to the Pen
This article originally appeared on